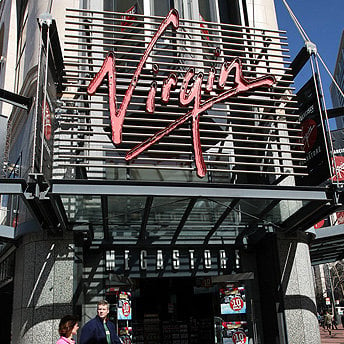 Last week's news that Virgin Megastores in New York's Union Square and San Francisco were closing was evidently the tip of a very sharp iceberg. Billboard reports today that the multi-media chain's only three remaining stores in Denver, Orlando and Los Angeles will also be shuttered by this summer.
In a move that almost predicated the closures of the Virgin chain, Virgin Entertainment Group North America was acquired by a pair of real estate companies in 2007, Vornado and Related Cos., mostly because those companies were interested in Virgin's prime locations. The music stores were paying well below-market value per-square-foot for their locations, according to Billboard. For instance, the Times Square location was paying a mere $54 per square foot when the actual location could command $500 if leased by another retailer.
It's unclear how significantly the fall of Virgin will impact the music industry, though its affects will be felt by New York consumers now lacking a major all-encompassing music store – J&R Music World and Best Buy locations are the last vestige of the major music chains in the city (Los Angeles and San Francisco still have Amoeba Records, which is an excellent store) since Tower Records went under in 2006 and FYE closed up its Manhattan locations last year. But the Union Square was a mecca for both music fans and NYU students, as it was located near their 14th Street dorms. In a similar situation, the U.K.'s Zavvi music chain, which was created after buying out Virgin Megastore locations in 2007, also announced earlier this year that they too would be going out of business. The Virgin Megastores in all locations are expected to announce liquidation details shortly.