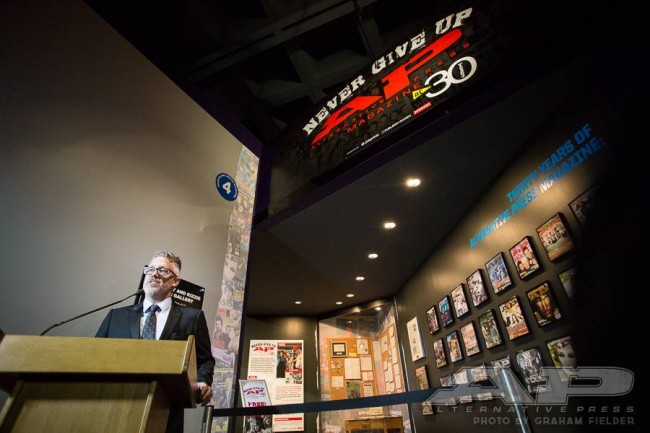 Photo Credit: Graham Fielder for Alternative Press
Over the course of the last week, my life has been all about the Alternative Press Music Awards 2nd year celebration. It's been filled with good friends, new friends, old heroes that have become friends, and a lot of tequila. But, before the reunions, the hugs, and even before the tequila, I got to go to the grand opening of the Alternative Press Rock and Roll Hall of Fame and Museum Exhibit. It was the single most humbling experience of my APMAs week, and I couldn't be more proud of the promises it holds for our scene.
The exhibit honors 30 years of work, down to the Exacto board that the first issues of AP were cut on. Mike Shea's legacy shines throughout the entirety of the exhibit, along with his message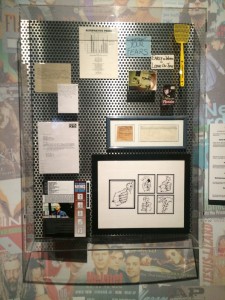 that our scene is vital to rock music. "I think we wanted to show that we have an independent spirit about us, that we're not a corporate thing… We have a long history in rock, and it's just because we weren't New York that people really didn't take us seriously for a very long time, so the fact that we're in this exhibit is like 'wow, we did it!'" With artifacts like letters from Henry Rollins, original Rob Zombie artwork, and a showcase dedicated to last year's APMAs, it covers all aspects of the growing alternative community.
Much like Shea, the exhibit proudly showcases 30 years of breaking covers of seriously big names. "Musicians coming in here will probably see where they got their foundations from, and that we were there at that time, and even before that time," Shea comments. Covers on the walls of the
exhibit range from Nirvana, All Time Low, Fall Out Boy, a joint Blink-182/Green Day cover that would break the internet today, and more. It also highlights many bands that Shea has had the pleasure of helping break over the years, like Nine Inch Nails, Radiohead, and Smashing Pumpkins. "We've been there for a lot of bands, a lot of people think we're a Hot Topic zine and we're not. We've been there from the beginning, we gave Radiohead their first American cover, we gave Nine Inch Nails their first cover, Marilyn Manson's first cover." Shea points out passionately.
While I was overwhelmed by the idea of seeing some of my favorite at-home reads at the Rock Hall–like All Time Low's paint cover and the bunches of Blink-182 covers adorning the walls–not much could compare to Senior Editor, Ryan Downey's, joy when he saw his own articles in the exhibit.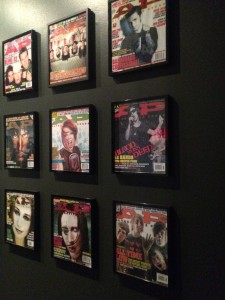 After 18 years of working with the magazine, Downey's own legacy was laid out right in front of him in the form of his own cover stories. "It's really overwhelming, is the best way to describe it. I wasn't prepared for what it was gonna feel like… You're always living in the now, and moments like this where you can reflect on the work that you've done is crazy. To be able to be part of something that has the staying power of AP is crazy." His first cover story, Dashboard Confessional, is the first thing you see when you walk in. "I didn't know what was gonna be in the exhibit, which was great, because I kinda got to walk in and experience it all at once… I don't know what to compare it to. It was like 'wow I did this thing and it mattered, and now it's here.'"
Walking by a Joan Jett bikini top, and Tim Armstrong from Rancid's guitar, I was there when Downey saw his favorite article on Andy Biersack for the first time. "There's a lot of things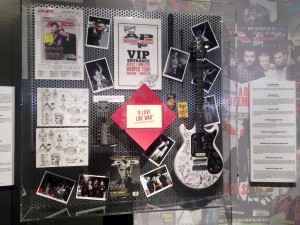 that came together but… Andy in particular is a great example of somebody where I didn't know a whole lot about his band for a long time. From afar I was kinda like 'eh I don't really think that'd be my thing', and then just talking with him for the first time and talking with [Black Veil Brides] and getting to know them, and getting to know about them, and covering them so much, he's become a very good friend… He's somebody where we're texting with each other every couple of days… He's so smart and so clever… Because he's somebody that I have a real fondness for out of everyone we cover. It's nice to see something he and I did together essentially in there." With a constant growing and changing of relationships between artists and reporters like Downey and Biersack, AP has not only maintained a good and constant relationship with its readers but the bands as well.
Being able to break bands in their pages, and bringing them back onto AP covers, once they've become huge, is something that keeps readership thriving. "We all started doing this because we had bands we loved that we wanted to tell people about," Downey quotes Editor in Chief of AP magazine, Jason Pettigrew. AP's innovative process of breaking bands, and showcasing big bands is highlighted by the exhibit and all the covers shown throughout.
There are impactful moments from our scene's modern history, from a blurb of Fall Out Boy's game-changing "Sugar, We're Goin Down" single, to the jacket Brendon Urie wore to the first APMAs celebration. It's a testament to the impact that alternative bands have had, and continue to have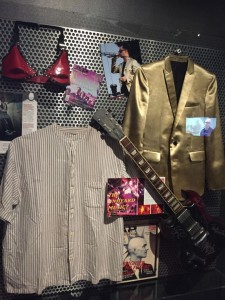 in the 21st Century. After Green Day's induction as the first modern "punk" band in the Hall of Fame, it didn't come as a big surprise that the AP community became a major player. Hopefully, this will inspire more alternative rock bands' inductions into the Rock and Roll Hall of Fame. "We think it will. I think everyone is trying to reach out more to this generation, more to these bands. The Rock Hall is trying too. The Grammys are now. Everybody is trying to become a part of it, and it only helps us, it really does." From here on, Mike Shea has a few ideas on what the future will hold. "If we can start taking these bands that are on Warped Tour and that are in our pages, and all those websites out there and that idobi covers, and be able to get them on big shows and part of the mainstream world, that's great for us. If Fall Out Boy could do it, then there's a lot more bands that could do it too."
Between a never ending push forward from Shea and the AP team, and a new outlook on alternative rock music from places like the Rock and Roll Hall of Fame and Museum, it's not difficult to see that our scene is not only a major player in this industry, but a game changer. From Cobain to Wentz and Jett to Williams, AP has changed the lives of musicians from all walks of the alternative scene for 30 years, and will continue to do so in the future.
—
Be sure to check out the Alternative Press Rock and Roll Hall of Fame Exhibit in Cleveland, and don't forget that today is the APMAs takeover on idobi Radio! Check in on idobi Radio every hour for a live performance from the APMAs, and then at 6:30 PM relive the red carpet with highlights from our own radio show! Finally, at 7PM, we will be airing all the highlights from the APMAs themselves, hosted by Alex & Jack of All Time Low. Tune in at ido.bi/player, and relive the 2nd annual APMAs, idobi style!