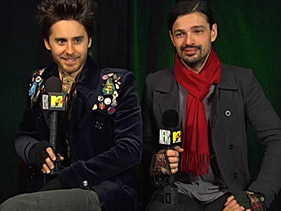 30 Seconds to Mars has been a band for over 10 years, but the act only now becoming a major touring force.
On Feb. 19, the band will  head to the U.K. to begin the first leg of their Into the Wild Tour, which will have the band  touring all over Europe. But American fans need not worry, as 30  Seconds To  Mars will  be back in North America on April 9 for a show in Las Vegas.
"From Elvis to Cirque du Soleil to 30 Seconds to Mars – you've got your pick," Leto said dryly of the band's visit to the Entertainment Capital of the World.
Despite  its decade-long existence, the thrill of touring hasn't waned for Leto and his cohorts.
"We did a lot of shows to 20 people in a bar who were more interested in cheap drinks than they were the band," Leto said. "We're really excited and we're grateful for it, and we don't take it for granted at all."
"I remember just a few years ago there was a show where we sold 800 tickets and we couldn't believe it," Leto added. "The very first show on this tour is 8,000 people, and the next day there's gonna be 11,000 people there. I'm going to have to get my voice in shape!"
"We're about to go on our first arena tour – we're crazy excited," said guitarist Tomislav Milicevic.
The inspiration for the name of the tour comes from a lyric from "The Mission," a song that Leto wrote back in 1999 that appeared on the group's self-titled debut.
"When you go out on the road, it is kind of a venture into the wild. You're with this group of pirates, from your crew to your band-mates, and you share this insane journey around the world. It's quite unlike anything else."
"Plus, acceptable levels of hygiene go down when you're on tour," Milicevic quipped.
Tags:
30 Seconds To Mars