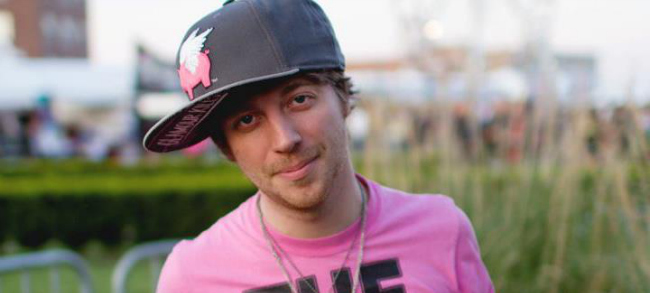 idobi's resident baller Mike Gunz is looking for true love, and what better way to find it than through a dating contest on the internet? We all love Gunz, even if we pretend not to — and with a little help from Cupid's arrow, you will too! Plus, you could win some rad prizes, including a free vacation (check out the full contest details here). Sound ballin'? To prove to you just what an excellent date Gunz is, we've compiled some of his most charming qualities below. (by Alyssa Dempsey)
—
You had a bad day at work, but don't worry, he'll take you to Taco Bell (if he can scrounge up $2 for something from the value menu).
When your favorite band comes to town, he'll bring you side stage – but only because he needs someone to hold his keys and phone while he stage dives.
On a date, he'll always order a drink with two straws…so he can drink it faster. But hey, maybe he'll let you have some too if you're lucky.
Out late? Gunz will pay for the cab ride home. Mostly because he can't figure out the subway system.
When you get in a fight with your best friend, he'll try to end the argument with one word: threesome!
You'll always have new clothes when you're with him, but every shirt will say THE GUNZ SHOW all over it.
He's totally down for Sunday dinner with your parents. As long as they're in a pop punk band and the whole conversation is over the phone.
He's handsome! And you know this because he told you so.
You'll never run out of things to talk about: music, sports, current events…just be prepared for every other word to be 'BALLIN!'
Don't stress about him eyeing other chicks while the two of you are out. You may want to be wary of his many bromances, though.
Gunz has probably interviewed your favorite band. And he has definitely made fun of them to their faces.
You can be sure that Gunz will take you to the after party. And the after-after party. And the one after that. This guy is Andrew W.K. Jr.
With Gunz, everything is cause for a celebratory drink. A raise at your job? Drink! Heard your favorite song on the radio? Drink! Found enough quarters for a beer? DRINK!
Just want a romantic dinner in? Gunz will whip up one of his specialties: Easy Mac, frozen pizza, or a bowl of cereal.
Even Gunz knows a girl loves jewelry for Valentine's Day. You think dog tag necklaces are cool, right?
You can get lost looking into his deep, dark eyes. Though that might just be the shadow from the Glamour Kills snapback permanently glued to his head.
You'll love the romantic poetry he writes you…until you realize they're all song lyrics stolen from All Time Low.
Forget Gunz – this is a chance to win a free vacation. Ballin!
Tags:
Get Gunz A Girl