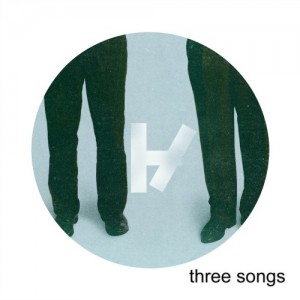 twenty | one | pilots' synth-pop style hits a home run on their latest EP Three Songs. With the newfound support of Fueled By Ramen, twenty | one | pilots take the dance style found on their 2011 debut Regional At Best a step further. Developing their sound on Three Songs, they feel their way into a mature electronic rock style.
With this EP, twenty | one | pilots capture your attention with their ability to take dark lyrics and put them to a danceable tune. With a Flobots-esque feel, twenty | one | pilots take politics to music. "Guns For Hands" is one of their poppier songs, featuring a beat that will have you bobbing in a trance. A good choice for a single, "Guns for Hands" represents the band's style well; it takes all the styles you'll find on the EP and puts them into one track.
"Migrane" has a simple beat accented well by the distinct voice of frontman Tyler Joseph. While auto-tune is used, it adds a dimension to the song in the beginning rather than seeming over the top. With a start/stop feel and jumpy sound, this song sometimes seems like two tracks spliced together. "Ode to Sleep" takes on a more hip hop spirit while staying just as catchy as the EP's other two songs. The synth is strong on this one, accompanied by clever lyrics. The tracks lead into one another so smoothly that sometimes you barely realize the song has changed. It's a bouncy EP that will have you overflowing with energy.
Electro-pop as told by twenty | one | pilots in Three Songs will keep you listening with high energy and hooks. But beneath the sweet beats lie serious lyrics that pull together the EP. With an off-kilter style and undeniable synth skills, twenty | one | pilots are rising to the next level of their career with ease.
Rating: 3.5/5