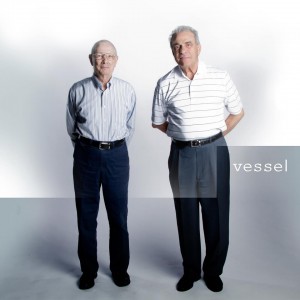 Hailing from Columbus, Ohio, electronic pop duo twenty | one | pilots are Fueled By Ramen's latest signing, and there are a lot of high expectations for their debut album considering the label's mainstream success with acts such as fun., Cobra Starship, and Gym Class Heroes. Frontman Tyler Joseph provides keys along with both singing and rapping duties, the latter of which can best be described as that of an indie Eminem prodigy, while Joshua Dun provides the complementary backbeat. What makes the band unique is their eclectic amalgamation of genres, combining indie, electronica, hip-hop and more. The ambition shown on Vessel shows that twenty | one | pilots are not simply satisfied with dominating popular music – they intend to revolutionize it.
The album opens with "Ode to Sleep," one of several tracks recycled from their 2011 self-release Regional At Best. The five-minute song serves as an effective punch in the face of what twenty | one | pilots are comprised of: punchy synths, fervent rapping, plunky piano riffs, and soaring indie pop choruses. Joseph's vocal prowess is prominently displayed through the vibrato and falsetto during the singing sections. While not the best song on the album, it is nonetheless an effective introduction to the band's sound. Although the awkward flow of "Ode to Sleep" may leave you doubting Joseph's ability to rap, he quickly redeems himself on the lead single "Holding Onto You;" you can truly feel his passion as he criticizes meaningless music, spitting out lines like "When we gonna stop with it / Lyrics that mean nothing / We were gifted with thought / Is it time to move our feet to an introspective beat." The song also continues the trend of catchy, grandiose choruses that will lift your spirits every time you hear them.
Another aspect where twenty | one | pilots excel are their heartfelt, uplifting lyrics, addressing the imperfections of humanity but always leaving the listener feeling positive and hopeful. "Migraine" is a techno-pop song about feeling depressed and alone, but pulling through and realizing that "life has a hopeful undertone." "Car Radio" is the most intriguing track on the album, driven solely by lyrics as Joseph is almost just talking over a softly muted piano and drums before the music expands to match the song's story arc. It's based on the simply tragedy of a stolen car radio, which forces Joseph into a silent void where all his darkest thoughts surface without music as an escape. This track is probably the best example of the sheer, raw talent this band has to offer.
"Semi-Automatic" and "Screen" continue the lyrical theme of how we are only human and we all make mistakes, while "Guns for Hands" is especially relevant with lyrics concerning the increase of gun violence in society as Joseph wails, "I'm trying to sleep / But I can't when you all have guns for hands." Along with powerful lyrics, the band still manages to display their musical versatility through the use of multifarious electronics, acoustic instruments, and even a reggae breakdown in "Guns for Hands."
Towards the later part of the album, rap becomes increasingly sparse as the band focuses more on the indie pop aspect of their music. "The Run and Go" is a simple, playful track molded around a simple quarter note riff while also featuring an irresistibly catchy interlude. It is as if the band can make good music without even trying, while still managing to coin the gem phrase "cerebral thunder" during the bridge. The band effectively concludes Vessel with "Trees", a mid-tempo song with sweeping crescendos about the basic act of saying hello to a stranger, and "Truce," a piano ballad about the joy of merely being alive.
In a world bursting at the seams with cookie-cutter music acts, twenty | one | pilots have managed to craft a truly unique record, brazenly blending a plethora of genres and pushing the envelope on what constitutes pop music. With the majority of music today sinking into a despairing chasm of generic chord progressions and lyrical ideas, this duo dares to dream bigger, taking an ambitious risk both sonically and lyrically — and it paid off. Your move, every other pop artist out there.
Rating: 4/5