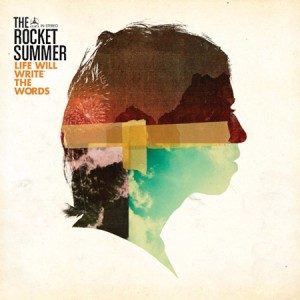 Filled with Bryce Avary's signature piano hooks and the positive, upbeat lyrics he's always delivered, The Rocket Summer's latest release Life Will Write the Words is everything his fans could ask for. Self-produced and released on his own record label, Aviate Records, Life features more raw production than 2010's Of Men and Angels while sticking to the same heartfelt songwriting. Less spiritual than Angels, the album focuses on taking responsibility for your actions, the mindset of the current generation, and working hard to achieve your dreams.
From the first note that Avary sings in the opener, "Run and Don't Stop," you can hear the urgency in his voice, The second track, "Revival" is one of the standout songs on the record with its singalong-ready "woah-oh" sections and the raw emotion that has been present in Avary's music ever since The Calendar Days. When he yells, "We're gonna make it," right before breaking into the chorus the sincerity echoes in every word. "Old Love" continues with the theme of hope, this time about the kind found through love. With lyrics like "We are addicted to the world, and we want more of it / My generation heard of old love and commitment, but did it stick?" the song is about the yearning for something real — something that lasts.
Avary's lyrics are as honest as ever, urging listeners to "be reckless, be bright" and to choose their own path in life in "The Rescuing Type." The record closes with its longest song, "Ashes Made of Spades." Clocking in at just under five minutes, it's in this track where the full extent of Avary's talent shines through. The song blasts off with unmatched energy, continuing right up until the very end of the track before closing with Avary calmly picking away at his guitar, leaving the listener with a sense of peace.
Life Will Write the Words is an album about hope, love, loss, and the search for something tangible. Avary has managed to perfectly combine what fans from back in the Hello, Good Friend days loved with the bright, polished sound from Of Men and Angels. If you're in need of a pick-me-up to motivate you to get through whatever hardships you're facing in life, Life Will Write the Words will be right there waiting for you to embrace it. "Just for a moment start to forget about the scars and forget who you think you are / Don't say another word / You're meant for greatness."
Rating: 4/5