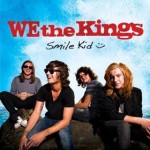 This past December witnessed more than snow and sleighs when We the Kings re-emerged with Smile Kid.
The band's sophomore album, released with S-Curve Records, completed its launch into the pop music stratosphere, which began when its self-titled debut album We the Kings peaked at No. 151 on the Billboard 200 and spawned hit singles "Check Yes Juliet" and  "Secret Valentine."
With its second release, We the Kings has solidified itself as a household name at least among teenage girls with "Heaven Can Wait," the album's lead single. Throughout Smile Kid, the band does not stray too far from the poppy formula of We the Kigns that established its initial popularity in 2007. This was apparent when it tabbed the writing and production team of S*A*M and Sluggo for a second time, a duo that has previously worked with Boys Like Girls, Metro Station, Gym Class Heroes and Cobra Starship, among others.
This team that cowrote We the Kings' debut, including the aforementioned "Check Yes Juliet," has once again brought out the best in a band that seems to be greater than the sum of its parts. This is not to say that the Bradenton, Fla. quartet isn't normally catchy — the band certainly knows how to write a pop hook, although its sophomore effort does not branch out or experiment with any new sounds. Travis Clark's vocal range is a perfect front for this blend of pop and rock, and on this record he has certainly found his comfort zone. His spirited soaring and choruses are the bread and butter that makes this album tick.     There are some ill-conceived attempts at broadening the band's sugary sweet sound, including the use of a whistle during one chorus, but all in all this is a more refined version of the sound fans have come to expect.
To complain that this band is not overtly original misses the point of what it does best. With Danny Duncan's precise drumming and lead guitarist Hunter Thompson's catchy riffs, We the Kings has created a slick blend of The Academy Is…-style pop rock and catchy singalong choruses reminiscent of Jimmy Eat World to make something that is very much its own sound.
All things considered, Smile Kid is a dose of warm weather in the grips of a bitter winter, a season the band desperately wishes will end according to its lyrics.
"Can you feel the love that summertime / We're in love and it feels right / Oh now I can't wait for summer" pieces its hope together, appeals to its audience, and writes the perfect soundtrack to a top-down drive to the beach on a warm day.  (3.0/5.0)
We the Kings is headlining the 2010 Subcity Take Action Tour presented by Hot Topic. Supporting will be Mayday Parade, A Rocket to the Moon, There for Tomorrow, Stereo Skyline and Call the Cops.
Smile Kid can be purchased through iTunes here.