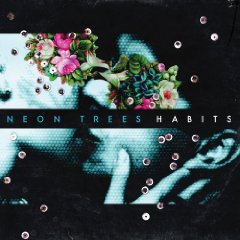 All 29 minutes and eight songs of the Neon Trees' debut mix up the decades, combining for a fast-paced dance party reminiscent of The Strokes and Depeche Mode.
The energy displayed by the Provo, Utah natives on the first full-length effort, Habits, is quite apparent even from opening track "Sins of My Youth." As vocalist Tyler Glenn starts the album with a few solemn words, drummer Elaine Bradley immediately picks up the pace with the percussion, serving as a backdrop for the rest of the band to create a unique musical landscape.
Friend of the band and lead Sugarcult singer Tim Pagnotta produced the album, and the pop-punk gloss that he created in his main project shows through here. Pagnotta also helped write the song "Animal," which has landed Neon Trees atop every alternative chart leading up to the March 16 release date.
It would be foolish to judge the album based on its shorter than average length. All too often the general public views records as a 10 to 12 song compilation of discontinuous songs wrapped around several catchy singles. But this debut provides a serious punch of slick pop rock all the way through, making up for its brevity. It certainly helps that Neon Trees has a distinctive sound of its own that closely resembles that of a new wave band practicing in a garage.
Alternative Press has declared the group a "2010 Band to Watch" and Mark Hoppus has recommended it as his Spin "Band of the Week." Its slick, upbeat sound combined with the excellent songwriter courtesy of Glenn was to attract The Killers, which recently recruited the band as its opener. Neon Trees will also be opening for 30 Seconds to Mars and Mute Math starting April 9.
Just looking at lyrics like "Me and you, you and me / Let's go out, let's go back / 1983 is calling / I been on my knees and crawling back to you / It's coming all back to me" shows how Neon Trees easily ended up at the forefront of the alternative music scene. But to be frank, every lyric and every beat could set the stage for this near half hour of danceable tunes. In a musical landscape that is growing duller by the day, Neon Trees has certainly provided something real. (3.5/5.0)