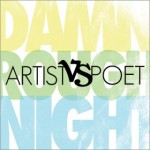 Get out your flat iron, your headband and your neon t-shirt, it's time to party — Texas power-pop style.
"I guess I had a damn rough night / I'm still piecing it together / There's a girl in my bed / And I haven't even met her," is a sampling of the lyrics from the title track on Damn Rough Night released in December 2009 by Artist vs. Poet.   It is an obvious sign that the next four songs are going to be as fun and entertaining as an evening out with your closest friends.
With lyrics bouncing back and forth between party-related shenanigans and chasing members of the opposite sex; this is the second extended play that the Dallas quintet has put out through Fearless Records.   Production on the record was provided by a three-headed attack consisting of Zack Odom and Kenneth Mount (All Time Low, Cartel, Mayday Parade) as well as Mike Green (Breathe Carolina and Paramore).   The pop sensibilities displayed by all of these bands make it quite apparent that these producers were the correct choice to refine the sound that the band created on 2007's Artist vs. Poet EP.
Lead vocalist Tarcy Tomanson's distinctive howl could remind any listener of Relient K's Matt Theissen in his prime.   All the while, the backups of guitarists Joe Kirkland and Craig Calloway may invoke comparisons to Forever the Sickest Kids.   Drummer Joe Westbrook and bassist Jason Dean provide the percussion that keeps the train rolling on this 13-minute joyride.
"Don't wait for tomorrow / Because our time is right now / So let's keep this moving / To hell with the let down."
This release serves as a precursor and a sampling of what is to come on the band's debut full length  Favorite Fix due out March 2.  Artist vs. Poet is continuing to experiment within its creative wheelhouse and is poised to break out.   In the meantime, the group has provided fans with some tunes that will satiate the thirst for warm weather, feel good music. (3.0/5.0)
Purchase the Damn Rough Night EP on iTunes here.