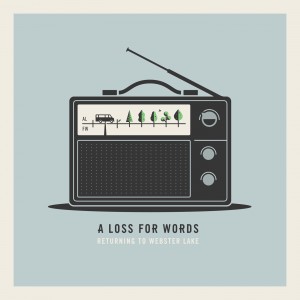 When bands decide to strip down, it can mean one of two things. For A Loss For Words it meant grabbing a couple guitars and recording an acoustic EP. Returning To Webster Lake has the band giving their songs a new life and three cover songs a unique twist.
The album starts off with "Hold Your Breath" which originally appeared on 2009'sThe Kids Can't Lose. The original electric song is slow-paced with heartfelt lyrics, making the transition into an acoustic number seem effortless. The next four songs come from the band's most recent effort, No Sanctuary. "Finite" gets turned into a striking duet with vocal assistance from Tay Jardine of We Are The In Crowd. "Raining Excuses" also gets the guest vocal treatment as Evan Pharmakis (ex-Vanna) adds a dynamic layer to the song.
The highlight of the album is the band covering "So Contagious" by defunct Acceptance. A Loss For Words do their best job of making the song their own, surely making Jason Vena and co. proud. While a pop punk band covering an R&B song may seem a little out of the ordinary, A Loss For Words are no strangers to the unusual, having released an album of Motown covers in 2010. This time they took the modern day route and took a stab at Miguel's "All I Want Is You", vocalist Matty Arsenault's voice fitting the song perfectly enough to make any girl swoon. Rounding out the album is a take on "Soulmate" by No Use For A Name, which sees the band rise to the challenge and turning a fast-paced punk song into an acoustic ballad and conquering it with ease.
While Returning To Webster Lake can be seen as a sequel to the band's 2008 acoustic EP Webster Lake, it truly stands all on its own. A Loss For Words have learned to bring their songs to acoustic perfectly while still keeping the ethos found in the original version. It's clear that the band is not afraid to take a chance and do something unexpected, and any other unique offering they have up their sleeves will be more than welcome in the future.
Rating: 4/5