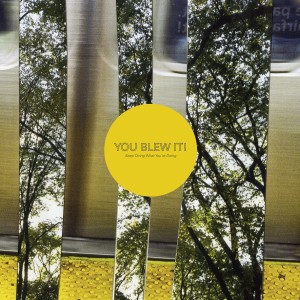 Florida-based Topshelf darlings You Blew It! are the kind of guys that you want to wreak havoc with on a Saturday night in your hometown. In interviews, the group is effortlessly hilarious to the point where you would expect their music to echo that part of their personalities. However, the quintet surprises their audience with a heavy energy and lyrics that push towards a darker side.
You Blew It!'s newest project comes in the form of Keep Doing What You're Doing, the follow-up full-length to 2012's Grow Up, Dude. The album's title hints at a newfound maturity since the last release, but the progress can more clearly be heard in the songs themselves. Produced by Evan Weiss of Into It. Over It., this new effort is ultimately a success, though it tends to fall flat upon first listen. The first track, "Match & Tinder," immediately strikes the listener as having potential…in the right setting. This song — and in fact the whole album — is really not meant for sitting alone in your room at night or casually listening on your headphones. The crashing drums and solidly vigorous guitars, all layered under Tanner Jones' chugging vocals and occasional background whoa-oh's, create an end result that requires a certain atmosphere. This album is designed to be played live — and if not live, it needs to be played loudly on a car ride or in a friend's basement where singing and/or yelling along is inevitable. As a listener, you get the feeling that the band is holding back somewhat in the recordings, but it's easy to sense the parts that will make the crowd go insane at a packed live show.
Some parts tend to blend together when listening to the album as a whole, though this is less a result of seamless transitions and more just from the similar sound and feel of many of the songs. As a result of this, the parts that do stick out on the album are quite striking. Overall, the lyricism feels stronger in Keep Doing What You're Doing than in past releases, with certain songs aptly showcasing this aspect. Listening chronologically, "Strong Island" is the first song which really grabs the listener's attention; it slows the pace, lending more power to Jones' voice and his deliverance of the band's lyrics which constantly pin optimism against reality with lines like, "If I had my way I'd play / Video games with you every single fucking day / But I'm still finding pieces of me / That I could live without." The final song of the album, "Better To Best," is an absolutely perfect ending. Both the vocals and instruments swell in an emo/grunge masterpiece that raises the bar for the entire album. It is this song that will stick with first-time listeners. Here, You Blew It! make use of the simple repeating lyrics, "Maybe things aren't quite as bad as I let myself believe," which serve to echo a feeling that opposes some of the earlier, darker lyrics that can be found on the album.
You Blew It! have done a great job with this release, but the album shows off the potential they have to do better. Keep Doing What You're Doing is a solid album that shows the band is nearing a peak, and if they keep doing what they're doing, it'll hopefully be found on their third full-length.
Rating: 3.5/5