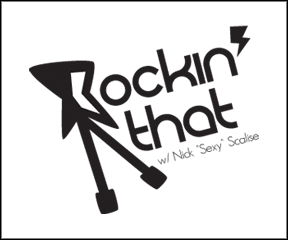 An all new Rockin' That w/ Nick Scalise returns tonight! It's been a couple weeks or reruns as Nick got a new computer, after his old latop and other equipment was stolen while he was on tour in New York.
Nick and his co-hosts,  Greg Shanahan and  Mickey Ferguson, talk about the latest in the music industry and discuss All Time Low, Senses Fail, and what constitutes a "real" band.
Nick also sits down for an interview with Fueled By Ramen / WEA merchandise manager Amy Zaglauer (merch for every FBR band/ All Time Low/ Bruno Mars, etc.)
Rockin' That Show airs every Tuesday night at 8pm EST, only on idobi Radio.
About Nick Scalise:  Nick is a producer, writer, and drummer. He has produced for Life's Only Lesson,  The Delivery Boys,  The Victory Escape,  Dan McMahon, and  Sincerely Morning. He's written for Monarch, What Looks Like Crazy, and  Random Hero. Nick use to drum for October Falls, and currently plays in Mathletes.
Tags:
All Time Low
,
Fueled By Raman
,
RIAA
,
Senses Fail
,
WEA