As Rock The Walls host, I recently had the opportunity to speak with New Found Glory  drummer Cyrus  Bolooki  as the band hit the road last week, headlining the "Pop Punk's Not Dead" Tour this fall in support of their latest release Radiosurgery, released October 4th on Epitaph Records. We talk about their seventh album, working with Neal Avron, the Pop Punk's Not Dead Tour, and much more.
-Patrick Walford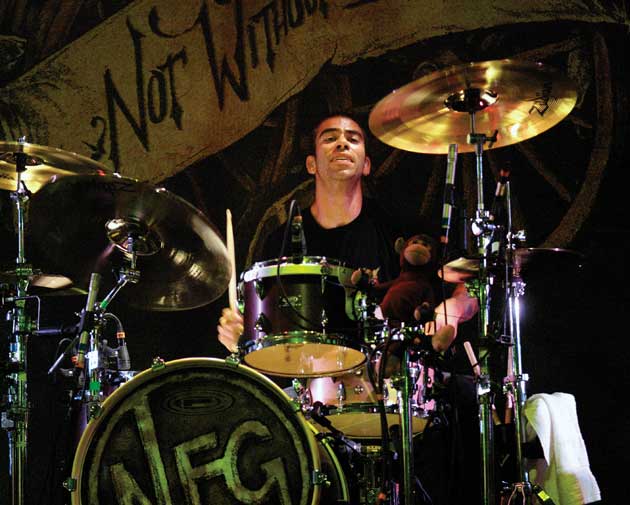 It's been nearly 10 years since Sticks and Stones was released and you guys reached your mainstream breakthrough. As one of the most respected bands in the genre, what's it like for you to now see this new crop of pop punk bands and where the genre is compared to where it was a decade ago? Seeing this new crop of talent, did it almost add pressure to the record and living up to the whole moniker of "Pop Punk's Not Dead"?
Cyrus: For us there are two things going on when we go into the studio. One of our guitarists looks at it as our records being snapshots in time from the lyrical side. Most of our records are about relationships. The whole pop punk world has seemed to grow over the past few years. It hadn't necessarily died like a lot of people think and we certainly didn't. It changed into different forms while we were always playing pop punk and going on the road. I don't know if people just forgot about us.
Coming into this record as we were writing these songs, we noticed that it was almost like people forgot what the influences of this entire genre were. There are bands we grew up on like old school Green Day and other pop punk bands of that time, even stuff before that like The Ramones that we love. On Radiosurgery we took those kind of influences and mixed it with what we do. More modern pop punk we feel is the "resurgent." It's the old school kind of pop punk. It's almost like we wanted to show people where this kind of music came from.
Radiosurgery also marks the first record in seven years you have worked with Neal Avron who did your first three albums and mixed Not Without A Fight. After that time away from working together in the studio and having him be the producer once again after all this time, how did he help shape this record in the studio process with you guys?
Cyrus: In a lot of ways it felt we never left the studio with him. It was like the next day after Catalyst when we went into work with him this time. That was really great. It was like he never left us. There was a lot of comfort of having Neal at the helm. He is able to give suggestions and we are able to put ourselves in a different mindset and get comfortable quicker. It always leads to better ideas.
On top of that, over the past few releases we got away from him and "big production." We did some co-production ourselves and were self-producing. Neal brought back a lot of elements. At times he almost feels like a sixth member of the band. His ears and the ideas he has with our music really helped us finish everything.
With Radiosurgery, Neal really challenged us even before we started recording. When we started writing for the record and we were recording demos, we would send them to him and he wasn't afraid to tell us, "These songs are good, but I feel like you guys can do better." There were a whole bunch of ideas that early on in the process that were scrapped. We had to come up with new ideas or start on something else. Neal really pushed us and it caused us to work at a higher level before we even went into the studio.
On top of that there's the comfort level and the way we are when we interact with Neal. We feel he has that edge that makes you can be the best that you can. We are real happy with the release.
Radiosurgery marks the second album with Epitaph. How has Epitaph Records helped the band after previous label experiences?
Cyrus: Epitaph has been great and it's only getting better in time. Epitaph gets it and a lot of labels don't. Especially the majors. You find a lot of people just want to sign bands that will make them money. Epitaph helps you release a record, they promote them and all the bands push them as well. It's like a match made in heaven.
Everybody that works with Epitaph also understands that mentality. I think it's because they've been around a long time. Even before when we were a band. A label is about real things. It's about finding bands that wanna work, not bands that buy into a trend or fad. When people say the industry is changing and the times are getting tough, it doesn't phase Epitaph. They just do their thing.
We started talking with them first and it was a great thing. All these majors were talking about how much a percentage they were going to give us, or how they were going to take of a percentage but give us money upfront. Just crazy talks. Epitaph came to us and said, "Hey, if you guys wanna put out another record, let us know. We're down." That's what it is. They are a record company and doing their job. We love it. It's the second time around and things are only getting better.
With the record already being out a week, many fans have come up with their own interpretation on where Radiosurgery fits in terms of the band's catalogue. From a personal standpoint, where do you feel Radiosurgery fits?
Cyrus: It's hard to say. Every New Found record has its own sound and almost doesn't fit into its own. It's hard because of how some people want to compare it to other records so they'll say, "Oh, they are going down this road."
In all fairness, this record is very energetic and fun. I'm not gonna call it the fastest or slowest record we have ever done. It's all distorted guitars and about relationships. I'd put it in between New Found Glory S/T to Catalyst era. I think it also does fit because Neal was producing. Sonically it hits chords back to the sounds you'd hear from us back in the day. It's pop punk songs from the New Found Glory everyone knows us for.
In the past New Found Glory is known for hand-picking the line-ups to their headlining tours. Upon planning the Pop Punk's Not Dead Tour this fall, what kind of a process was it for you guys to pick the lineup for this tour, especially given the name?
Cyrus: Basically with any tours we do, we pick bands that we're friends with if we can. Or other bands we enjoy either their music, or in this case they are great up and coming bands. In general the bands are all pop punk to go with the name of the tour. We wanted to pick a handful of bands that not only were doing well in the genre, but more importantly these bands all represent good things and different aspects of pop punk. They don't represent a haircut fad or anything like that. They tour hard and believe in what they are doing. They don't hide behind anything or have any gimmicks. It's good music. With a tour with Pop Punk's Not Dead all these bands are perfect examples. These are all bands who are doing it right and will be doing it great for a while to come. Bands like This Time Next Year, The Wonder Years, and Man Overboard. Even bands not on this tour like The Story So Far. Those guys are a great up and coming band people should get into. There are a lot of great up and coming pop punk bands. It's a great time to be apart of the genre.
Thanks a lot for the interview!
Cyrus: No Problem!
Tags:
New Found Glory