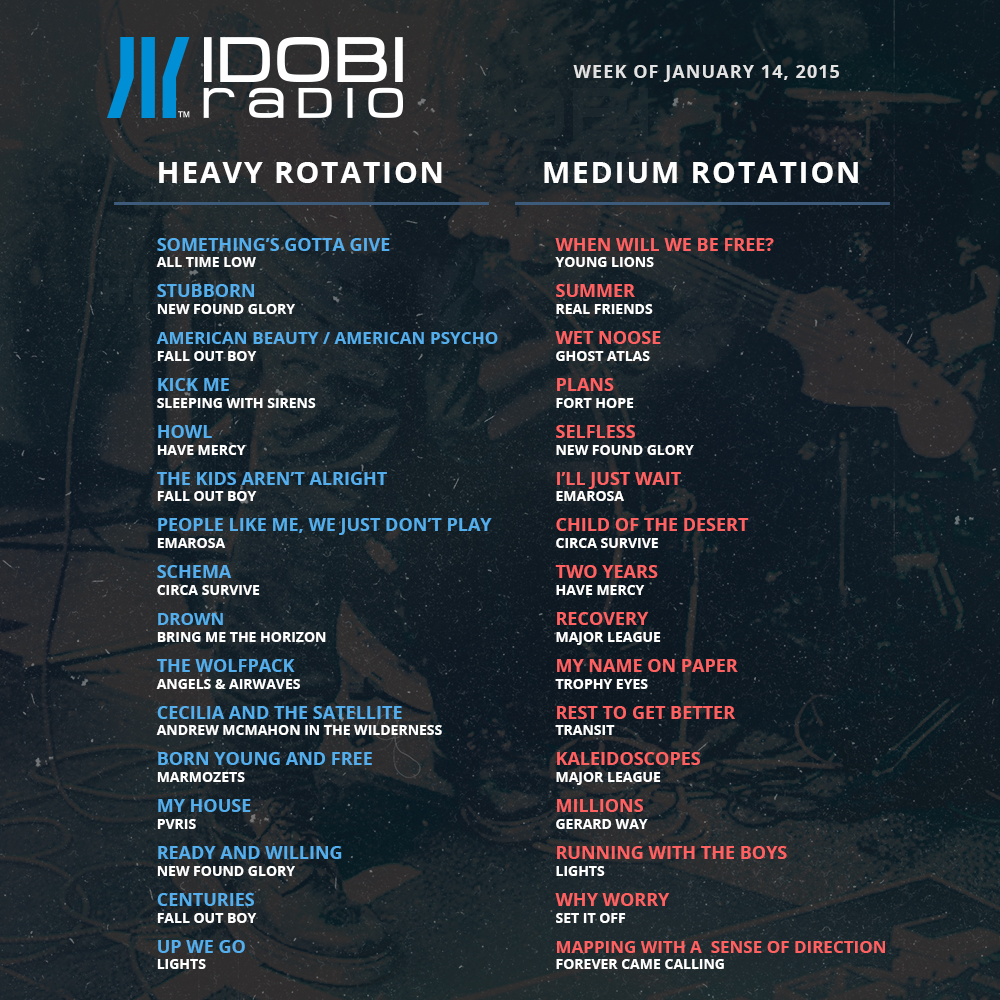 Hello, hello. This is your friendly local idobi Radio music director, Matt Vogel. I'm going to take some time each week to talk about the new additions to idobi Radio playlists, and try to help introduce you to some great new songs and artists.
Here are the songs new to the idobi Radio playlists this week –
All Time Low – "Something's Gotta Give" (Heavy Rotation)
It's no "Sticks, Stones, and Techno" but the new All Time Low song is pretty great. I'm looking forward to hearing all of the songs on Future Hearts, but as the first glimpse into the future of ATL, "Something's Gotta Give" shows us that the guys have still got their golden pop-rock touch. It also shows us that Alex has no restraints about throwing kittens. Heh… just messing w/ you Alex.
Young Lions – "When Will We Be Free" (Medium Rotation)
It had been a few months since I've found a new band that I'm really, truly, honestly excited about. Then I found Young Lions. This Brisbane, Australia rock group is getting ready to release a new album, Blue Isla next week, and it's going to get attention. "When Will We Be Free" is an absolute stadium anthem, with incredible buildups and choruses and just… it's good. It's really good. It's the second week of January, but I know that this will be one of my favorite songs of the year.
Real Friends – "Summer" (Medium Rotation)
Still on the tidal wave of 2014 release Maybe This Place Is The Same And We're Just Changing, Real Friends has just released a music video for "Summer". This was one of my favorite songs on one of my favorite records of last year. I can't wait to play this song a ton on idobi.
Ghost Atlas – "Wet Noose" (Medium Rotation)
Jesse Cash of ERRA and drummer Alex Ballew make up Ghost Atlas. The band is releasing a 5-song EP Immortal Youth next week, and new song "Wet Noose" was released a few days ago. This track has a unique modern sound that reminds me of bands like Saosin and The Sleeping a few years back.
Fort Hope – "Plans" (Medium Rotation)
Here we go! Fort Hope is a band that idobi listeners will be familiar with from the past year. "Plans" is an incredible new song from the band that is an absolute left turn from what we heard last year, and it's an awesome new direction. "Plans" is intricate, smart, technical, catchy, and like 36 other adjectives I won't write here. Really great track.
Tags:
All Time Low
,
Fort Hope
,
Ghost Atlas
,
Real Friends
,
Young Lions