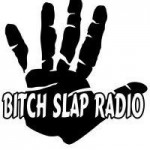 Whats up Bitch Slapers! After a crazy weekend its time for your only thing you should be doing on a monday night BITCH SLAP RADIO!
First off on the show tonight most of the Bitch Slap crew was at a week long festival in South Florida called sunfest, where we saw some pretty dam good bands, flogging molly, big d and the kids table, crash kings, and Weezer! We talk about the bands but most importantly we talk about the people that were at this festival visual notes were flowing, as well as the jelly rolls on some of the people!
Then we play a new game on Bitch Slap Radio we call Fill in the Blank! Yea its pretty straight forward, but come on think of all the we are going to have with this one!
And to top off the night We have the Bitch Slap Radio Monday Night Bitch Out, The Bitch Slap Band of the Week, as well as we talk about what we are calling "Super Virgins," and who the hell brain washed these kids! All this and so much more tonight on Bitch Slap Radio!
We go live at 10:30 Pm Est time make sure to tune in, live on  BitchSlapRadio.net or  idobiRadio.com
AIM:  Bslapradio
Skype:  LoonaticTV
Twitter:  @BitchSlapRadio
Call In Line:  888-99-IDOBI  (43624)
Email:  [email protected]