Don't Give A Fuck Thursdays!!!!
By Zac Rich | April 15, 2010 at 11:08 AM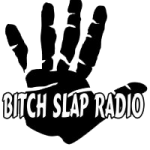 Whats up Bitch Slapers Tonight is Thursday and its is time to tune into Dont Give a Fuck Thursdays on Bitch Slap RADIO!!!!!!!!!!! Tonight on the show we hope to have our phones lines back up and fixed and all the tech issues from last weeks show resolved so that you our listeners can not only hear, but call in and talk to us as well. Just like last week for every caller we get on tonights show someone will get kicked in the ass. We have some pictures from Mondays show that show Drew and Pinto getting kicked in the ass from losing at MasterDBaitor. On tonights show, we unveil a brand new segment called the dildo sales man, we a crazy list of topics all well as some new faces coming into the studio to guest spot on tonights show. The dolphins sign Brandon Marshall to a 50 million dollar deal, and we help but ask why are we in radio and not football. All this and more tonight at 10:30 PM set time on idobi Radio!!!!