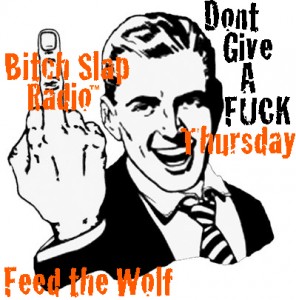 What up Bitch Slapers! Tonight is Thursday Night and we dont give a fuck!!!
You want a sick as show tonight we got a sick ass show!
Live in studio special guest Jackie D from JackieDoesIt.com  will be hanging out with us, talking about why a guy in top in a 69 just wouldnt work out too well!
Then, We ended up at the strip club last monday after a long 4 lokos adventure find out how it went, and who puked first!
Fat – J will have a brand new Weekly Rant!
All this, and so much more make sure you tune in To Bitch Slap Radio's Dont Give a Fuck Thursday!
Live tonight at 10:30 pm Est/7:30 pm Pst. Tune in at idobiradio.com or BitchSlapRadio.net!
AIM:  Bslapradio
Skype:  LoonaticTV
Twitter:  @BitchSlapRadio
Call In Line:  888-99-IDOBI  (43624)