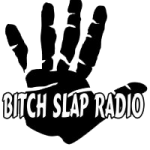 ITS DONT GIVE A FUCK THURSDAY Tonight on Bitch Slap Radio, and I'll tell you this week had its ups, and its downs but its thursday and we just dont give a fuck!
Tonight on the show KP will have to deiced between a foam noodle, and a carrot. For what you might ask, well you have to tune in to find that one out!
Then on the show we'er gonna play a new game in the studio called name that type of porn! Oh yea the details are locked away in the bitch slap safe, i think we have one of those but tonight you will find out how to play, and how to get involved!
Then on Bitch Had it coming, a Women dies from watching to much porn? Dude had his ceiling fall on him on the shower? Dude gets kick in the face by a goat? Oh yea lots of stuff on tonight!
Last on the show we talk about how to tell when people in a restaurant are tuning into what your saying, and how to stop them right away.
We go live at 10:30 Pm Est time make sure to tune in, live on  BitchSlapRadio.net or  idobiRadio.com
AIM:  Bslapradio
Skype:  LoonaticTV
Twitter:  @BitchSlapRadio
Call In Line:  888-99-IDOBI  (43624)