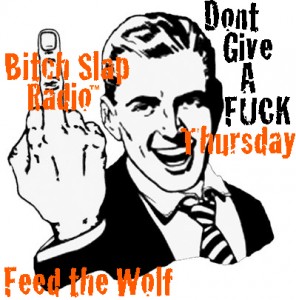 BITCH SLAP RADIO FANS!! WHAT THE FUCK IS UP!
BOO YEA! Ladies (the hot ones), and gentleman its thursday night and you know what that means! Bitch Slap Radio's Dont Give a Fuck Thursday has returned!
Tonight on the show John the penguin makes his Bitch Slap Radio season 11 debut, Drew The Fruit Fucker also will make his Season 11 debut!
On the show tonight, Dirill our las vegas associate will be calling in to tell us about the wild women, the wild women, the rippin and the tearin the rippin and the tearin.
Then on the show Jackie D returns to tell us her crazy ass idea about her a money, and a video camera.
We have a brand new Rant of the week up right now and Fat-J our weekly Rant columnist will be talking all about it!
We set up the e-mail address for Bud of the Week, and Bitch Slap Radio is looking for more weekly, monthly, and hell even daily columnist to start contributing to our website! If you want in you'll be set up with a blog and anything you want to write about is fine by us more info on that on tonights show!
All This in more on Bitch Slap Radio's Dont Give a Fuck Thursday! Live tonight at 10:30 pm Est/7:30 pm Pst. Tune in at Idobiradio.com or BitchSlapRadio.net!
AIM:  Bslapradio
Skype:  LoonaticTV
Twitter:  @BitchSlapRadio
Call In Line:  888-99-IDOBI  (43624)