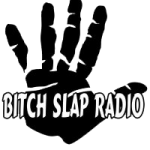 Hey Bitch Slap Radio Fans! We are sooo sorry for the long break but! We will return!
We have a sick show planed for June 16th our comeback show! We take to the idobi airwaves and rock your face!
Make your you have it set on your phone, your calender, on your dam facebook!
BITCH SLAP RADIO! RETURNS! JUNE! 16! OHH YEA!