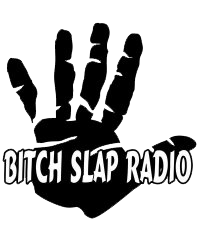 Its Monday night, and you should all already know its time for BITCH SLAP RADIO!
Tonight on the show we have a huge one planned! haha huge one….
Tonight makes the return of Drew, and Julio both of them will return to there roles tonight on the show. As promised Julio will have a song ready to perform, and Drew will support the drew headz and tell us all about his adventures of gettting his ass kicked by 6 midgets wearing
We announce tonight a bad ass Special Surprise that will excite all of you as much as it did all of us!
Then on the show we  go over some of the greatest Fuck You's you can do to places that have pissed you off! Were covering everything from taking a shit on someones car to leaving a bag a piss at blockbuster for "late fees"
Then on the show we go over what happens when your childhood toys get destroyed and raped by corporate america..
Then on Bitch Slap Monday we talk about what would best drug dealer name if you were a drug dealer. Then we talk about shady drug dealer experiences and why its just not cool to be an untrustworthy dealer.
Make sure to tune in live tonight at 10:30 pm est! Check us out at BitchSlapRadio.net, idobiradio.com and Call in live at 888-99-idobi