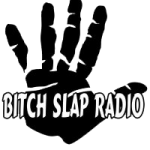 Hey hello Bitch Slap Radio Fans!
Its been a long time since we took to the airways of idobi radio but trust me when I say this the wait was well worth it!
Bitch Slap Radio will return tonight at 10:30 pm Est Live from South Florida Zac James Drew and Fat J will make you surrender your time to us!
We have a great show planned for all of our new and old fans to make sure to tune in!
Fallow us on Twitter: @BitchSlapRadio
Call in to the show 888-99-idobi
and find us on facebook Bitch Slap Radio