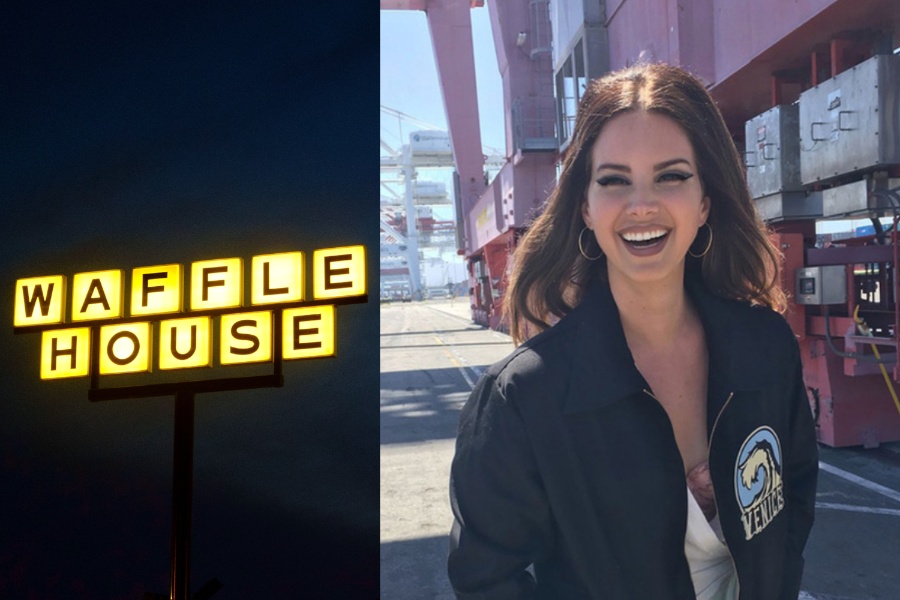 Lana Del Rey, aka the 2023 VMAs winner in the category of Best Alternative for "Candy Necklace," has gone viral this year, but not for her music. Fans were utterly stunned to see the Did You Know That There's a Tunnel Under Ocean Blvd​​ singer seemingly picking up a shift at Waffle House. In fact, many celebrities seem to be cosplaying as service workers.
Spotted working in Florence, AL, in mid-summer, Del Rey still took pictures with fans and even signed a few autographs along the way.
This is all fine and dandy, but the biggest question the internet was asking was, "Why?" Many are on board with Waffle House being a fine establishment, especially for hangovers, but this is the last place most fans and casual listeners would expect to see the mega-famous singer.
In a recent interview with The Hollywood Reporter, Del Rey answered many of the questions circling around TikTok and Twitter/X.
The story is simple. After hanging out with her sibling in Alabama at a Waffle House, the staff offered up restaurant shirts as they approached their third hour dining. Donning the uniform, a few clips began circling the internet, and many asked if this was a career pivot, a joke, etc. All in all, it was just a fun way to spend the day with her family.
She told The Hollywood Reporter's Mikey O'Connell, "This guy, a regular, comes in every day and orders two things, so they were like, 'Just go get it for him!' I brought him a Coke. No ice. And an empty cup. For dip."
Even with this stint at Waffle House, she further explained to The Hollywood Reporter that she had wished her 2023 album had gotten as much attention as her viral videos. "I woke up to, like, 10,000 texts the next morning—some from folks I had not heard from for 10 years. 'Saw your picture at the Waffle House!' I was like, 'Did you hear the new album?'"
Despite this short-lived cultural phenomenon raising a lot of eyebrows, Del Rey's Hollywood Reporter cover interview was also a heartwarming tale of how she inspired the likes of alternative's younger stars Olivia Rodrigo and Billie Eilish. Rodrigo echoed in the story, "She defies any stereotypes of what a woman writing pop songs should or shouldn't be. She's constantly pushing boundaries and making work that is fresh, adventurous, and unabashedly feminine."
You can read the full Lana Del Rey cover story here and find it on newsstands near you.