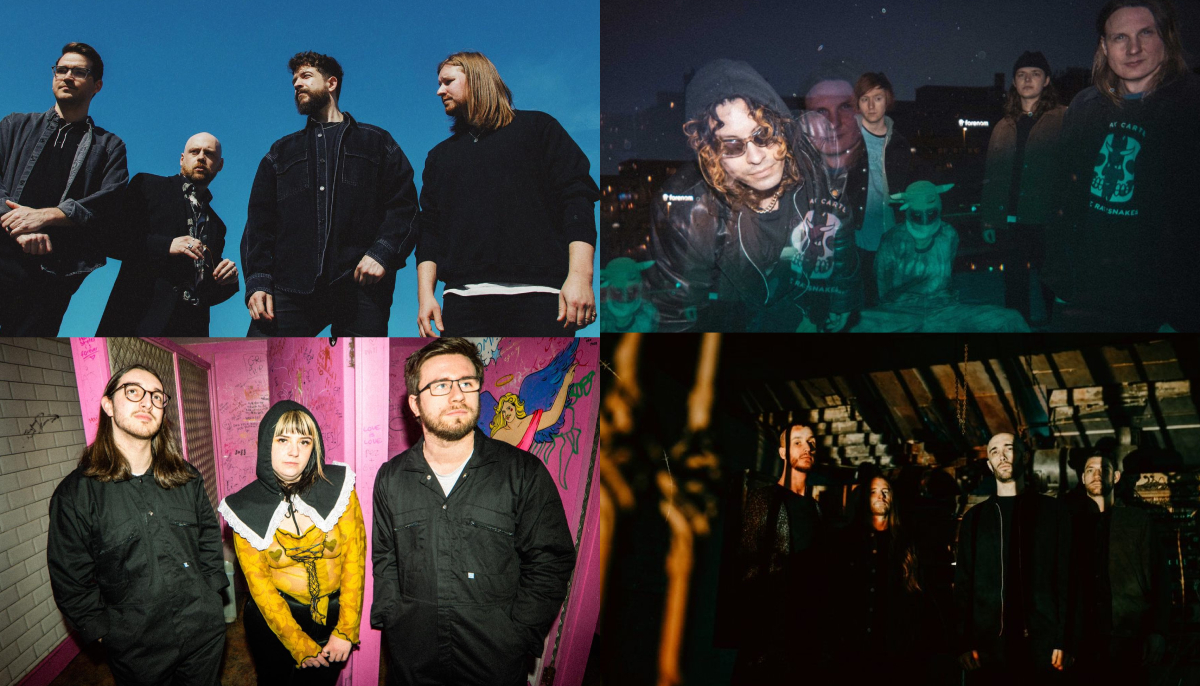 It's June! Another month in this crazy unpredictable year that we are calling 2023. That's halfway now as well, isn't it? Summer is officially days away, and you know what they means? Beach days, long drives, longer nights and plenty of chances for incredible music to soundtrack them. And you already know idobi Radio, idobi Howl and idobi Anthm are the places to be for the freshest new tunes.

So, without further ado, here is what has been added to rotation this week…
Lazy Queen – I See You
For Lazy Queen, inclusivity is everything. You are welcome here, no matter what path you walk or have been through. And that's what "I See You", their latest indie emo banger, centers around. With scuzzy guitars and powerful refrains aplenty, it delivers a message of tolerance and understanding, no matter how strange and unique your circumstances are. Everybody has a story to tell, and every one of them is valid. This is your anthem, designed to encourage you to share yours.

Dark Divine – Dancing Dead
Dark Divine have just announced that they are going to be joining Black Veil Brides and Ville Valo on tour later this year. What an incredible opportunity to cement your place as new favorite band for a fresh audience. And with songs like "Dancing Dead" at their disposal, they are definitely onto a winner. Blending soaring classic rock with bludgeoning metalcore, it's a hot and heavy combination that will have plenty of heads banging.

Random Hand – Lifejackets
Legendary ska-punks Random Hand have no intention of slowing down anytime soon. Their latest track, "Life Jackets", possesses all of the energy and vitality of a band penning their first hit, with all of the control and cathartic release that their years of fine-tuning their craft have allowed. With skank-ready beats and loads of rousing brass for good measure, it's a foot-tapper and pit-spinner all wrapped into one. Get dancing!

Chroma – Woman To Woman
It's Pride Month, which means it's a perfect time to remind everybody to be an ally for every corner of the queer community. CHROMA are using their latest track to cement that sentiment. Specifically focusing on women who call themselves feminists but exclude trans individuals from their belief system. Musically, it's a stalking piece of punk-rock grittiness. Lyrically it hammers home its message with the wonderful refrain, "Why'd you try to put me down like that?". It's an important message and one that shouldn't need to be reminded, but it's outrageously important that bands like CHROMA are here to do it either way.

Kill The Lights – Broken Bones
Just in case you didn't know, Kill The Lights feature ex-members of Bullet For My Valentine, Throw The Fight, Threat Signal, and Still Remains. Which is why they have such an eclectic and electric sound. "Broken Bones" is the first music of the band's new era, following their debut album, The Sinner, and it is a hell of a furious statement to make. Blending break-neck aggression with sky-high melodies, with plenty of shirt-tugging intensity for good measure, it's a modern hard rock classic in the making. Good things are coming from KTL. Make sure you are on board.

HAUNTER – DON'T STOP
HAUNTER are a brilliant example of how EDM and indie can live in perfect harmony. Their latest track incorporates all of the intricate builds and flourishing sound production like the biggest of club bangers. Then adds layers of emotional guitar and undeniable melodies to take it to the next level. The result is an ode to living life to the fullest and partying like tomorrow may never come, the sort of positive energy that we all need and deserve in such trying times.

Sylosis – Poison For The Lost
Last week Josh Middleton shared the news that he was stepping down as guitarist of Architects. Days later, his own band Sylosis announced their new album, A Sign Of Things To Come. Taking it upon himself to focus on the forward momentum of his creation, based on the first offering Josh is about to serve up something very special. It's called "Poison For The Lost" and is a fast, furious and fantastically fun piece of modern thrash brilliance. With chaotic solos, howled vocals and brute force aggression by the bucketload, it's a statement of intent, to say the least.

Minor Holidays – Times The Pain
Minor Holidays are the sort of band that tell short stories set to music with their songs. Putting alternative music's depth and descriptive nature first, their latest single keeps this trend going. "Times The Pain" specifically speaks about DIY culture and the spaces where it is allowed to grow and blossom. Focusing on the memories attached to rooms that may no longer be there or the friends made along the way, which you would never have known without it, it's a track that celebrates a truly remarkable and unique community.

Off Road Minivan – Victim Complex
Off Road Minivan is a special project featuring Fit For A King's Ryan "Tuck" O'Leary. A departure from the furious riffing that he is known for, it focuses more on the ethereal and ravenous nature of 90's rock with a modern twist added. "Victim Complex" is a pitch-perfect example of their mission objective, with wave after wave of bright and breezy sound that also hits like a tidal wave at moments. It's an impressive display of the past and the present that you will want to let wash over you repeatedly.

thrown – Guilt
Ready for a bit of razor-sharp chaos? thrown have your number. Specialising in the sort of downbeat hardcore that feels like a boot to the temple, their latest offering, "Guilt", lays it on thick and fast. From the nu-metal-leaning atmosphere to the pummelling riffs and barked delivery, it's a proper bruiser that will imprint itself on your skin and linger for weeks on end. Dissonant and destructive, get thrown in your life. You'll be better off for it.