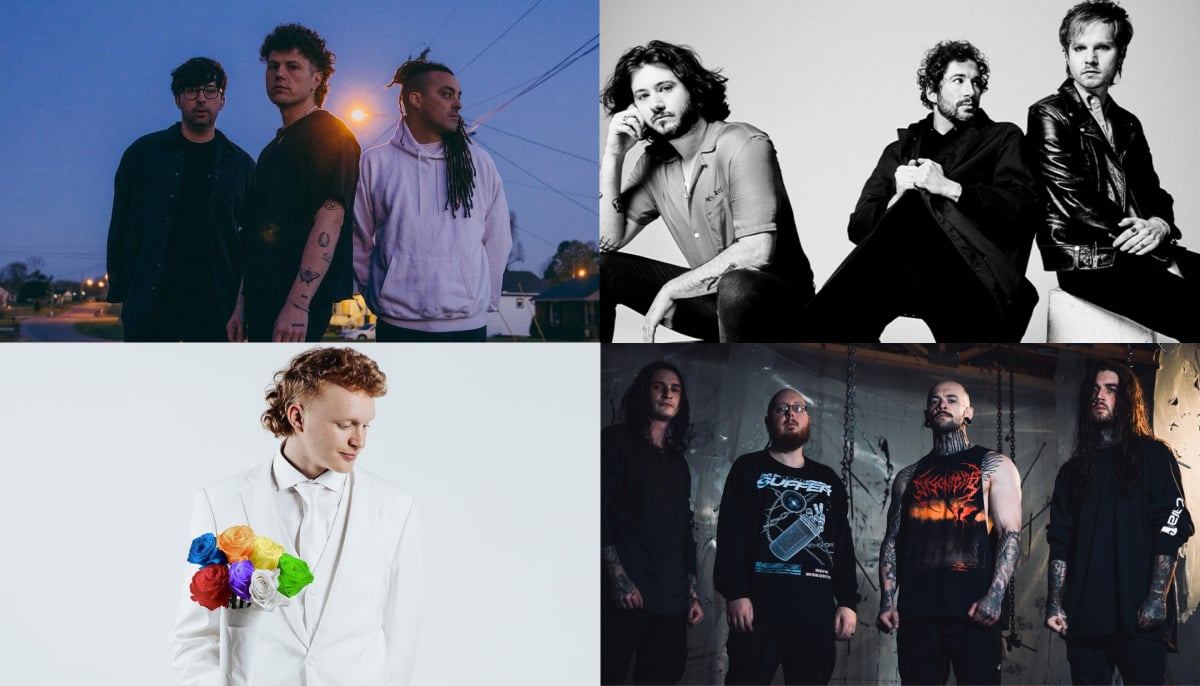 We're about to enter the 5th month of 2023, somehow. Seriously, where has the time gone? But that means Summer is just around the corner, longer days are firmly in action, and music starts to play an even bigger part in everything that we do. And what's better than new music being blasted at the highest volume? Well, idobi Radio, idobi Howl and idobi Anthm, have that at its core, every single week.

Here are some of the best songs that have been added to our stations and are in rotation as we speak.

Nightly – Dry Eyes
Nightly has spent the last seven years bridging the gap between pop and rock in the most stunningly bright ways. However, 2023 is seeing them take things up a gear. Following up the exceptional "radiohead", "dry eyes" is the epitome of loveliness. The sort of song that would be well at home on the soundtrack of The O.C., the trio deliver sensational storytelling in a way that ensnares the senses as much as it gets the feet tapping.

The Bride Wore Black – We'll Do It Live!
You never know when your time come. For The Bride Wore Black, they are receiving their flowers some 14 years after they were plying their trade. And it's all thanks to a viral post showing what they wrote in their Spotify bio. And what they represent is a look back to a simpler time when pop-punk was neon-stained and fun as hell. And when you listen to "We'll Do It Live!", a scrappy, emotive and insanely catchy bop, it's hard not to get the urge to check your Pure Volume messages.

Attila – Bite Your Tongue
Think you have Attila all figured out? You have no idea. Taking a sharp left turn from the party-staring antics that have defined their journey so far, "Bite Your Tongue" is the band's take on modern atmospheric post-hardcore. With a silky, smooth vocal performance from Fronz, letting his singing voice out to play for the first time and plenty of neon-drenched chords. But don't worry; there's still room for a bit of brute force too. This is Attila, after all, isn't it?

Knox – Love Letter
Knox is having an incredibly busy 2023. Releasing an E.P. called How To Lose A Girl In 7 Songs back in February, they have already followed it up with another new track in rapid fashion. That is "Love Letter", a thematic follow-up to what the EP, as mentioned above, represented, with visions of love notes going up in flames to a preppy and infectious beat. It's a surefire summer break-up track that will be blasting out the car stereo of every broken-hearted soul worldwide.

Immerse – S.H.T.
Immerse are the sort of band that perfectly define what is happening on the U.K. underground at the moment. Intense, electric post-hardcore-influenced rock music made for small sweaty rooms and no rules. "S.H.T." goes a long way to bottling that energy for all to enjoy, a song that delivers genuine struggles but with a smile rather than a grimace. The sort of track that will dive into your soul and give you the drive to face today with all the vigour that you can muster.

Crown Magnetar – The Level Beneath
As deathcore as a genre continues to gain more and more notoriety, bands will be pushing themselves to the limit to deliver something that smashes the glass ceiling even more. And Crown Magnetar put in quite the boot to the temple with "The Level Beneath". Possessing all the grand fury of the modern melodic sound with the heft of the genre's hardcore-influenced beginnings, there is a lot to sink your teeth into here. And the ending will turn your brain to utter mush.

The Band CAMINO – What Am I Missing?
If you were to look up the word Constitancy in the dictionary, there would be a pencil drawing of The Band CAMINO right next to it. Continuing their ascent to the top of the world, "What Am I Missing?" is a post-break-up anthem for the ages, with plenty of head-muddling emotion between the addictive melodies and dancefloor-filling beats. All signs point towards a new album soon being on the horizon, and in this sort of form, it's going to be an instant classic.

To Kill Achilles – …and I'm an Addict
To Kill Achilles has just announced their new record, Recovery, a raw and unrelenting look at getting better in whatever way you can. The courage and control it takes to that place is demonstrated wonderfully in the lead single "…And I'm an Addict", a stark and seething piece of honest post-hardcore that grips every muscle in your body and squeezes. Based on this opening lap, it will be an album that changes many lives, and that's something very special indeed.

Arrival Of Autumn – Ghosts
Calling Grande Prairie, Alberta, their home, Arrival Of Autumn do an incredible job of capturing the cold and dangerous landscape where they cut their teeth into their music. Just listen to the icy sharpness of "Ghosts", that combines the grandness of heavy metal with the brute force of metalcore, and you can feel the ice caps crushing around you. With their new album KINGDOM UNDONE dropping at the end of May, you should be very excited.

200 Stab Wounds – Fatal Reality
Leading the charge for modern and exuberant death metal, 200 Stab Wounds continue to deal out the pain by name and by nature. Their latest guttural offering is "Fatal Reality", a thrash-inspired thunder bastard that rips and tears at the eardrum with reckless abandon and glee. From the down-tuned breakdown to the pit-spinning solo, all the way through to a genuinely disgusting conclusion, it's reassuring to know that heavy music is in such safe and savage hands.