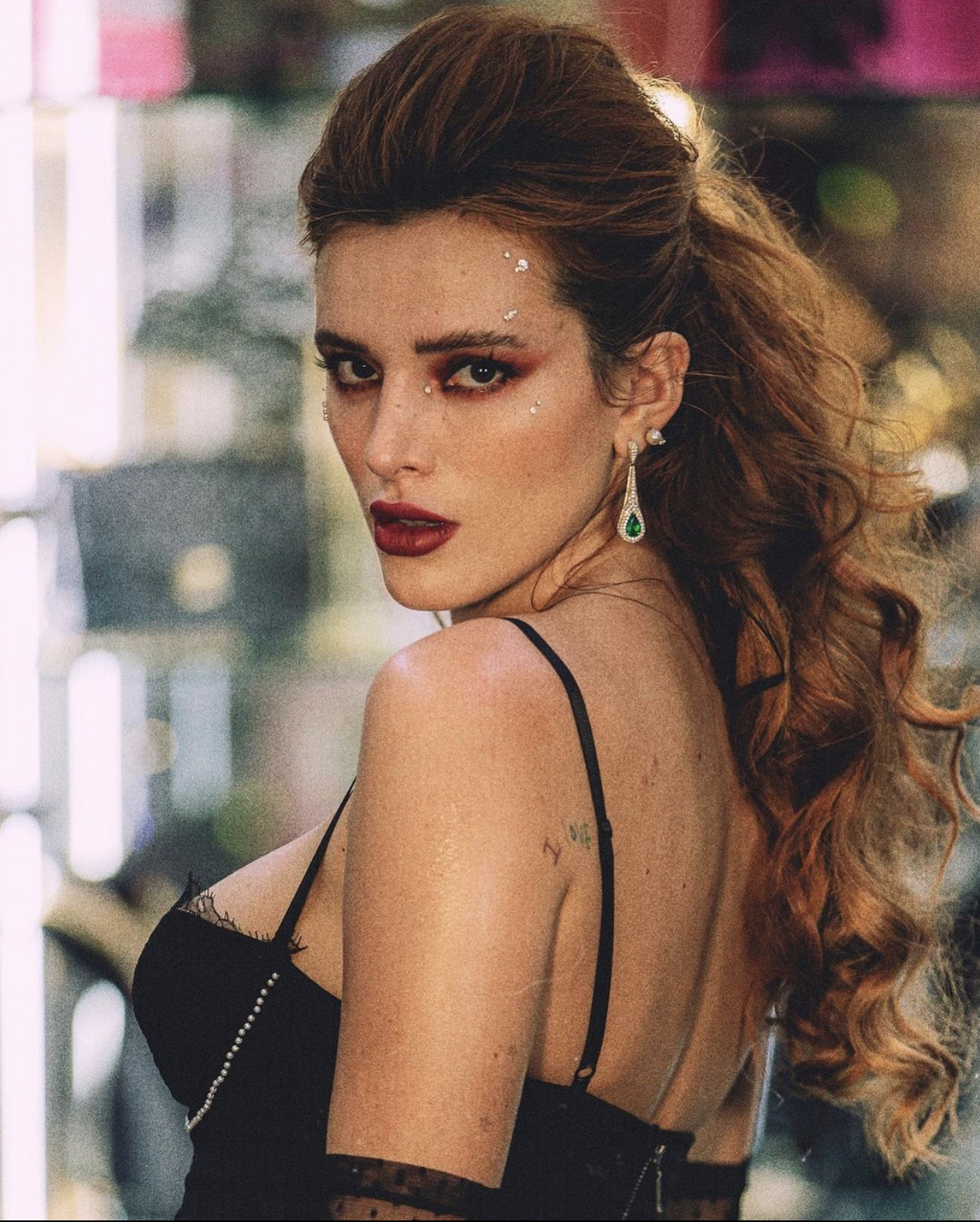 Twitter is once again ablaze, lighting up Bella Thorne for not having a clue what she's doing. After The Duff actress took to Instagram stories this week to complain about being the first celebrity to join OnlyFans, and "taking the hit" for others to follow suit, the internet was quick to correct her and remind her of the ramifications her actions had on sex workers on OF. Let's get into it!

So how did we get here?

In August, Thorne rocked the internet when she created an OnlyFans account. BBC reports that she broke records by amassing over 50,000 followers and a cool $2 million in the first week. No big deal, right? Wrong. After the singer/actress publicly promised she would not be posting nudes on the site, she personally dm'd several fans, allegedly charging them a steep $200 for pay-per-view images that she personally promised were in fact nudes. She then proceeded to send…well, not nudes.

anyways yeah, fuck you, bella thorne. pic.twitter.com/dKjxUMUWR0

— Kira Noir Inc. (@thekiranoir) August 28, 2020
Apparently this was not a one time thing either. Fans demanded refunds in such large numbers, OF placed caps on the price of posts and tips. According to an article published by Vulture, it can now take up to 30 days for creators to receive their payouts (up from 7), they cannot charge more than $50 per post, and fans cannot tip more than $100. Which brings us to…

What does this mean for content creators and sex workers?

These new restrictions have had a serious impact on thousands of content creators and sex workers. In the midst of the pandemic, many SWs have relied on OnlyFans as their main, if not only source of income. Previously, without restrictions on prices and tips, creators could make a healthy living from the site. Now many are losing thousands of dollars a month, citing Ms. Thorne's actions as the cause. Sex worker and OnlyFans creator, Aussie Rachel told Rolling Stone, "To witness a celebrity gentrifying a platform and making obscene amounts of money without acknowledging the plight of sex workers is truly a slap in the face."

Wait…so what exactly happened this week?

So first thing's first, this week, Bella had the audacity to claim that she was the first celebrity to join OnlyFans, acting annoyed, saying in her stories, "Everyone jumping on OnlyFans but I took the hit for doing it firsttttt coooool," she continued, "Legit everyone in my newsfeed following in my footsteps…But when I was getting heat y'all were scared." She ended with, "This keeps happening to me hahahah."

A quick Google will tell us that, in fact, she's the one following in the footsteps of quite a few others. Celebrities who joined OF before Thorne include: Cardi B, Shae Coulée, Sonja Morgan, Aaron Carter, and Blac Chyna.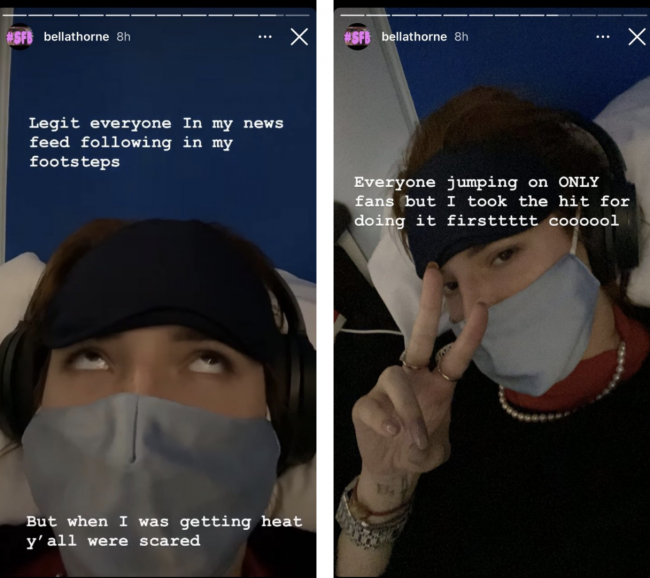 What do people affected have to say about it?

Rachel was far from alone in her feelings…let's just say people are not too happy about the situation. Take a look at what Twitter had to say:

It took 48 hours for Bella Thorne to ruin things for us OF creators/SWs because she felt like playing a pretend SWer. She scammed her subs and will never face the consequences of doing so (while the rest of us deal with it) among the general stigma of being in this field. pic.twitter.com/68MxUyQwKH

— neptuneexplainsitall (@urwaifuneptune) August 28, 2020
–
Bella Thorne: I'm the first celebrity to make an onlyfans

Reality: pic.twitter.com/9eN3msTAfk

— forestmama???????????????? (@forestbonnieMFC) December 13, 2020
–
lmao bella thorne really think she's the onlyfans originator… think she's the porno pioneer pic.twitter.com/KN8VjmT02h

— jay (@knilyaj) December 14, 2020
–
every sex worker ever teaming up to clown bella thorne: pic.twitter.com/5fVc4XRZZy

— jay (@knilyaj) December 14, 2020
–
Why would she even do this??

Thorne excused her behavior by saying she was doing research for an upcoming movie with Sean Baker about the platform, and that she fully supports sex workers. In PT 1 of a string of tweets, she said she was trying to, "Remove the stigma behind sex, sex work, and the negativity that surrounds the word SEX itself by bringing a mainstream face to it that's what [she] was trying to do, to help bring more faces to the site to create more revenue for content creators on the site."

As for the film she said she was doing research for, well, according to Baker he has nothing to do with it. It's also worth noting that assuming this project is real and actually in the works, her fame completely discredits the authenticity of the results. Without going under cover she would have no way of knowing what life is actually like on OnlyFans.

August 28, 2020
So there you have it, Bella Thorne was reckless and it negatively affected thousands of sex workers and content creators. We're not sure what movie she's talking about (there's no sign of it on her IMDb) but we hope if it ever gets made, she takes the time and care to bring on actual sex workers to work on the project.