This week: Y: The Last Man, The World's Most Amazing Vacation Rentals, You vs. Wild: Out Cold, Nailed It!, He-Man and the Masters of the Universe, The Morning Show, Sex Education, Chicago Party Aunt, Black Power: A British Story of Resistance, Subnormal: A British Scandal, Uprising
Y: The Last Man
Series premiere
Mon Sept 13
On FX on Hulu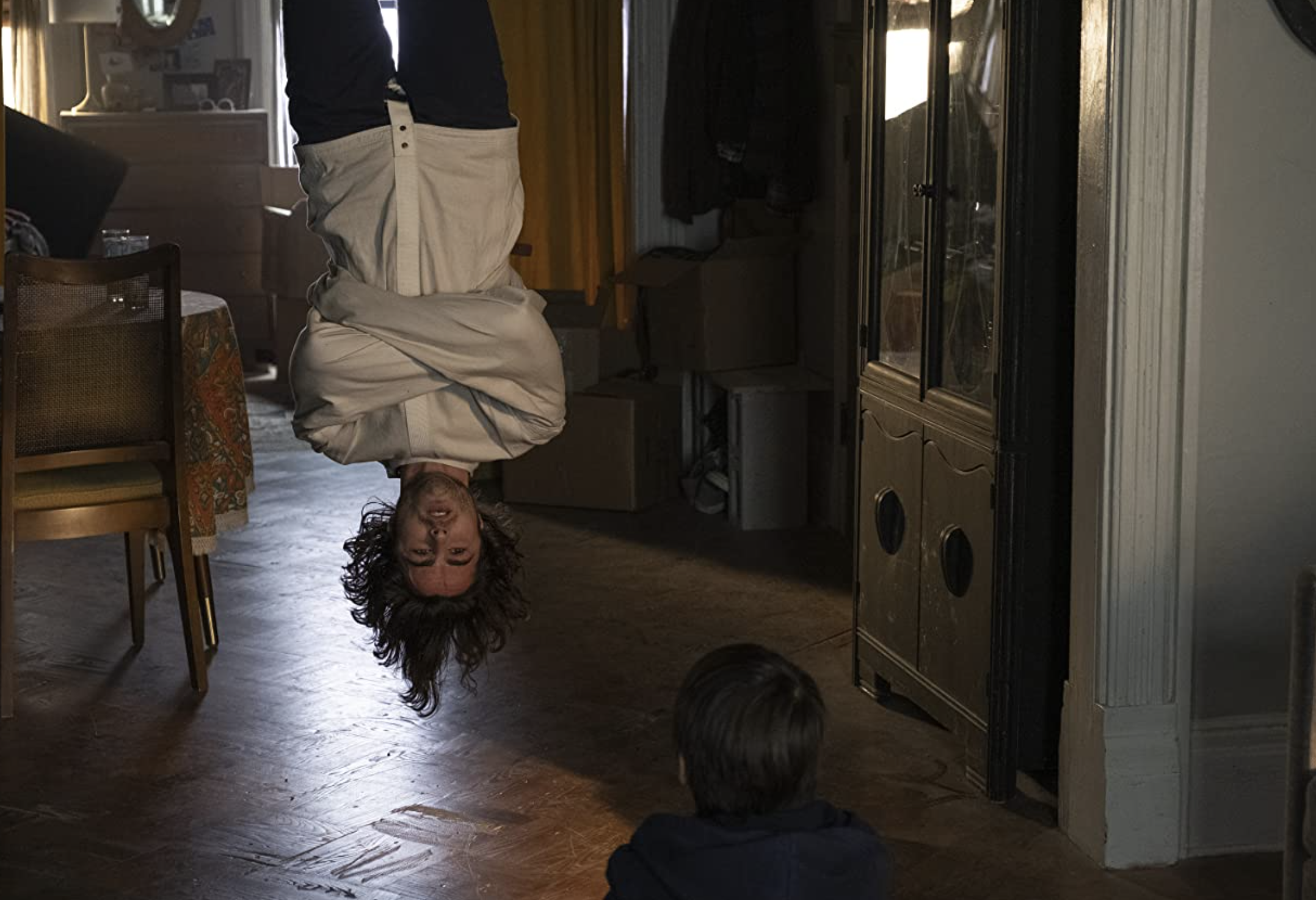 Photo © 2021, FX Networks
The Y: The Last Man series, coming exclusively to FX on Hulu with a three episode premiere on Monday Sept 13, is a terse, slow simmering, at times head-scratching, but engaging take on a particular kind of apocalypse. The perspectives and issues missing from Vaughan's decidedly male take on the story are re-envisioned through the lenses of a number of women creatives. They include showrunner Eliza Clark, writer Donnetta Lavinia Grays, and super producer Nina Jacobson. The result feels more rooted in the ways women see the world and the series, in turn, fires off an arsenal of dynamic performances. Top among them is Romans as Agent 355. (read Sherin Nicole's review)
Y: The Last Man debuts on FX on Hulu today.
From Hulu:
"Y: The Last Man" traverses a post-apocalyptic world in which a cataclysmic event decimates every mammal with a Y chromosome but for one cisgender man and his pet monkey. The series follows the survivors in this new world as they struggle with their efforts to restore what was lost and the opportunity to build something better.
—
The World's Most Amazing Vacation Rentals
Season 2
Tues Sept 14
On Netflix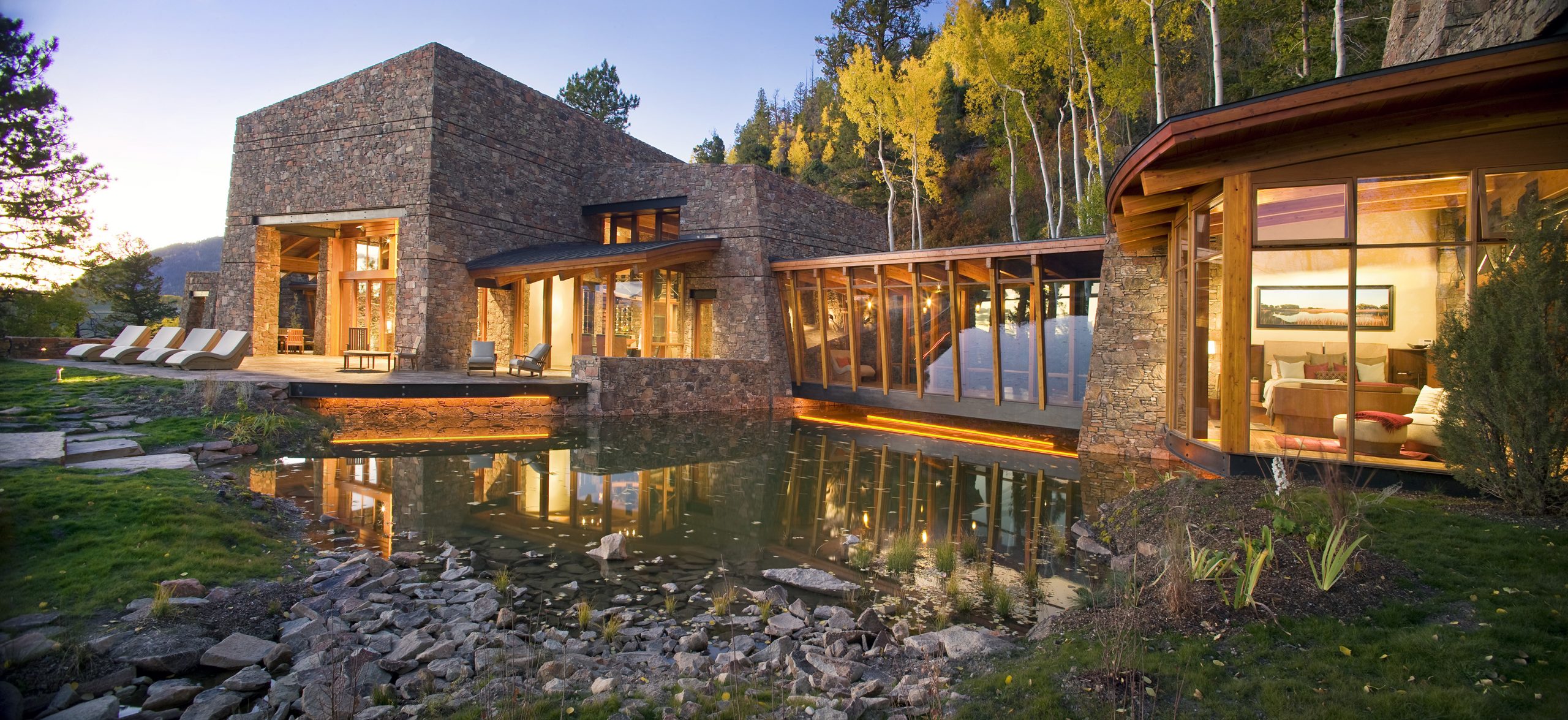 Photo credit Netflix © 2021
The World's Most Amazing Vacation Rentals returns to really rub it in your face that you can't safely travel right now. From insane desert landscape dream designs to flying saucer glamping sites (it's a thing), Luis D. Ortiz, Megan Batoon, and Jo Franco show you some more of the coolest Insta-worthy spots. It's such a laid-back yet inspiring series so you can simply chill and get some design tips as well as some travel ideas. Pour yourself a glass of vino and let your dreams run wild as you plan your next road trip!
The World's Most Amazing Vacation Rentals
returns to Netflix tomorrow.
From Netflix:
With an eye for every budget and style of travel, three experts take you inside The World's Most Amazing Vacation Rentals. The second season of this series will showcase more incredible properties around the world and the life changing experiences they have to offer.
—
You vs. Wild: Out Cold
Interactive special
Tues Sept 14
On Netflix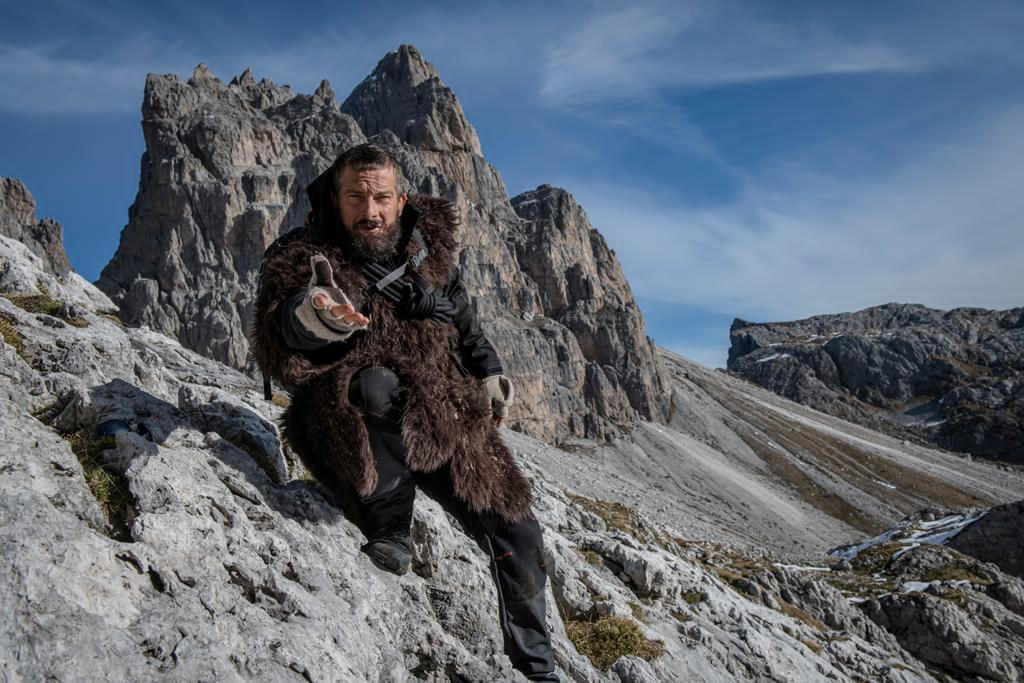 Photo credit Netflix © 2021
Bear Grylls has lost his memory. Well, sorta…in his latest Netflix interactive survival experience, Bear has survived a plane crash and now must find his way out of the wilderness. It's up to you to keep him alive and remind him of basic survival skills (that, if you've watched any of his shows before, will have been drilled into your head). You vs. Wild: Out Cold tries to add a bit more of a human storyline to the mix, which is cheesy at times but it's still a lot of fun. Oh, and it's also stressful. Like, super stressful deciding how to survive the frozen landscape (but that's all part of the wild experience, right?). Pay attention, 'cause Bear's life (and memory) is in your hands once again.
Watch You vs. Wild: Out Cold on Netflix tomorrow.
From Netflix:
Bear Grylls is back for another exciting interactive movie for the whole family. Following a plane crash in the ice ravaged mountains, Bear finds himself with amnesia trying to save himself and the pilot from the harsh winter elements. Bear will face huge rock walls, freezing dark tunnels and creepy wildlife creatures. He's in big trouble, and he needs your help to find his friend and get out of danger.
—
Nailed It!
Season 6
Wed Sept 15
On Netflix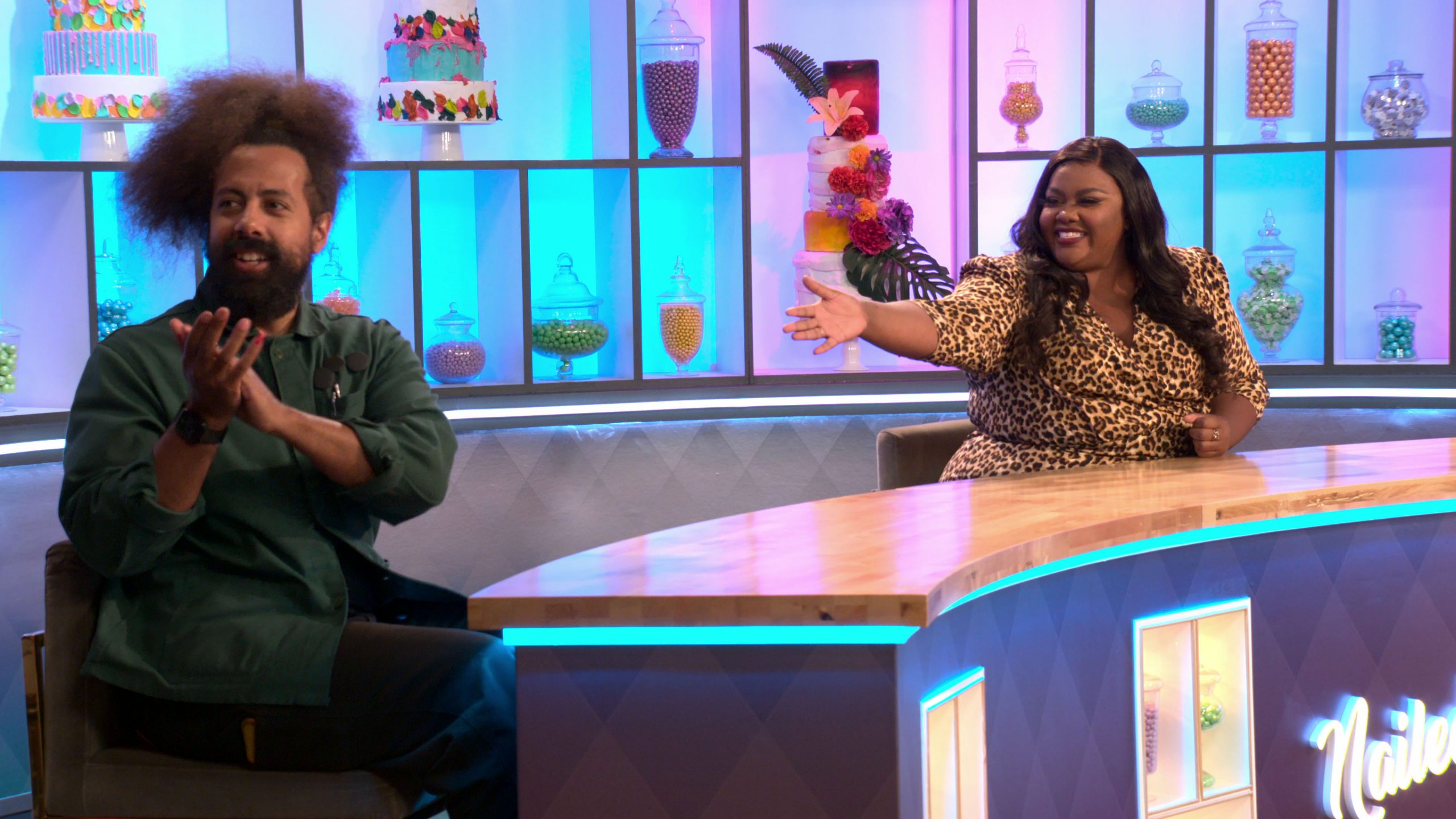 Photo credit Netflix © 2021
Nailed It! is back to bring us some more joy. We don't know how they find these bakers but we're convinced they come from an alternate universe where recipes are more like suggestions and wasabi peas are an acceptable substitute for gumdrops. And we wouldn't have it any other way—that's all part of the charm! You can't help but curl up with laughter at some of the #hotmesses that get funnier the longer you look at them. And Nicole, Jacques, and the guest judges find increasingly…inventive ways of describing the sweet treats they have to taste. We missed the fun & lighthearted whimsy baked right into this show!
Nailed It! is back on Netflix on Wednesday.
From Netflix:
The Emmy-nominated series is back again! This season, our bakers take on paranormal pastries, celebrate Black History, and attempt to recreate chocolate masterpieces inspired by our very own Jacques Torres – all for that $10,000 prize. It's part reality contest, part hot mess, and you can't look away.
—
He-Man and the Masters of the Universe
Season 1, Part 2
Thurs Sept 16
On Netflix
Stream He-Man and the Masters of the Universe on Netflix on Thursday.
From Netflix:
On Eternia, the first planet of creation, a demonic tyrant rises: Skeletor! With dark armies at his command, Skeletor is on the march, hell-bent on capturing Eternia's kingdoms, and its ultimate prize – Castle Grayskull, the ancient fortress of mystery said to contain the greatest power in the universe. It's up to He-Man and his brave squad of rookie heroes to stop Skeletor and restore the peace. Both sides come armed with enchanted Power Weapons – transforming them into Masters of the Primal Powers of the Universe. It's Master vs. Dark Master, He-Man vs. Skeletor – fighting for control of Eternia, Castle Grayskull, and the fate of us all. In the end, who will become MASTER OF THE UNIVERSE?
—
The Morning Show
Season 2
Fri Sept 17
On Apple TV+
The Morning Show returns to Apple TV+ on Friday.
From Apple:
"The Morning Show" explores the cutthroat world of morning news and the lives of the people who help America wake up in the morning. Told through the lens of two complicated women working to navigate the minefield of high-octane jobs while facing crises in both their personal and professional lives, "The Morning Show" is an unapologetically candid drama that looks at the power dynamics between women and men, and women and women, in the workplace.
—
Sex Education
Season 3
Fri Sept 17
On Netflix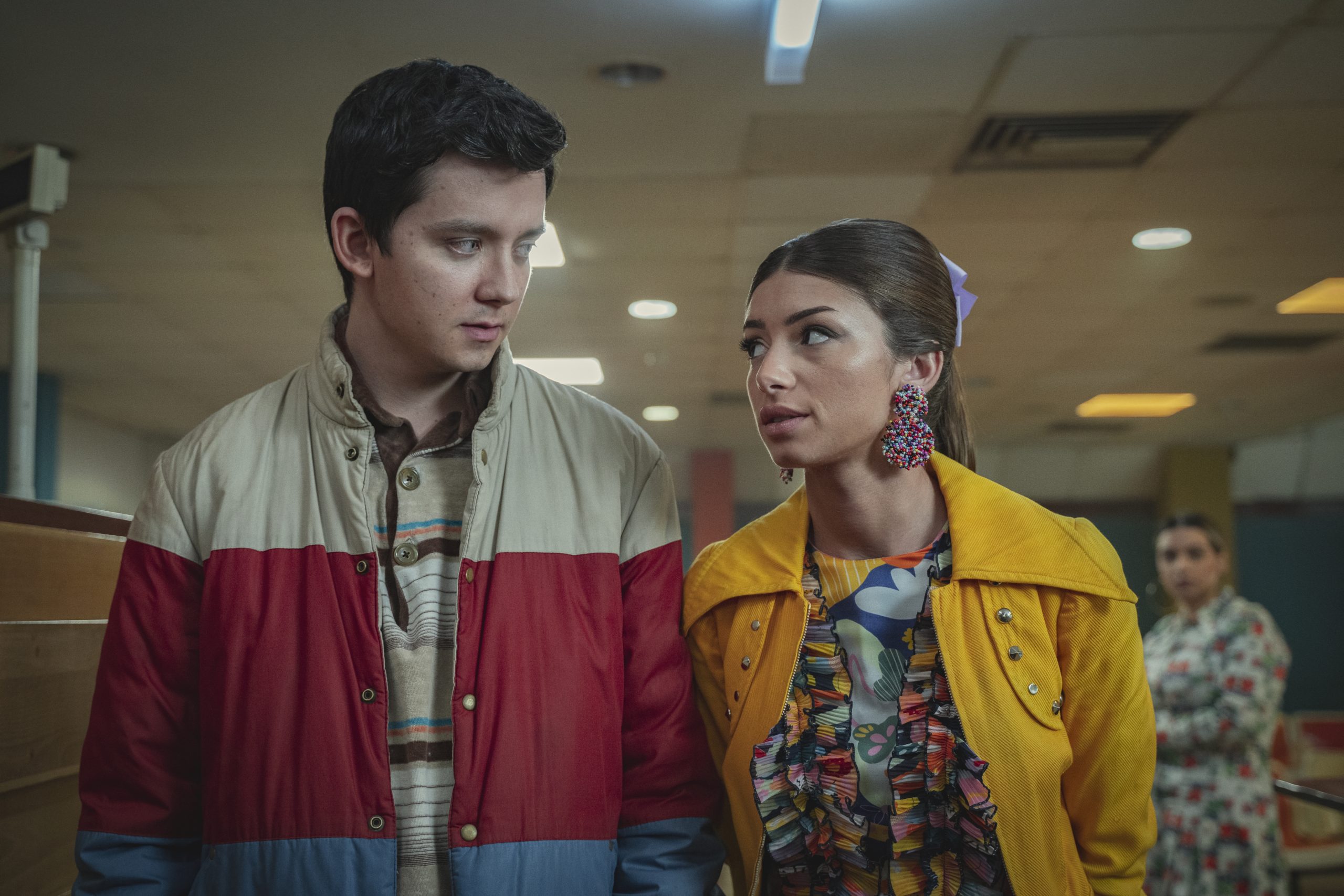 Photo credit: Sam Taylor/Netflix © 2020
Sex Education is going through some changes. Otis (Asa Butterfield) and Maeve (Emma Mackey) are still kinda-not-really friends and their club is defunct…for now. Someone else has got to take up the mantle, right? Uhhhh…that idea could go very, very wrong. The whole gang are too wrapped up in their own romances to care (at first). Otis is having lots and lots of casual (and top secret) sex with a girl who does not want to ruin her reputation. Eric (Ncuti Gatwa) is ready to go all the way with Adam (Connor Swindells). Aimee (Aimee Lou Wood) and Steve (Chris Jenks) are feeling too settled in their relationship. Maeve is looking at her future. Ola (Patricia Allison) is exploring all kinds of new things. And Jean (Gillian Anderson) is heavily pregnant and debating on whether to tell the father. Oh, yeah, and the school is facing several major sex scandals. Yup, that's a lot of hormone-fuelled, super-duper horny, terribly awkward drama. And S3 of Sex Education is on fine form as the kids realize breaking all the rules is something everyone has to do once in a while—and learning lessons doesn't just have to be in the classroom.
Sex Education comes back to Netflix on Friday.
From Netflix:
It's a new year, Otis is having casual sex, Eric and Adam are official, and Jean has a baby on the way. Meanwhile, new headteacher Hope tries to return Moordale to a pillar of excellence, Aimee discovers feminism, Jackson gets a crush and a lost voicemail still looms. Prepare for commitment animals, alien phenomena, vulva cupcakes and much more of Madam Groff.
—
Chicago Party Aunt
Season 1
Fri Sept 17
On Netflix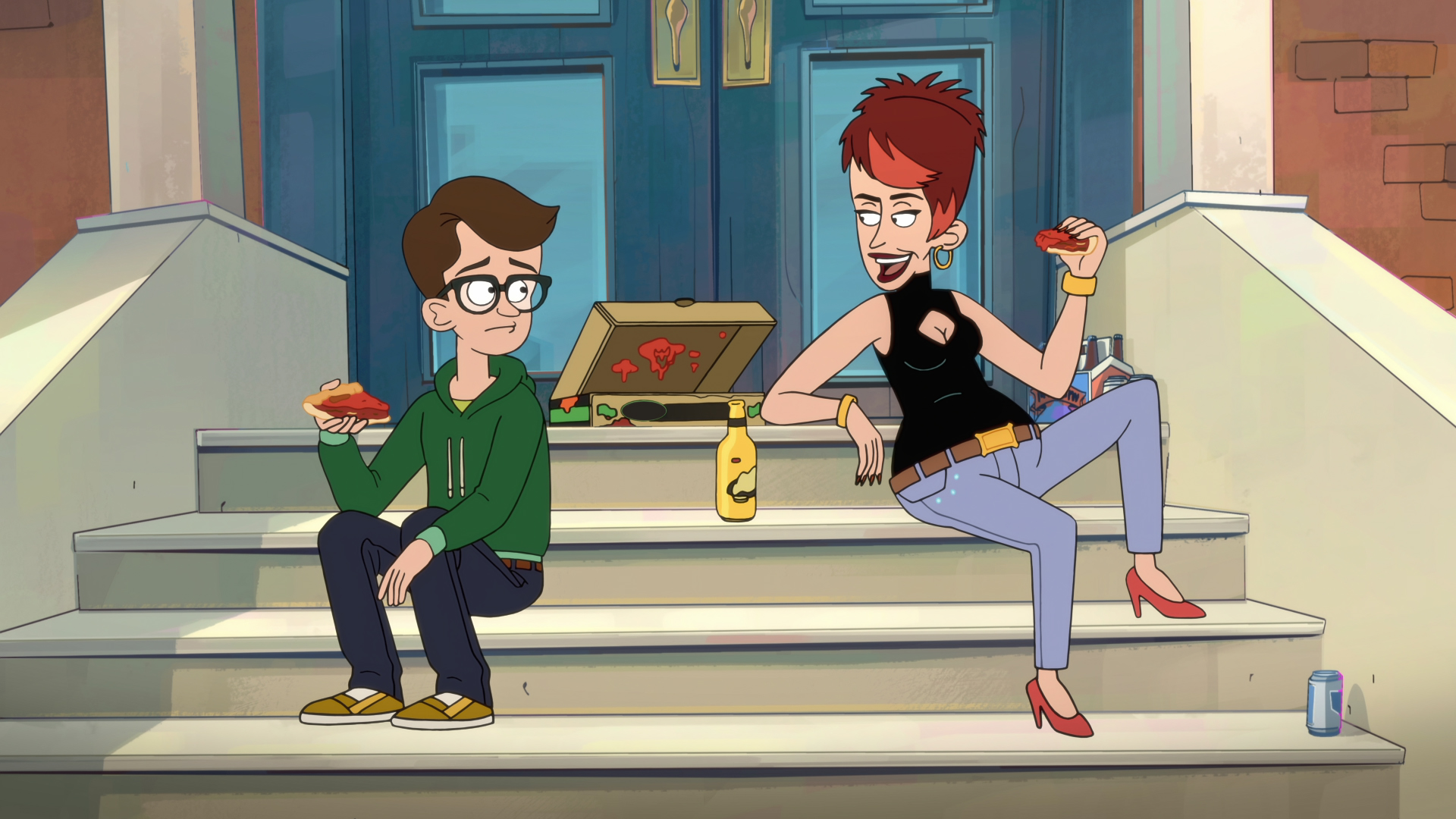 Photo © Netflix 2021
We all have that fun aunt—the one who's allergic to responsibility, likes to get drunk at family functions, and lives her life the way she wants, society be damned. Diane (Lauren Ash) is known as The Chicago Party Aunt and she's been rocking her way through life, partying hard and taking advantage of the good-hearted suburban nature of her family. That is, until her sister gives her an ultimatum: Get your life together and take care of your nephew on his gap year…or you're cut off. Fortunately her nephew Daniel (Rory O'Malley) is a good kid who needs to let loose and figure out who he is beyond his helicopter parents. They make a good team…when they're not getting into ridiculous situations, that is.
Diane is extra rough around the edges (like, really, really rough) but she has a heart of gold and she comes through when it matters. And Diane's sister Bonnie (Jill Talley) is her total opposite, a suburban housewife who doesn't know how to let things go. Their relationship is hilariously peppered with the truths that'll get you nodding. Chicago Party Aunt is a late-night animated comedy that's half-raunchy jokes and half-family time…served up with some of Mike's Hard Lemonade. It's got plenty of pop culture zings and enough sharp observations about life in the city to keep you giggling even when the in-your-face moments go too far.
Stream Chicago Party Aunt on Netflix on Friday.
From Netflix:
Chicago Party Aunt is a half-hour animated comedy that follows Diane Dunbrowski, AKA The Chicago Party Aunt, as she stays true to her mantra 'If life gives you lemons, turn that shit into Mike's Hard Lemonade'.
—
Black Power: A British Story of Resistance
Subnormal: A British Scandal
Uprising
Fri Sept 17
On Amazon Prime Video
Watch Black Power: A British Story of Resistance,
Subnormal: A British Scandal, and Uprising on Amazon on Friday.
About Black Power: A British Story of Resistance:
Narrated by Daniel Kaluuya, Black Power: A British Story Of Resistance looks at the 60s and 70s through the eyes of the young Black people who refused to take racism as a part of the natural order of things in the UK. It shows how the civil rights struggle in America inspired activists to take a stand, and features rare archive of Martin Luther King Jr., Malcolm X and Stokely Carmichael's activities in Britain, as well as footage of leading figures in the movement in the UK: Altheia Jones-LeCointe, Darcus Howe and Roy Sawh.
About Subnormal: A British Scandal:
Examining one of the biggest scandals in the history of British education, Subnormal: A British Scandal reveals how Black children in the 1960s & 70s were disproportionately sent to schools for the so-called "Educationally Subnormal" (ESN). This gripping documentary tells the story of how Black parents, teachers and activists banded together to expose the injustice and force the education system to change. It explores the controversial debates on race and intelligence that led to the scandal, and the devastating impact it had on the children affected. The film discusses the IQ testing that took place and shows why it was heavily biased against Black migrant children.
About Uprising:
From executive producer and co-director Steve McQueen, Uprising is the extraordinary three-part story of three intertwined events in the UK from 1981: The New Cross Fire which killed 13 young Black people, the Black People's Day of Action, and the Brixton riots. The series will reveal how these events are connected through interviews with those involved and rare archival footage, and how, in the process, race relations were defined for a generation.