This week: The Witcher: Nightmare of the Wolf, Motherland: Fort Salem, Count Me In, Clickbait, Bob Ross: Happy Accidents, Betrayal & Greed, Motel Makeover, grown-ish, Family Reunion, He's All That, PEN15 Animated Special, Vacation Friends
The Witcher: Nightmare of the Wolf
Mon Aug 23
On Netflix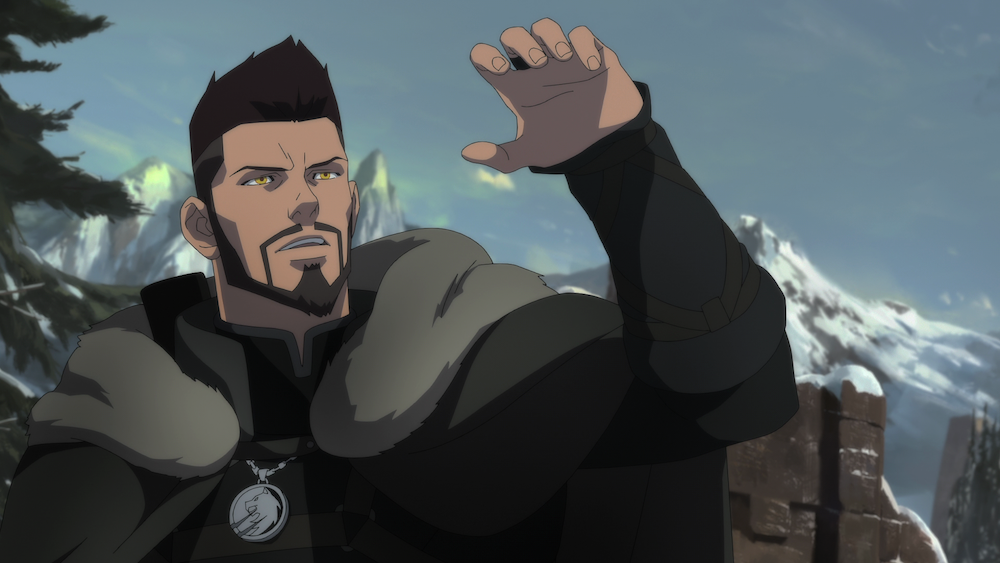 Photo courtesy of Netflix
Wanna take another walk in the world of The Witcher? Netflix has delivered in style. Nightmare of the Wolf is an animated tale of a time before Geralt won our hearts. In this origin story we meet his mentor Vesemir (Theo James), a Witcher on a mission to uncover and defeat a terrifying monster threatening to devour an entire kingdom. His journey tests him with demons of a personal kind and makes him question everything. Nightmare of the Wolf has the same whimsical touches of humor from the live action Witcher series and Vesemir is a charming yet rugged lead—with less "hmms" and more dialogue—fitting as a future mentor to Geralt. The anime style suits the fantastical yet medieval nature of the world, especially when it pairs flashbacks of Vesemir's poor beginnings with the man he became. Toss a coin to your Witcher, 'cause Netflix is pouring out the good stuff.
Stream The Witcher: Nightmare of the Wolf on Netflix.
From Netflix:
The world of The Witcher expands in this anime origin story: Before Geralt, there was his mentor Vesemir — a swashbuckling young witcher who escaped a life of poverty to slay monsters for coin. But when a strange new monster begins terrorizing a politically-fraught kingdom, Vesemir finds himself on a frightening adventure that forces him to confront the demons of his past.
—
Motherland: Fort Salem
"Revolution, Part I" – Season 2 finale
Tues Aug 24 – 10PM
On Freeform
Photo: Freeform/Jeff Petry
The Camarilla has come to Fort Salem and they're wreaking a horrifying path of destruction. It'll take all our witches' strength to fight them, forcing them to form some desperate alliances. Raelle (Taylor Hickson), Abigail (Ashley Nicole Williams), and Tally (Jessica Sutton) get a chance to prove the power they've been honing over the past season and it is incredible to watch. The fallout is massive and leaves everyone reeling, grieving, and questioning…and things will never be the same. Motherland: Fort Salem serves up one hell of a season finale that will set the world on fire with revelations and you'll be burning for more, more, more!
Motherland: Fort Salem airs on Freeform tomorrow.
From Freeform:
In the season finale, the Camarilla brings the fight to Fort Salem. Raelle, Abigail, Tally and their allies are forced to make impossible, world-changing choices.
—
Count Me In
Season 1
Tues Aug 24
On Netflix
Be sure to catch idobi's own Jess Bowen on this series
about the world's greatest drummers!
Count Me In hits Netflix tomorrow.
From Netflix:
This documentary features some of rock's greatest drummers as they come together in an inspiring rhythmic journey about the power of human connection.
—
Clickbait
Season 1
Wed Aug 25
On Netflix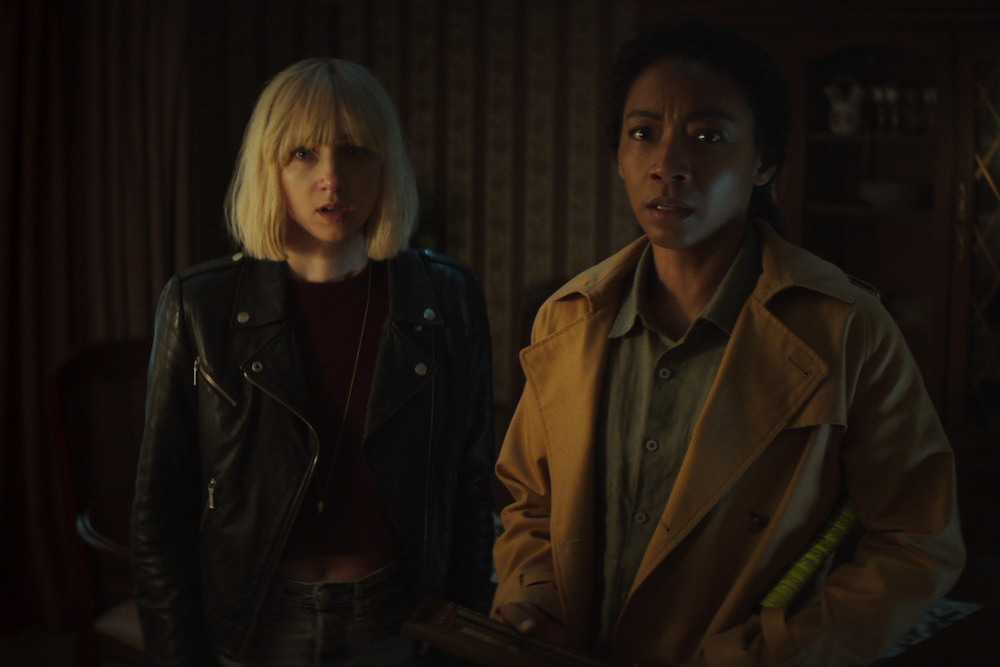 Photo credit courtesy of Netflix © 2021
Nick Brewer (Adrian Grenier) is a father, husband, and brother who lives a seemingly normal life. Until one day he disappears and a video surfaces on the internet of him, badly beaten, holding a sign that says, "I abuse women. At 5 million views, I die." As the video goes viral, his family desperately tries to find him and figure out if what the video says is true. Clickbait is a gripping thriller that slowly peels back the layers of Nick's true self and of those around him. We race to find answers through the eyes of a different character per episode, which builds high suspense as more revelations come to the surface with each passing moment. Just as the title implies, you won't be able to stop watching the next episode—and the show's sense of morbid curiosity will mirror your own.
Watch Clickbait on Netflix on Wednesday.
From Netflix:
Nick Brewer (Adrian Grenier) is a loving father, husband, and brother, who one day suddenly and mysteriously disappears. A video appears on the internet of the badly beaten Nick holding a card that says "I abuse women. At 5 million views, I die". Is this a threat or confession? Or both? As his sister (Zoe Kazan) and wife (Betty Gabriel) rush to find and save him, they uncover a side of Nick they didn't know existed. An eight-episode limited series told from revolving points of view, Clickbait is a compelling, high stakes thriller that explores the ways in which our most dangerous and uncontrolled impulses are fueled in the age of social media, revealing the ever-widening fractures we find between our virtual and real-life personas.
—
Bob Ross: Happy Accidents, Betrayal & Greed
Wed Aug 25
On Netflix
Bob Ross: Happy Accidents, Betrayal & Greed
comes to Netflix on Wednesday.
From Netflix:
Bob Ross: Happy Accidents, Betrayal & Greed brings us the shockingly untold story of the prolific landscape artist and host of The Joy of Painting. With a keen appreciation for nature, and a kind and gentle demeanor, Bob Ross encouraged everyone he met to embrace their creativity and believe in themselves, becoming a cultural phenomenon along the way. The man who famously said that there were no mistakes – just happy accidents – has brought sheer delight to the world for decades. Beyond the iconic hair, soothing voice and nostalgic paintings lies a mystery that many have yet to discover.
—
Motel Makeover
Season 1
Wed Aug 25
On Netflix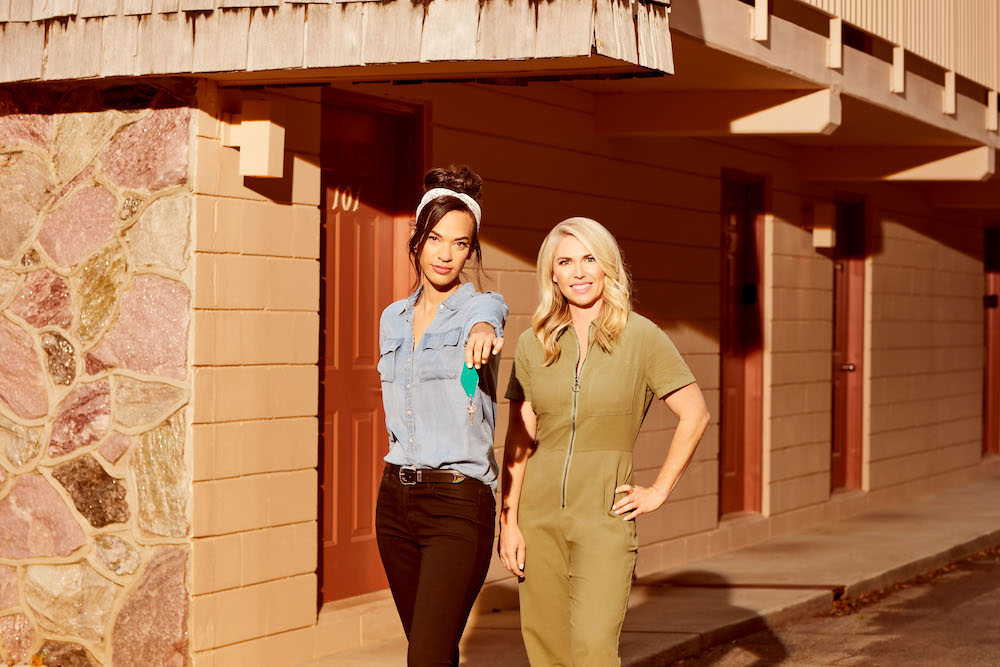 Photo courtesy of Netflix © 2021
What if Schitt's Creek happened IRL? Okay, maybe without the rich-people-gone-bankrupt trope but with more millennial dream power…you'd get Motel Makeover. April and Sarah are aiming to build a motel empire, converting run-down messes to Insta-worthy hangout spots. They already had a hit motel makeover, now they're taking on an even bigger challenge in Ontario. April, Sarah, and their team have tons of zingy positive attitude that can be a lot to take in but they have plenty of styling-on-a-budget tips that'll get you browsing for your own home. And you'll enjoy seeing the transformations that a little bit of TLC (and a few neon signs) can do. Pour some rosé and settle in for some hipster restoration.
Motel Makeover hits Netflix on Wednesday.
From Netflix:
April and Sarah are chasing the millennial dream – shrugging off secure but boring desk jobs to be their own bosses. Their goal is to launch a hospitality empire, one motel at a time. That's right: motel, not exactly the most popular search word for sophisticated travelers. These decaying roadside relics are invariably low on comfort, cachet and style. But not after April and Sarah work their magic.
—
Grown-ish
"Canceled" – Season 4, Episode 8
Thurs Aug 26 – 8PM
On Freeform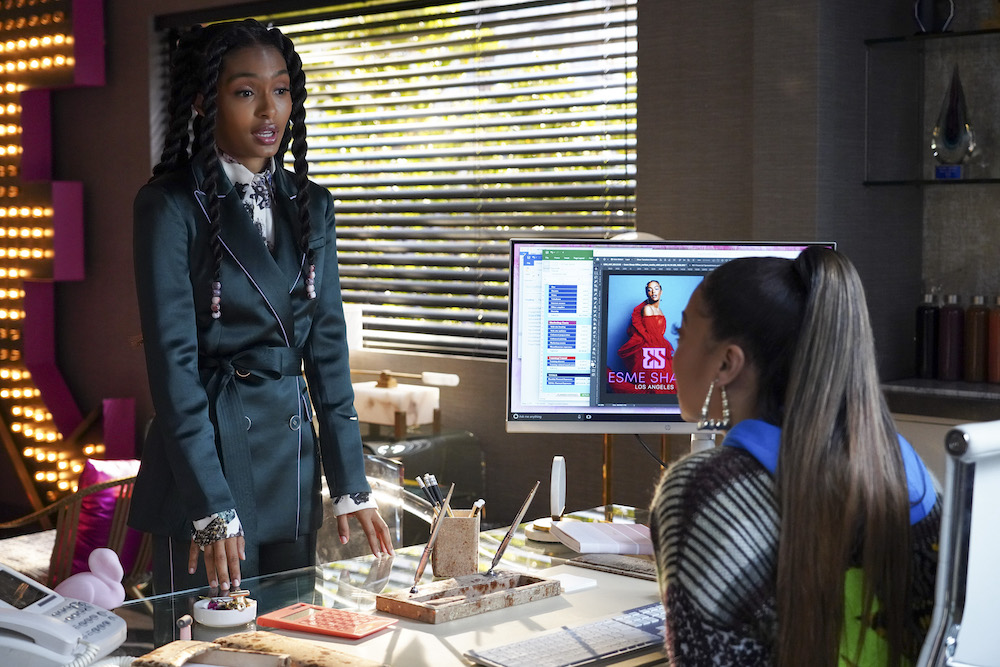 Photo: Freeform/Tiffany Roohani
grown-ish is taking on cancel culture this week. After Luca (Luka Sabbat) tweets about Zoey's (Yara Shahidi) boss stealing her designs, the scandal goes viral…and Zoey tries to stop it. In doing so, she accidentally makes things ten times worse and gets a taste of what the internet is best known for: Tearing people down. She gets her next lesson in workplace politics—and standing up for herself. "Canceled" shows the real world effects of being put on trial by the internet, which brings some nuance to the subject in true grown-ish fashion. It also shows how problems can never keep Zoey down for long. She's growing and learning and doing it in style—and you'll be cheering her on!
Grown-ish airs on Freeform on Thursday.
From Freeform:
After Luca calls out Zoey's boss on social media, Zoey tries to regain control over cancel culture – but things backfire. Jazz and Des grow closer as Jazz teaches herself to lean on Sky less.
—
Family Reunion
Part 4
Thurs Aug 26
On Netflix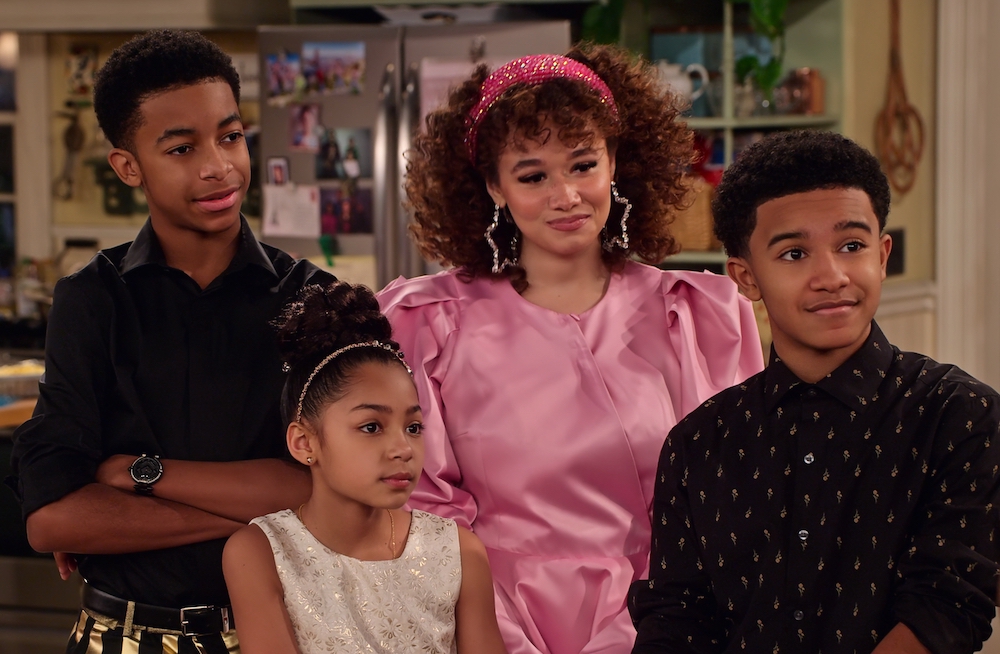 Photo courtesy of Netflix © 2021
Family Reunion is back for another round and the McKellan household is full to bursting with visitors, love, and (well-meaning) advice. The series has always been fueled by good laughs, delicious food, and a big heart and it's not afraid to get deep at times. The kids are growing up too fast—much to Cocoa's (Tia Mowry-Hardrict) dismay—and it makes for lots of moments that will have you smiling at your own childhood memories. Of course, M'Dear (Loretta Devine) still reigns supreme over her family, taking the spotlight more than a few times to drop wisdom and snappy zingers all in one breath. Settle in for some more Family Reunion goodness—its signature cheesy humor with a side of sweet is like warm delicious comfort food you can always count on to cheer you up.
Family Reunion returns to Netflix on Thursday.
From Netflix:
The new episodes will follow the McKellans as they settle into their new lives in the South and even more hilarious antics ensue as they learn to live together under M'Dear's roof and the family bonding gets real.
—
He's All That
Fri Aug 27
On Netflix
Watch He's All That on Netflix on Friday.
From Netflix:
In this reimagining of 1999's She's All That, teen social media influencer Padgett's humiliating on-camera breakup goes viral, leading her to make a risky bet to save her reputation: She swears she can turn scruffy antisocial Cameron into prom king material. But things get complicated when she finds herself falling for him IRL.
—
PEN15 Animated Special
Fri Aug 27
On Hulu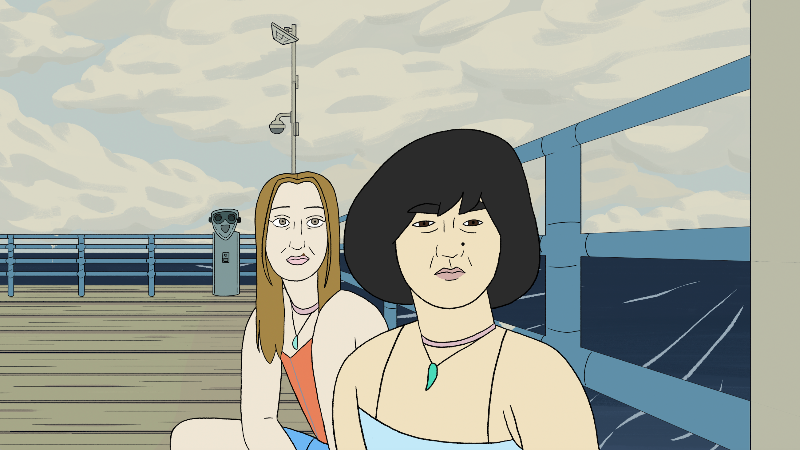 Photo courtesy of Hulu
Anna (Anna Konkle) and Maya (Maya Erskine) head on vacation with Anna's dad Curtis (Taylor Nichols)…and it takes them on a whole different kind of trip. This animated special only serves to up the weirdness of the PEN15 series, exaggerating the girls' silliness and childish sense of fun but also their insecurities. The shame that often accompanies puberty really hits them hard, which makes their newfound freedom in Florida both a blessing and a chance for major bad decisions. It'll make you cringe at your own memories of your first "grown-up" vacation and how you acted around the cool kids—but it will also make you smile at the memories they're making.
PEN15 Animated Special hits Hulu on Friday.
From Hulu:
On vacation with Curtis, Anna and Maya are introduced to new crippling insecurities. The girls try to ignore them but a mystical turn makes their self-doubt impossible to forget.
—
Vacation Friends
Fri Aug 27
On Hulu
Stay tuned for our review!
Watch Vacation Friends on Hulu on Friday.
From Hulu:
In this raw and raunchy comedy, strait-laced Marcus and Emily (Lil Rel Howery, Yvonne Orji) are befriended by wild, thrill-seeking partiers Ron and Kyla (John Cena, Meredith Hagner) at a resort in Mexico. Living in the moment, the usually level-headed couple lets loose to enjoy a week of uninhibited fun and debauchery with their new "vacation friends." Months after their walk on the wild side, Marcus and Emily are horrified when Ron and Kyla show up uninvited at their wedding, creating chaos and proving that what happens on vacation, doesn't necessarily stay on vacation.