This week: Un(Well), Teenage Bounty Hunters, Project Power, Boys State, Little Voice, Lovecraft Country, Wynonna Earp
(Un)Well
Season 1
Wed Aug 12
On Netflix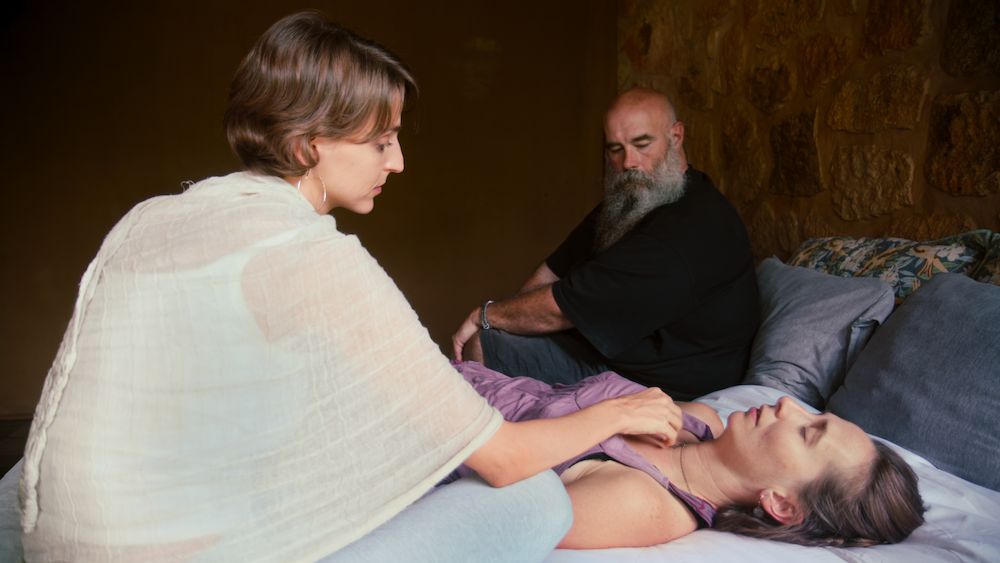 Self care is important and so is finding what works for you. But where is the line between medicine and alternative therapies? Certain wellness treatments have proven to be helpful in some cases but there is a dark side to the latest push for non-scientific practices. (Un)Well takes a look into six different wellness trends, from essential oils to fasting, and breaks down where these practices came from and why they can potentially be harmful. The documentary talks to people with real experiences from each trend—on both sides—whether they're a self-proclaimed guru on the topic or a victim of it. (Un)Well pulls you in with these stories that, depending on your worldview, range from absurd to reasonable to downright terrifying. It encourages you to see all sides to each wellness fad, good and bad, in order to come to your own decisions about it. That makes this documentary a deeply important watch for those of you considering one of the practices highlighted.
Watch (Un)Well on Netflix on Wednesday.
From Netflix:
(Un)Well is a six-part docuseries that investigates controversial wellness fads. Each episode dives deep into trends and treatments that catch on like wildfire but that inspire both passionate support and deep skepticism. Topics include apitherapy, essential oils, breast milk, extreme fasting, ayahuasca, and tantric sex. The series will explore all sides of the topic –from what hurts to what works.
—
Teenage Bounty Hunters
Season 1
Fri Aug 14
On Netflix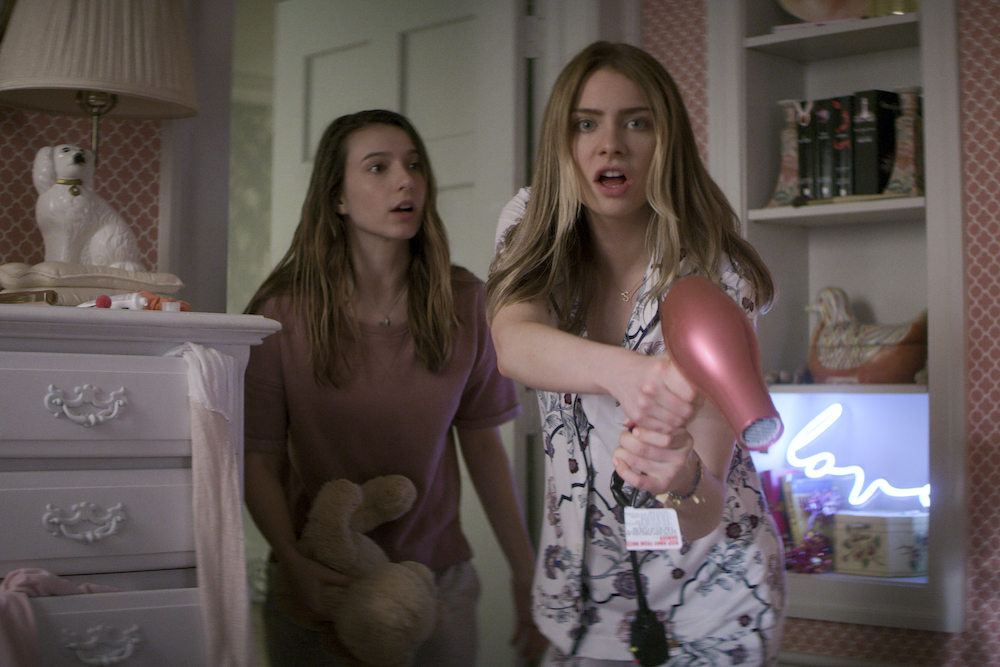 What lengths have you ever gone to to hide something from your parents? How about capturing a fugitive who skipped bail to earn enough reward money to repair your daddy's car? Yup, that's the tale of how Blair (Anjelica Bette Fellini) and Sterling (Maddie Phillips) became teenage bounty hunters. It might sound absurd but these wonder-twins are part of the white picket fence, private catholic school, country club high society, where you can get away with all manner of things so long as you look pretty. And they do get away with a whole lotta crime, especially because they're teenage girls who know how to make boys talk. And they can handle a shotgun. But even though they're now bounty hunters, Blair and Sterling are still teenagers, which means they have concerns like frenemies, cute boys, and extra-curriculars. Teenage Bounty Hunters is wild and weird and deeply funny when it blurs the lines between living up to certain expectations and…bounty hunting. Totally normal teenage girl behaviour, right? Embrace the premise and you won't be disappointed. Fellini and Phillips totally sell it and they're given a huge performance-assist by their bounty hunter mentor Bowser (Kadeem Hardison). Get ready to laugh and marvel at the power of teenage girls who really do have the power to change the world (one bounty at a time).
Stay tuned for our full review!
Teenage Bounty Hunters hits Netflix on Friday.
From Netflix:
Rebelling against their buttoned-up Southern community, sixteen-year-old fraternal twin sisters Sterling (Maddie Phillips) and Blair (Anjelica Bette Fellini) Wesley team up with veteran bounty hunter Bowser Jenkins (Kadeem Hardison) for an over-the-top adventure as they dive into the world of bail skipping baddies and suburban secrets while trying to navigate high school drama — love, sex, and study hall.
—
Project Power
Fri Aug 14
On Netflix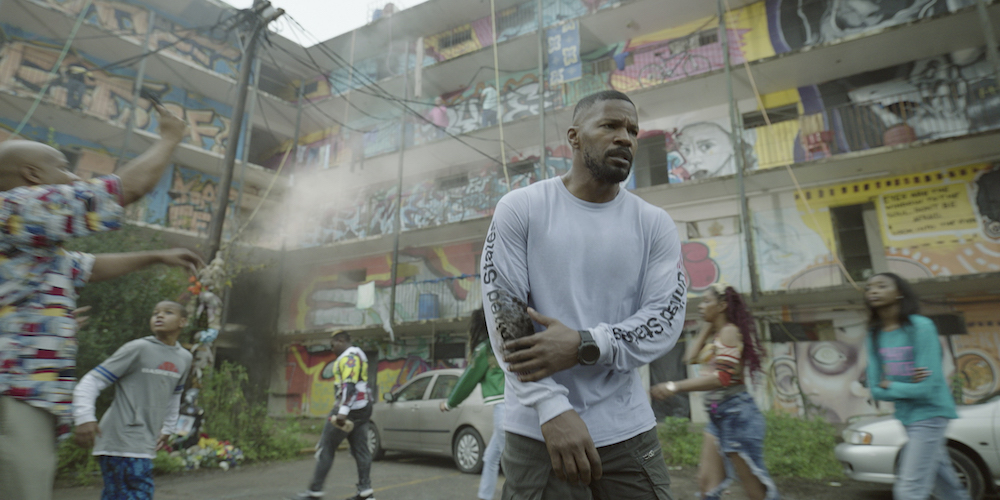 What if you could take a pill that unlocked a superpower? Yeah, we'll bet you're intrigued. Project Power takes that idea and shows you the gritty, ugly, and badass sides to it. When this mysterious new drug starts taking over New Orleans, ex-soldier Art (Jamie Foxx) is hellbent on stopping it. He teams up with a teenaged drug dealer named Robin (Dominique Fishback), a kid who doesn't need to take a pill to spit straight fire with her rap lyrics. They're joined by a local NOPD cop (Joseph Gordon-Levitt) to track down the cartel responsible for creating and distributing this drug on the streets of New Orleans. But what's the end game? And does Art have other motives? Get ready for it because Project Power combines superpowered elements with a brutal and bloody edge to give you a thrilling race against time to stop us from having our darkest desires.
Stick around for our full review coming soon.
Stream Project Power on Netflix on Friday.
From Netflix:
On the streets of New Orleans, word begins to spread about a mysterious new pill that unlocks superpowers unique to each user. The catch: You don't know what will happen until you take it. While some develop bulletproof skin, invisibility, and super strength, others exhibit a deadlier reaction. But when the pill escalates crime within the city to dangerous levels, a local cop (Joseph Gordon-Levitt) teams with a teenage dealer (Dominique Fishback) and a former soldier fueled by a secret vendetta (Jamie Foxx) to fight power with power and risk taking the pill in order to track down and stop the group responsible for creating it.
—
Boys State
Fri Aug 14
On Apple TV+
Check back soon for our review!
Boys State debuts on Apple TV+ on Friday.
From Apple TV+:
The sensational winner of the Grand Jury Prize for documentary at this year's Sundance Film Festival, "Boys State" is a wildly entertaining and continually revealing immersion into a week-long annual program in which a thousand Texas high school seniors gather for an elaborate mock exercise: building their own state government. Filmmakers Jesse Moss and Amanda McBaine closely track the escalating tensions that arise within a particularly riveting gubernatorial race, training their cameras on unforgettable teenagers like Ben, a Reagan-loving arch-conservative who brims with confidence despite personal setbacks, and Steven, a progressive-minded child of Mexican immigrants who stands by his convictions amidst the sea of red. In the process, they have created a complex portrait of contemporary American masculinity, as well as a microcosm of our often dispiriting national political divisions that nevertheless manages to plant seeds of hope.
—
Little Voice
"Sea Change" – Season 1, Episode 8
Fri Aug 14
On Apple TV+
Watch Little Voice on Apple TV+ on Friday.
From Apple TV+:
A love letter to the diverse musicality of New York, "Little Voice" explores the universal journey of finding your authentic voice in your early 20s. Sara Bareilles ("Waitress") will provide original music for this fresh, intensely romantic tale of the search to find your true voice … and then the courage to use it.
—
Lovecraft Country
"Sundown" – Series premiere
Sun Aug 16 – 9PM
On HBO
Our full review is coming soon.
Lovecraft Country comes to HBO on Sunday.
From HBO:
Veteran and pulp-fiction aficionado Atticus Freeman travels from the Jim Crow South to his South Side of Chicago hometown in search of his missing father Montrose. After recruiting his uncle George and childhood friend Letitia to join him, the trio sets out for "Ardham," MA, where they think Montrose may have gone looking for insight into Atticus' late mother's ancestry. As they journey across the Midwest, Tic, Leti, and George encounter dangers lurking at every turn, especially after sundown.
—
Wynonna Earp
"Afraid" – Season 4, Episode 4
Sun Aug 16 – 10PM
On Syfy
Wynonna Earp hits Syfy on Sunday.
From Syfy:
Wynonna faces down an ancient enemy as Waverly and Nicole search for help.