This week: Star Wars: The Bad Batch, Selena: The Series, The Sons of Sam: A Descent into Darkness, Girls5eva, Jupiter's Legacy, Mythic Quest, Shrill, The Nevers
Star Wars: The Bad Batch
Season 1 premiere
Tues May 4
On Disney+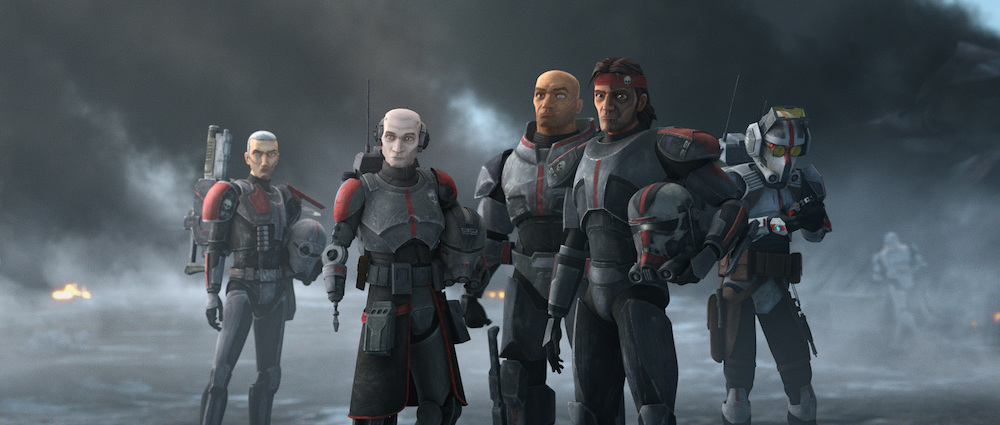 Photo © 2021 Lucasfilm Ltd. & ™
These first episodes don't give you a lot but they do a great job setting up some interesting dynamics that I think many Star Wars fans might have wondered about: What happened to the clones? How come the clone troopers were so badass but the stormtroopers can't hit the broad side of a barn? So far I think the second question is going to be a part of this story as we see Hunter, Wrecker, Tech, Echo, and Crosshair find their place in this world while seeking out other clones that might have also escaped the Order 66 programming. So far The Bad Batch is a good start to an interesting place in Star Wars lore. (read Julian Lytle's review)
Star Wars: The Bad Batch comes to Disney+ tomorrow.
From Disney+:
"Star Wars: The Bad Batch" follows the elite and experimental clones of the Bad Batch (first introduced in "The Clone Wars") as they find their way in a rapidly changing galaxy in the immediate aftermath of the Clone War. Members of Bad Batch—a unique squad of clones who vary genetically from their brothers in the Clone Army—each possess a singular exceptional skill that makes them extraordinarily effective soldiers and a formidable crew.
—
Selena: The Series
Part 2
Tues May 4
On Netflix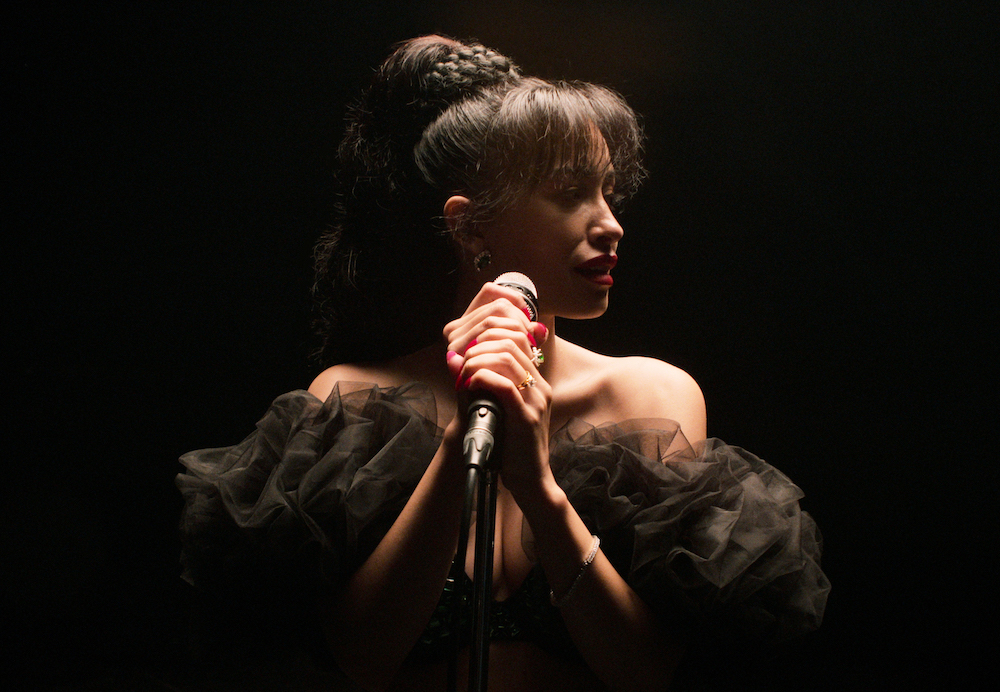 Photo courtesy of Netflix
The Queen of Tejano is back for part 2. This half of the series sees Selena Quintanilla (Christian Serratos) reeling after being taken away from Chris (Jesse Posey) but some loves run too deep to break. She's growing up and starting to make her own decisions, which puts a strain on her family/work relationship. And as her stardom grows brighter, Selena struggles with telling her truth both to her family and to her fans. But time and time again this series reminds you that Selena wasn't named "Artist of the People" for nothing—she is unwaveringly true to herself, which means her heart leads the way. And that's why so many loved her, and still love her. Selena: The Seriescontinues to be deeply affecting in its quiet moments of family love and wildly inspiring in the shining spotlight moments. And while Selena's story has a tragic ending, for a while you can revel and celebrate her life in every beautiful and heartfelt moment—the way you feel spinning her records once more.
Selena: The Series returns to Netflix tomorrow.
From Netflix:
Now on the brink of stardom, Selena Quintanilla's journey through the Tejano music world continues. Learning how to handle her newfound success, Selena struggles to balance, family, love, and a burgeoning career. Part 2 of Selena: The Series chronicles the years of hard work and sacrifice the Quintanilla family navigate together as she becomes the most successful female Latin artist of all time.
—
The Sons of Sam:
A Descent into Darkness
Series premiere
Wed May 5
On Netflix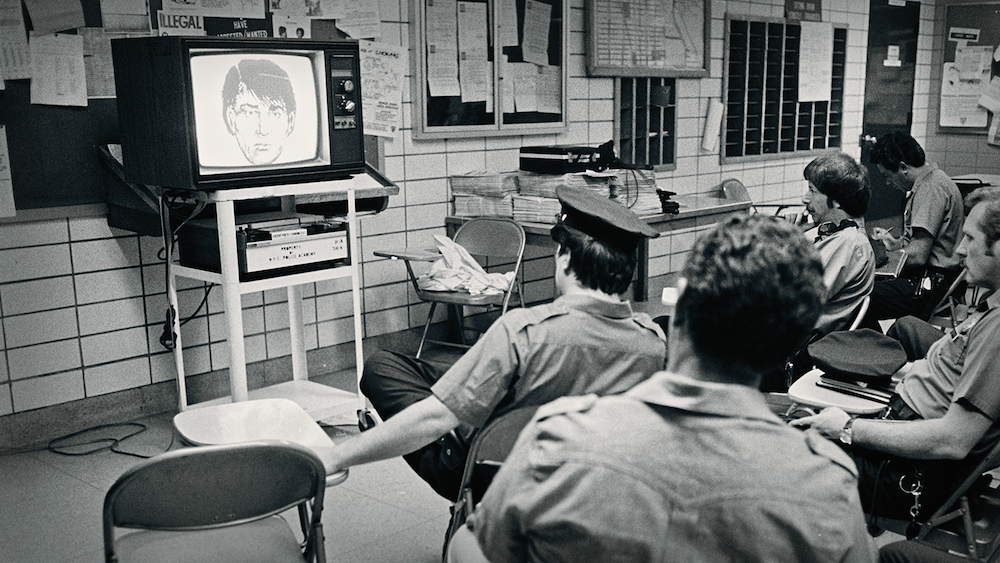 Photo courtesy of Netflix
David Berkowitz was a notorious serial killer who terrorized New York in the 1970s, shooting six people and wounding seven others in a spree of attacks. Known as the ".44 Caliber Killer" or the "Son of Sam", Berkowitz kept the state running scared while staying two steps ahead of the police. Claiming to be part of a cult and often changing his story, his arrest brought peace for some but mystery for others. For journalist and Ultimate Evil author Maury Terry, it consumed his life. Terry became convinced there were others involved in the killings and went on a hunt for the truth. The Sons of Sam: A Descent into Darknesspieces together news reports from the time and interviews with those closest to the investigation to ask the chilling question: Are the Sons of Sam still out there? The documentary breaks down an often sensationalized story and gets into the gritty details that were often forgotten or left out altogether, leading you on a hunt of your own for answers.
Watch The Sons of Sam: A Descent into Darkness
on Netflix on Wednesday.
From Netflix:
The hunt for the "Son of Sam" captivated the world in the late 1970s, but the story behind one of America's most notorious serial murderers is all but forgotten — until now. While the arrest and conviction of David Berkowitz brought the nightmare to an end for many New Yorkers, for journalist and Ultimate Evil author Maury Terry, the real mystery was just beginning. Terry, convinced Berkowitz had not acted alone, would go on to spend decades attempting to prove that the web of darkness behind the murders went deeper than anyone imagined – and his pursuit of that elusive truth would eventually cost him everything. Filmmaker Joshua Zeman (CROPSEY, MURDER MOUNTAIN) draws on archival news footage, conversations with the people closest to the investigation, and Terry's own words and case files to tell a cautionary tale of a man who went down a rabbit hole and never came out. But was Maury Terry just chasing ghosts – or are the true Sons of Sam still out there…
—
Girls5eva
Season 1 premiere
Thurs May 6
On Peacock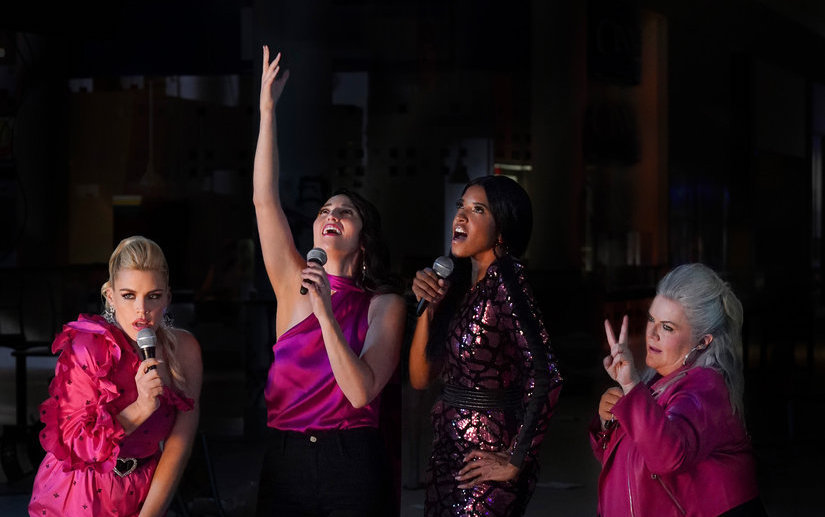 Photo by: Heidi Gutman/Peacock
If you've missed your Unbreakable Kimmy Schmidt fix, fear not: Meredith Scardino, Tina Fey & co. are back at it again with a new Peacock show. Girls5eva is about a washed up 90s girl group who get a second chance at the spotlight when their hit song is sampled in a new rap song. Basically, the show spoofs TikTok stars and one-hit-wonders (it was overdue). Back in the 1990s, Girls5eva were so sure they were gonna be famous even longer than for-ever they called themselves 5-eva (subtle, we know). Fast-forward to present day, fame has long gone by and the Girls5eva ladies are now hitting 40. They're working normal jobs and have left their group behind. Until Lil Stinker decides to sample a song from when he was a literal baby—and they start thinking a reunion is possible. Girls5eva is fun and quirky with lots of snappy one-liners and social commentary. Although it comes with a lens of whiteness you can't help but notice—including killing off the one Asian member of the group for seemingly no reason other than a joke. Yep, parts of this show won't sit quite right with you but when the series works it sparkles. Everyone loves a comeback story, right?
Girls5eva hits Peacock on Thursday.
From NBC:
When a one-hit-wonder girl group from the 90's gets sampled by a young rapper, its members reunite to give their pop star dreams one more shot. They may be grown women balancing spouses, kids, jobs, debt, aging parents, and shoulder pain, but can't they also be Girls5eva?
—
Jupiter's Legacy
Season 1
Fri May 7
On Netflix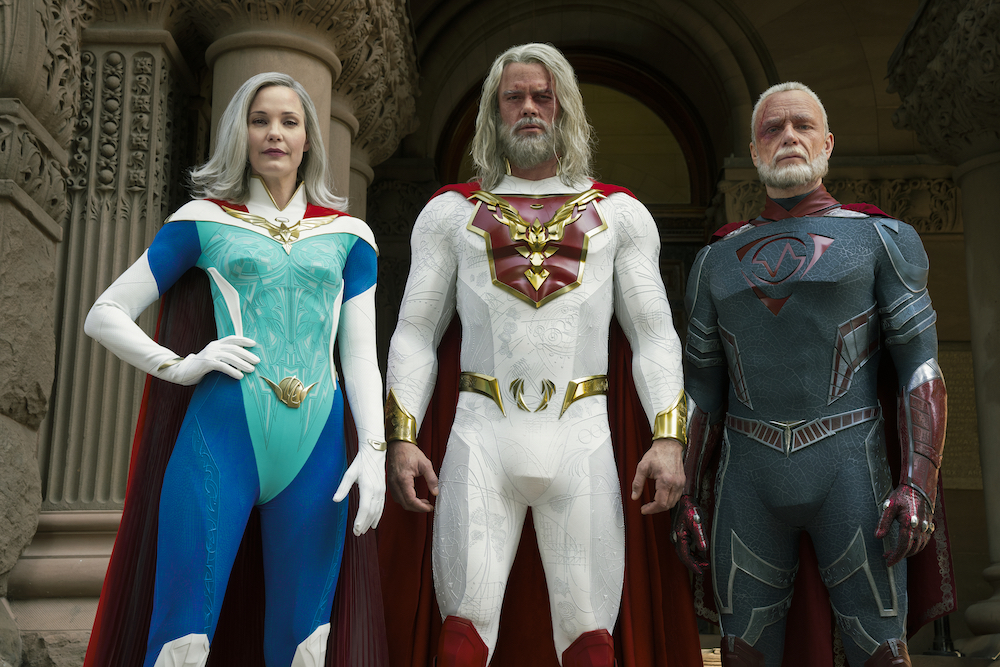 Photo: Steve Wilkie/Netflix © 2021
When family legacy and superhero powers collide you get Jupiter's Legacy, Netflix's new adaptation of the graphic novels by Mark Millar and Frank Quitely. The world's first generation of superheroes have been keeping the world safe for a century—but are they ready to let go? That would mean letting their superpowered kids take over…but are they ready? What sounds like an interesting premise is a slow burn and doesn't quite manage to pull you in. While the effects are cool and the action scenes have that comic book feel, the more emotional clashes between characters don't work as well. The series takes far too long to evolve into a heroic journey and by then it might be too late for you to care—but if you're into slowly developing family dramas with a pinch of superpowers, give this a try.
Stream Jupiter's Legacy on Friday on Netflix.
From Netflix:
After nearly a century of keeping mankind safe, the world's first generation of superheroes must look to their children to continue the legacy. But tensions rise as the young superheroes, hungry to prove their worth, struggle to live up to their parents' legendary public reputations — and exacting personal standards. Based on the graphic novels by Mark Millar and Frank Quitely, Jupiter's Legacy is an epic superhero drama that spans decades and navigates the complex dynamics of family, power, and loyalty.
—
Mythic Quest
Season 2
Fri May 7
On Apple TV+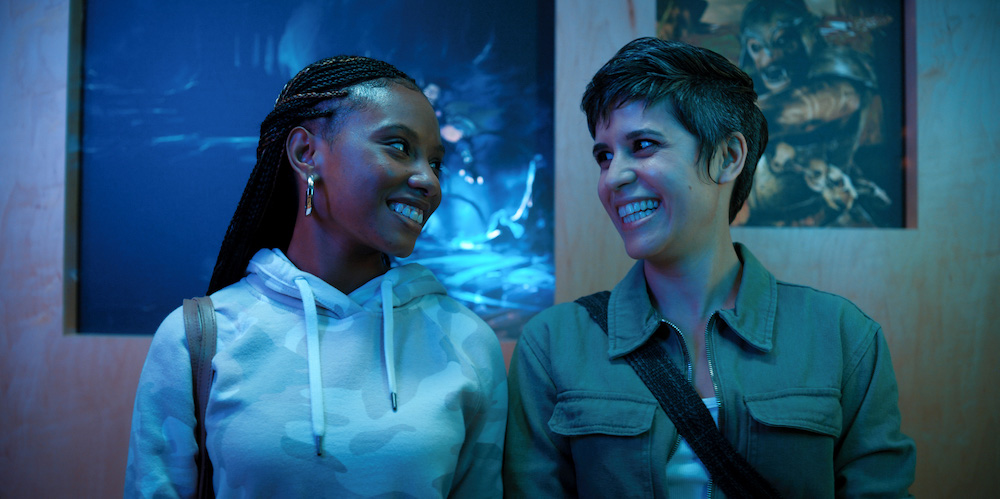 Photo courtesy of Apple
Mythic Quest seems like it's going to be a goofy grade-B comedy about a gaming company—something that pokes fun at fandoms and gamer culture. But that's not it at all! This show is a satirical look at human failings, utilizing caricatures of our most self-centered shortcomings to deliver real character development and surprising emotional growth. And Mythic Quest still manages to be winningly goofy as well. There is love here—in the shapes of romance, and friendship, and for oneself. There is trauma and fear and there are tragically hilarious blunders. Sweetening this offbeat, nearly absurdist, comedy of manners are the vignette episodes. "A Dark Quiet Death" in S1 and "Backstory!" in S2 allow us to jump into storylines that are adjacent to the main plot but are outside the current timeline. Those episodes are Emmy worthy turns of storytelling. We inhaled both seasons of this series and are hopeful for more, please. (by Sherin Nicole)
Mythic Quest is back on Apple TV+ on Friday.
From Apple:
With the quarantine finally over, the new season of "Mythic Quest" finds everyone back in the office (well, almost everyone), attempting to build upon the success of Raven's Banquet by launching an epic new expansion, but Ian (Rob McElhenney) and the newly promoted co-creative director, Poppy (Charlotte Nicdao), struggle with the game's direction. Meanwhile, C.W. (F. Murray Abraham) reconciles some unresolved issues from his past, the testers (Ashly Burch and Imani Hakim) test the bounds of an office romance, and David (David Hornsby) loses yet another woman in his life as Jo (Jessie Ennis) leaves him to assist Brad (Danny Pudi).
—
Shrill
Season 3
Fri May 7
On Hulu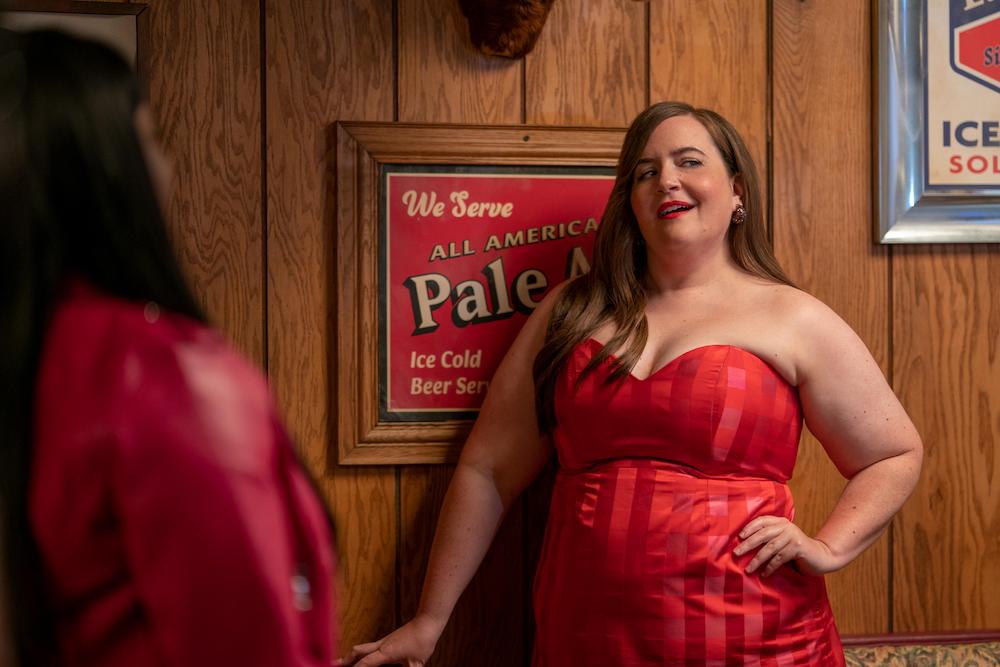 Photo by: Allyson Riggs/Hulu
Shrill returns for a final season, continuing its usual messy but "real" form. Newly single, Annie (Aidy Bryant) jumps back into the dating pool…with mixed results. And she's pushing forward at work no matter the cost. Like in past seasons, there's some growth with Annie's character but it often comes at the expense of others and she makes some missteps along the way. Her mistakes cause troubles in all aspects of her life—but we're still unsure if she's really learned as much as she should. Still, if you were a fan of S1 & 2, you'll probably enjoy the final season as it wraps up her journey so far—although you just might be left wondering if you feel like the journey took you anywhere at all.
Shrill returns to Hulu on Friday.
From Hulu:
Season three of Shrill finds Annie (Aidy Bryant) energized by her breakup with dud boyfriend Ryan and her newfound momentum at work. Annie feels like everything is finally falling into place for her, but does she actually know how to get what she wants?
—
The Nevers
"Hanged" – Season 1, Episode 5
Sun May 9 – 9PM
On HBO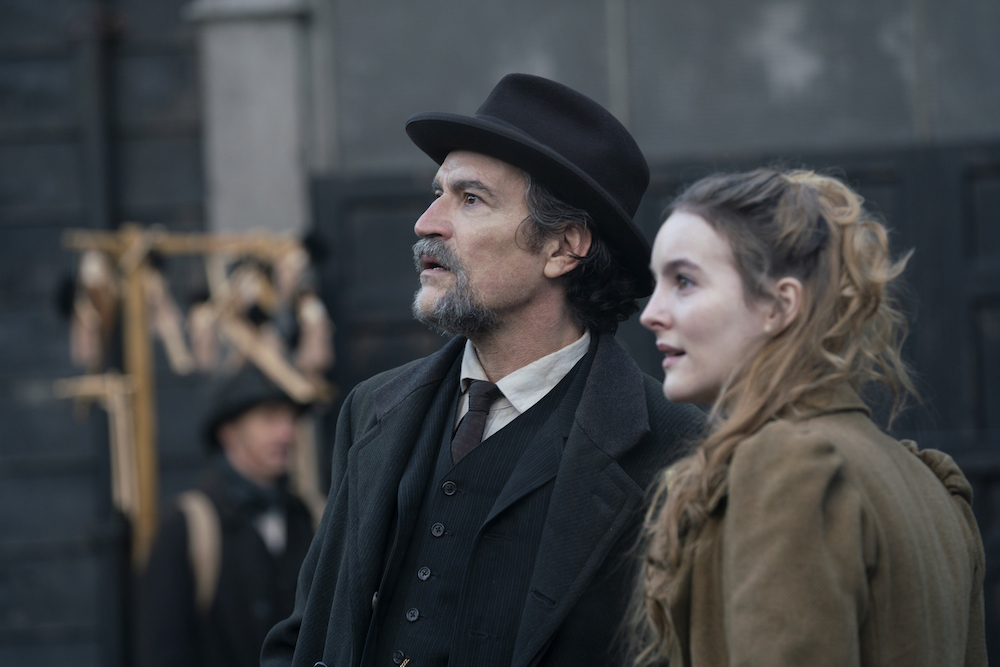 Photograph by HBO / Keith Bernstein
The divisions between the Touched and the rest of London are becoming ever more harshly pronounced. Penance (Ann Skelly) and Amalia (Laura Donnelly) have different ideas of what that means for their future, which causes even more cracks to appear in their relationship. "Hanged" shows the often terrible power of mob mentality and how quickly plans can spiral out of control—even if that was the original intention—and it will make you shiver with its insidious truth. We've all seen how one tiny spark of violence can turn into complete chaos, which often puts innocent people in terrible danger at the hands of those meant to protect them. This episode hits a little too close to home not to strike some fear and pain in your chest. And that's what makes this fantastical show so chilling. The Nevers continues to up the stakes and you won't be able to tear your eyes away from the screen.
The Nevers airs on HBO on Sunday.
From HBO:
As the city buzzes with anticipation over a pending execution, Penance (Ann Skelly) grapples with a moral calling at odds with Amalia's (Laura Donnelly) plan. With the two women at a crossroads, the Orphans must decide whom to follow.