This week: My Love: Six Stories of True Love, Dad Stop Embarrassing Me!, The Circle, The Falcon and The Winter Soldier, Arlo the Alligator Boy, The Year Earth Changed, Frank of Ireland, Van Helsing, The Nevers, Zoey's Extraordinary Playlist
My Love: Six Stories of True Love
Season 1
Tues April 13
On Netflix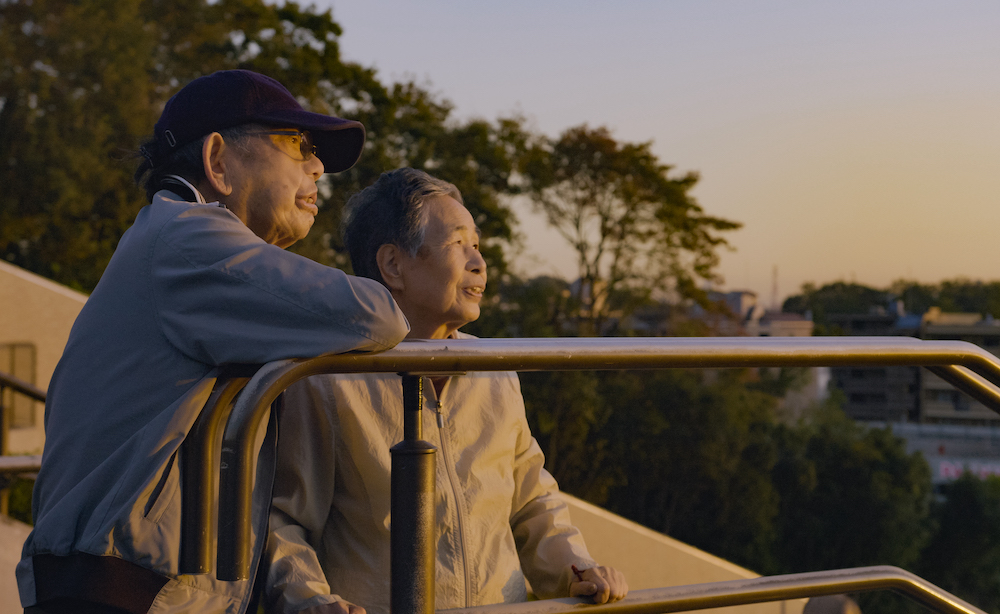 Photo courtesy of Netflix © 2021
Get ready to fall in love with love. My Love: Six Stories of True Love follows a year in the life of elderly couples around the world who have been together for decades. It's a quiet lovely series that offers you a snapshot into what it takes to make long-term relationships work. As the couples face growing older as their families grow up, they find comfort and strength within their partnerships. And you'll find comfort in the gentle storytelling. If you loved Jin Moyoung's documentary My Love, Don't Cross That River or if this is your first introduction to his work, My Love: Six Stories of True Love is a wonderful addition to the Netflix documentary roster.
My Love: Six Stories of True Love comes to Netflix tomorrow.
From Netflix:
Korean director Jin Moyoung expands his acclaimed documentary My Love, Don't Cross That River into the poignant global series MY LOVE. Local filmmakers from six countries around the world follow one elderly couple — together for anywhere from 43 to 60 years — through a year in their lives. From the Korean seaside to a Rio favela; the suburbs of Tokyo to rural farmland in India, Spain, and the U.S.; couples share the stories and the secrets of their long-lasting love.
—
Dad Stop Embarrassing Me!
Season 1
Wed April 14
On Netflix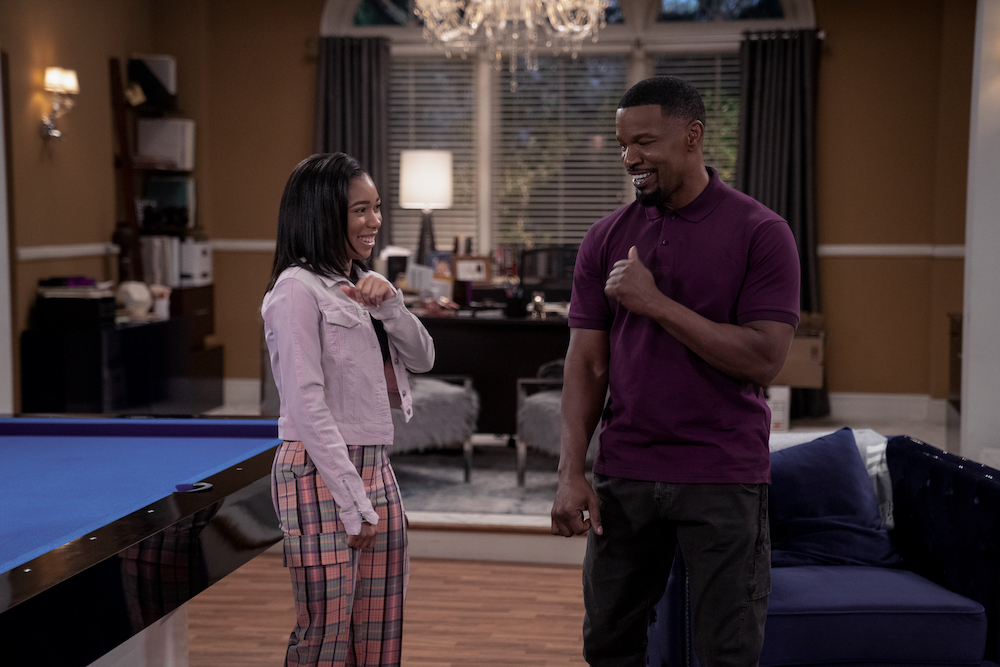 Photo: Saeed Adyani/Netflix © 2021
When you think about Jamie Foxx, you probably don't think of him as "embarrassing"…but he's having the best time trying to earn that title in his new Netflix sitcom. In Dad Stop Embarrassing Me!, Foxx plays Brian, a sort-of-successful business owner who's trying to live the single life when suddenly his teenage daughter Sasha (Kyla-Drew) comes to live with him full time. It's an adjustment for both of them but Brian jumps in with both feet, even agreeing to family therapy and going to extreme (and hilarious) lengths to try and win his daughter over. And they make a great team, bouncing off each other well with lots of laughs, some eye rolls, and heart. David Alan Grier as Pops adds the perfect touch of extra sauciness. Inspired by Foxx's own relationship with his daughter Corinne (who also serves as executive producer), Dad Stop Embarrassing Me! is a fun new Netflix family sitcom that lets Jamie Foxx's comedic persona shine.
Watch Dad Stop Embarrassing Me! on Wednesday on Netflix.
From Netflix:
Brian Dixon (Jamie Foxx), successful business owner and bachelor, just became a full-time father to his teenage daughter Sasha (Kyla-Drew). Determined to be the best father he can be, Brian's going to need all the help he can get from his dad (David Alan Grier) and sister (Porscha Coleman) — and Sasha's going to need all the help she can get learning how to deal with her new, lovingly chaotic. Full of heart and humor, Dad Stop Embarrassing Me is inspired by Foxx's real-life relationship with daughter Corinne Foxx, who also serves as executive producer. The multi-cam sitcom reunites Foxx with showrunner Bentley Kyle Evans (The Jamie Foxx Show) and is directed by Ken Whittingham (black-ish).
—
The Circle
Season 2
Wed April 14
On Netflix
The Circle returns to Netflix on Wednesday.
From Netflix:
Season 2 of The Circle returns bigger and better, with more twists, turns, and shade thrown in all 13 episodes! A cast of eight new contestants enter The Circle, where they flirt, befriend, piss off, and compete in challenges against each other on a unique social media platform to earn the ultimate cash prize as top influencer. With $100k on the line, will they be able to earn clout and figure out who is real and who is a catfish? The Circle is a four-week must-watch social media competition launching on April 14 and continuing with new episodes on April 21, 28, and finale on May 5th.
—
The Falcon and The Winter Soldier
New episodes Friday
On Disney+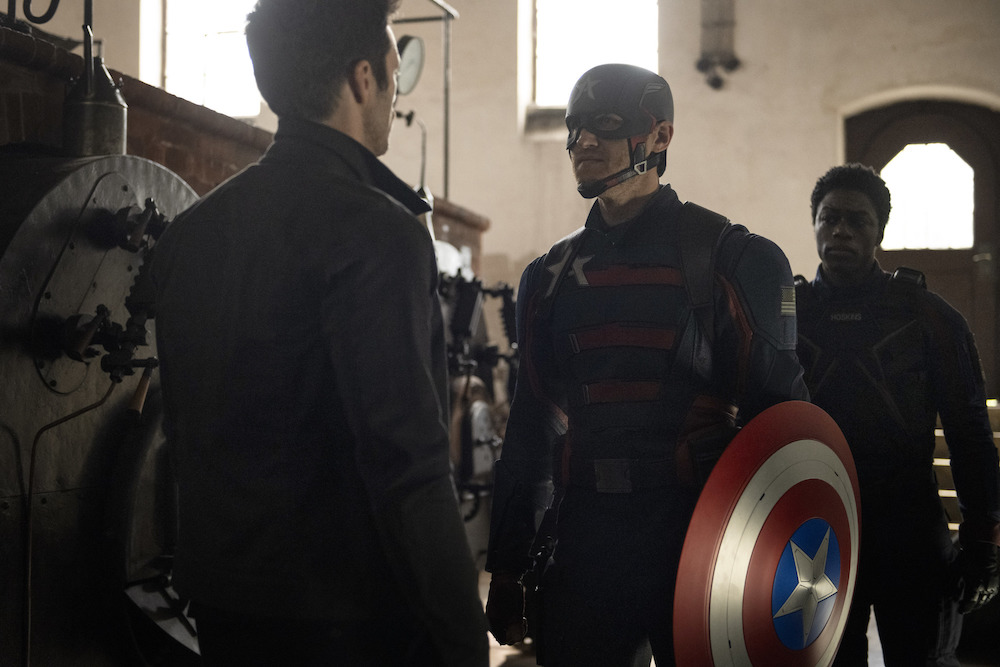 Photo by Julie Vrabelová © Marvel Studios 2021
We can't stop talking about The Falcon and the Winter Soldier episode 4.
We want to talk about Zemo (Daniel Brühl) and his tricks of language—ill intent and classism wrapped up in truths about other bad things so you don't see his hands.
We want to talk about the friendship between Ayo (Florence Kasumba) and Bucky (Sebastian Stan) and how they hurt each other, and how no one seems to see it.
We want to luxuriate in Sam (Anthony Mackie) and Karli's (Erin Kellyman) conversation because within it is a hero finding his next level and a well-meaning baddie descending to her worst.
We want to recognize that John Walker (Wyatt Russell) wasn't a regular dude to begin with. And that his mind is a storm of PTSD and mental illness and power hunger and that maybe the government experimented on him too…and still he must be stopped because no matter his intent he is NOT a hero.
We want to scream for a second time when seeing blood on that shield because it was never a symbol of America but instead it represented the hope that this country might one day be the land that was promised—not to be confused with the Promised Land because that is somewhere else—and yet that stained shield is a reminder that we probably won't see the first before we pierce the veil of the latter.
We want to talk about writing that is so layered it seems simple and damn that's a feat.
Make sure to watch episode 5 on Friday April 16 and join the conversation.
(by Sherin Nicole)
New episodes of The Falcon and The Winter Soldier
stream every Friday on Disney+.
From Disney+:
Marvel Studios' "The Falcon and The Winter Soldier" stars Anthony Mackie as Sam Wilson aka The Falcon, and Sebastian Stan as Bucky Barnes aka The Winter Soldier. The pair, who came together in the final moments of "Avengers: Endgame," team up on a global adventure that tests their abilities—and their patience.
—
Arlo the Alligator Boy
Fri April 16
On Netflix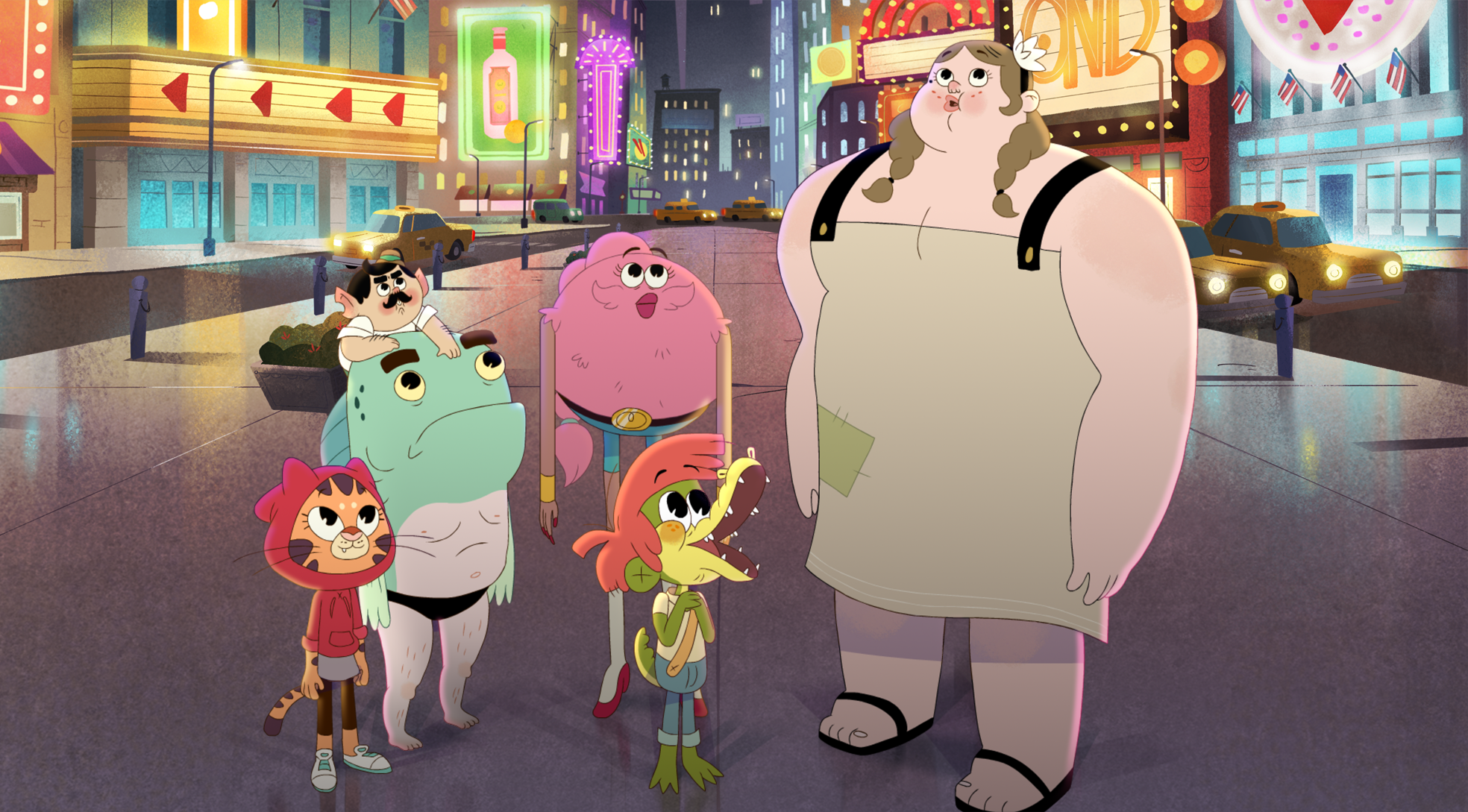 Photo courtesy of Netflix
The first thing that will immediately strike you about Arlo the Alligator Boy is the animation—it's got the charm and whimsy of Adventure Time and the expressions and colors of the characters are surprisingly deep. The second thing that will pull you in is Arlo (Michael J. Woodard) himself—he's a half-human, half-alligator who's irrepressible and adventurous. He's looking for more beyond the swamp where he lives with Edmée (Annie Potts), the only family he knows. And thirdly, the journey he goes on will make its way to your heart. When Arlo sets out toward the bright lights of New York City in search of his long lost father, he finds friends along the way who match and sway to his love for life. In turn, Arlo discovers more about himself than he could've ever imagined. Arlo the Alligator Boy is simply beautiful and nuanced in ways that are accessible to kids no matter their age. It carries important messages about found family, dealing with pain and rejection, and accepting your true self. 
Stream Arlo the Alligator Boy on Netflix on Friday.
From Netflix:
Upon learning that he is from New York City, Arlo, a wide-eyed boy who is half human and half alligator, decides to leave his sheltered life in the swamp and search for his long lost father. The animated musical movie, Arlo the Alligator Boy, will launch Arlo's journey as he meets a group of misfits who quickly become his new family. Once Arlo's adventure lands him in New York City, the series, I ❤️️Arlo, will kick off as he and his newfound crew set up shop in an abandoned seaside neighborhood and help bring it back to life.
—
The Year Earth Changed
Fri April 16
On Apple TV+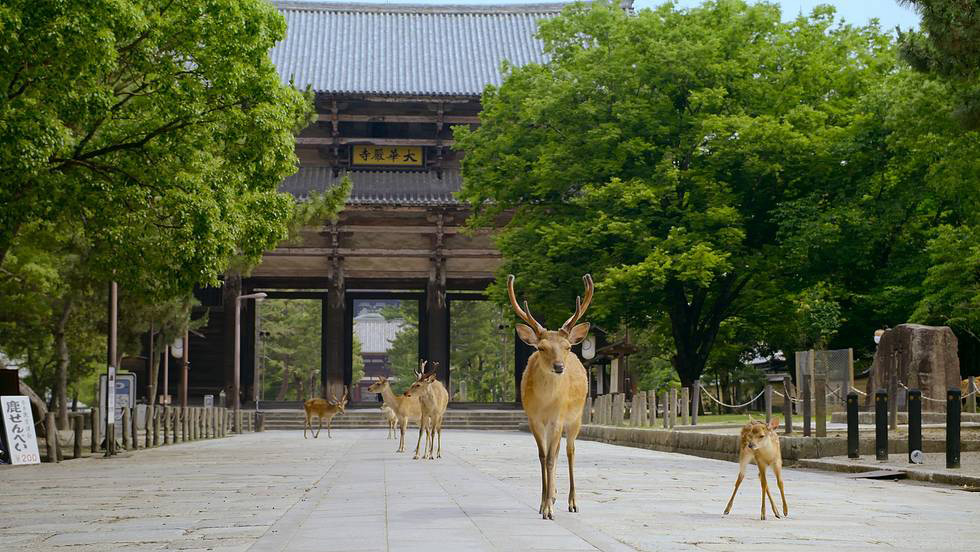 Photo courtesy of Apple Studios
The COVID-19 pandemic has put the world as we know it on pause. For the animal kingdom, however, it's been an opportunity to flourish—thanks to cleaner air and water, less hunting, and less disturbance. To put it mildly: The past year has really shown the negative impact humanity has on the planet. The eerie silence of lockdown has even led to new wildlife calls and an uptick in breeding rates. It's a silver lining and a reminder of the unsustainable way we use the Earth and its resources. Something that the documentary's narrator Sir David Attenborough has been telling us for years—here, he gets indisputable proof. The Year Earth Changed shows how different species have found their natural rhythm again now that humans have taken a break from threatening their environments. The difference is astounding—it doesn't take long for nature to heal (and to find new ways of adapting). Gosh, this documentary is both stunning in its beauty and heartbreaking in its truth. And it's yet another reason to listen to environmental scientists, to consider your own impact on nature, and to fight to save the Earth before it's too late.
The Year Earth Changed comes to Apple TV+ on Friday.
From Apple TV+:
Showcasing footage from around the world after an unprecedented year, "The Year Earth Changed" is a timely documentary special that takes a fresh new approach to the global lockdown and the uplifting stories that have come out of it. The documentary, narrated by David Attenborough, is a love letter to planet Earth, highlighting the ways nature's resiliency and ability to bounce back can give us hope for the future.
—
Frank of Ireland
Season 1
Fri April 16
On Amazon Prime Video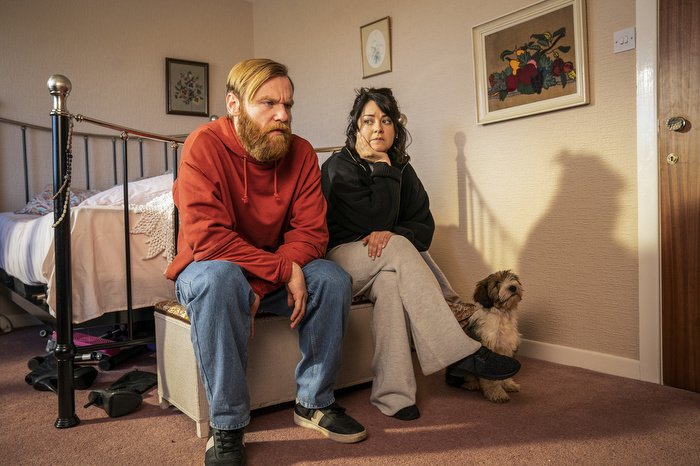 Photo: Amazon Studios
Frank of Ireland is an offbeat slice of life type comedy about a 32 year old "catastrophe" named Frank (Brian Gleeson). He's a struggling musician who still lives with his mother Mary (Pom Boyd) and hasn't written a song in ages. Instead he spends his days…well…fucking up and messing around. Whether it's his ill-conceived attempts to win back his ex-girlfriend or his half-assed duty to "take care" of his mother (more like the other way around), Frank doesn't win at much but he celebrates those small victories when he can. You'll find yourself half laughing, half rolling your eyes at the situations he gets himself into, often accompanied by his aptly-named best friend Doofus (Domhnall Gleeson). Featuring some of Ireland's finest comedic actors, Frank of Ireland is arrested development in all its glory, made to shine with slightly ridiculous and wacky humor that will probably make you feel a lil better about your own life trajectory.
Frank of Ireland hits Amazon Prime Video on Friday.
From Amazon:
Frank of Ireland is a physical and ridiculous brand of humor with an original twist. Brian Gleeson (Peaky Blinders, The Bisexual), stars as Frank Marron, a 32-year-old catastrophe; a misanthropic fantasist in arrested development who's convinced that the world owes him. He's also our hero. Frank is newly single and still lives at home with his mother, Mary (Pom Boyd, Rosie). He's a self-proclaimed musician with a tenuous hold on reality, and hasn't written a song or played a gig in years. His ex-girlfriend Áine (Sarah Greene, Dublin Murders) has just found a new boyfriend, and Frank may be finding that a tad difficult. Luckily, Frank has a loyal best friend, Doofus, (Domhnall Gleeson, Star Wars: The Force Awakens) whose full-time job is clearing the debris left in Frank's wake. Set in an idyllic suburb of Dublin, Frank of Ireland is the hilarious story of a man's hapless search for respect, as he struggles to grow up and get his life together, and hopefully not burn everything to the ground in the process.
—
Van Helsing
Season 5
Fri April 16 – 10PM
On SYFY
Van Helsing is back on SYFY on Friday.
From SYFY:
After waking in the Dark Realm, Jack is sent through a portal with only the words "Kill the Dark One" to guide her. Jack discovers some familiar faces as she hunts for the Dark One.
—
The Nevers
"Exposure" – Season 1, Episode 2
Sun April 18 – 9PM
On HBO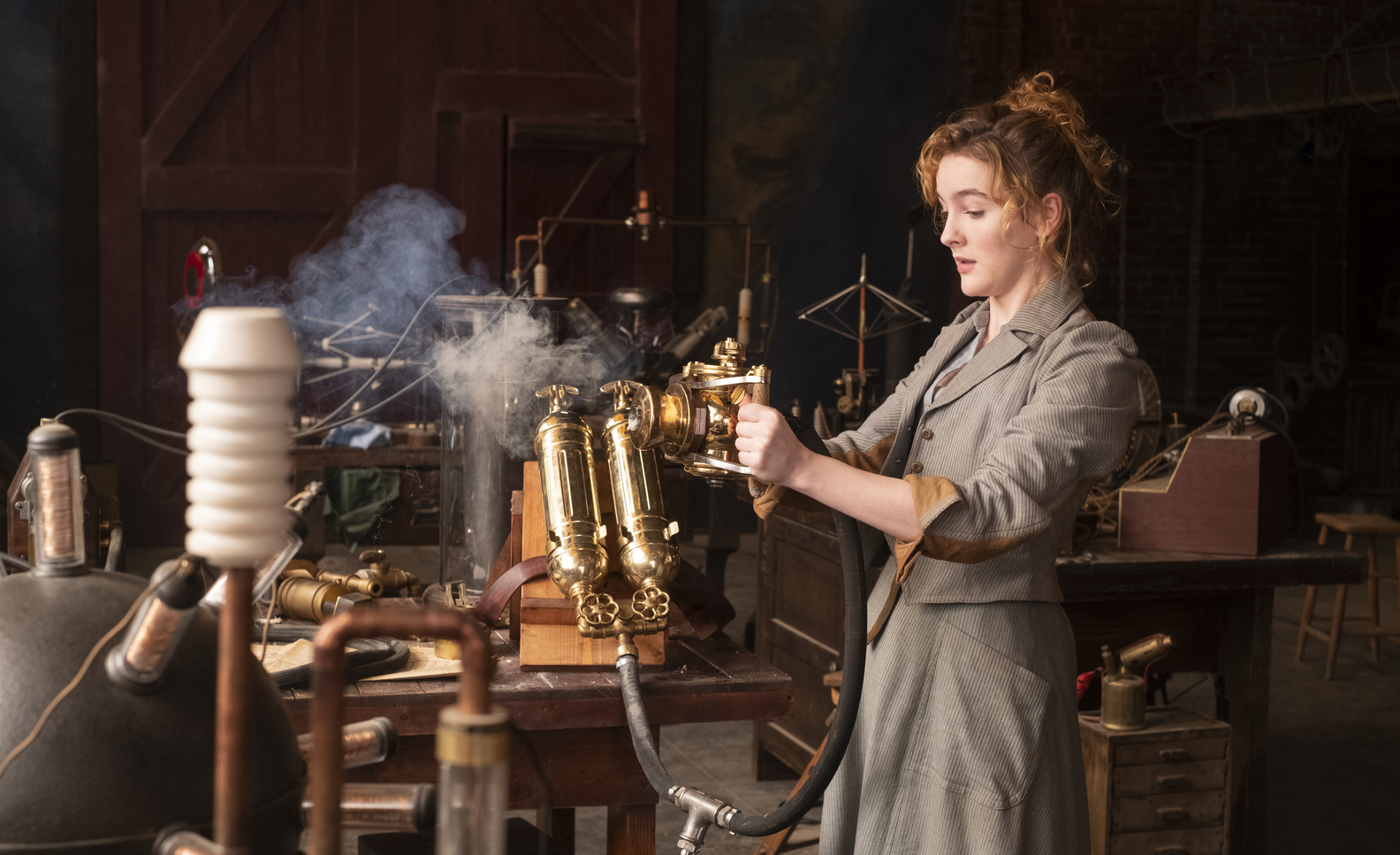 Photograph by HBO / Keith Bernstein
Amalia True (Laura Donnelly) and Penance Adair (Ann Skelly) are constantly on the lookout for individuals to bring to their "orphanage" for the "afflicted" known as The Touched—but they aren't the only ones looking. Others, the touched with less scruples, are luring the afflicted away as fast as Amalia and Penance can find them. It is a battle that leads our two leading ladies from the heights of London society to the literal sewers under the city.
This cobwebby story is full of the best twists and turns imaginable! Everything from delightful inventions to terrifying bad guys, and all of them have a twist or a secret that (even with the first 3 episodes under my belt) I STILL haven't figured out. And while my description might seem chaotic and dizzying, once you are in this detailed and stunning world everything makes perfect beautiful sense. (read N. Renee Brown's review)
The Nevers airs on HBO on Sunday.
From HBO:
With the city reeling from Maladie's (Amy Manson) opera debut, Mundi (Ben Chaplin) takes a personal stake in tracking her down, while Amalia (Laura Donnelly) launches an investigation of her own. Meanwhile, the charitable Lavinia Bidlow (Olivia Williams) seeks to destigmatize the Touched at a society event, Hugo Swann (James Norton) enlists Lavinia's younger brother Augie (Tom Riley) to help monetize his illicit enterprise, and a deranged doctor (Denis O'Hare) conducts a series of experiments.
—
Zoey's Extraordinary Playlist
"Zoey's Extraordinary Girls' Night" – Season 2, Episode 10
Sun April 18 – 9PM
On NBC
Zoey's Extraordinary Playlist airs on NBC on Sunday.
From NBC:
Zoey gets more than she bargained for when she tries to help Emily with a problem. Maggie reconnects with an old friend. Max, Simon and Mo have a bonding night together. Zoey gets more than she bargained for when she tries to help Emily with a problem. Maggie reconnects with an old friend. Max, Simon and Mo have a bonding night together.