This week: Taylor Tomlinson: Look At You, The Andy Warhol Diaries, grown-ish, The Last Days of Ptolemy Grey, Turning Red, Upload, Life After Death with Tyler Henry, The Adam Project, Killing Eve
Taylor Tomlinson: Look at You
Tues Mar 8
On Netflix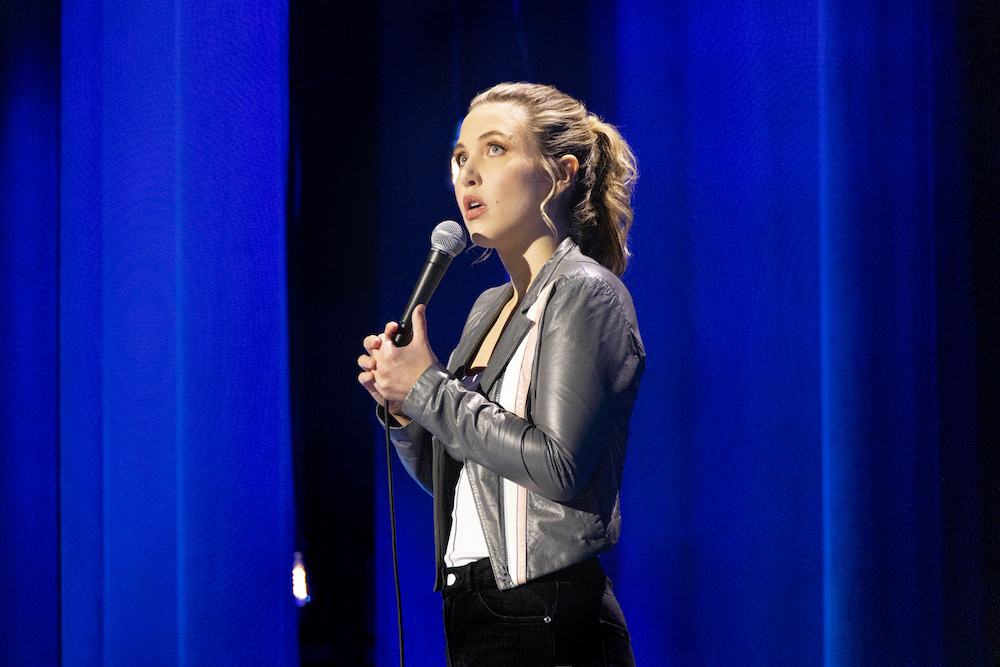 Taylor Tomlinson has had a rough couple of years (along with the rest of us). In her latest stand-up special, she opens up about her mental health and gets real about what it's like dealing with day-to-day life when you're adjusting to new diagnoses. She's brutally honest and hilarious in her observations about life, love, and death—specifically dead mom jokes—and it's better if you just lean into it and admit that it's okay to laugh. No matter where Tomlinson goes with her comedy material, she'll keep you laughing and will make you feel better knowing there are others who know how you feel. Look at You is about to give you some of that serotonin you've been missing—and if you don't think you need it, boy, Taylor's coming for you.
Taylor Tomlinson: Look At You debuts on Netflix tomorrow.
From Netflix:
Taylor Tomlinson returns to Netflix with her second original comedy special Look At You. Taylor hilariously shares an intimate look at her struggles with mental health, grief, and dating. Filmed at the historic Wilbur Theater in Boston, Taylor Tomlinson: Look At You premieres globally on Netflix on March 8, 2022.
–
The Andy Warhol Diaries
Season 1
Wed Mar 9
On Netflix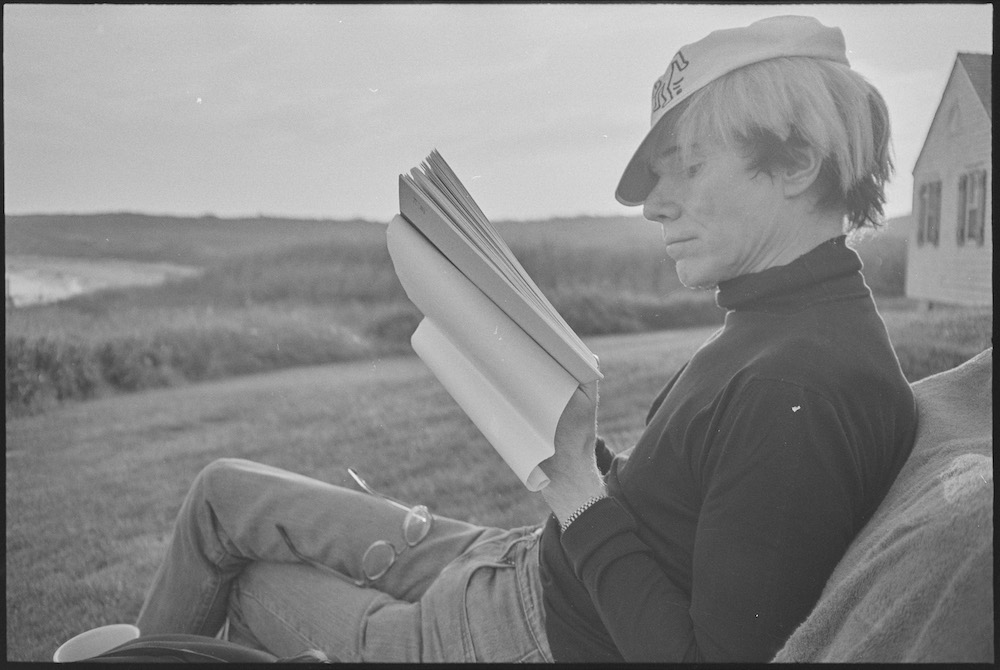 Andy Warhol is a name synonymous with art—widely regarded as one of the most influential artists of all time, he revolutionized the way we see pop culture and beyond. Ryan Murphy is bringing us a new perspective on the legendary creator through his posthumously published diaries. The Andy Warhol Diaries is an intimate portrait of Warhol's inner world and what inspired him, with narrated diary entries from the viewpoints of those Warhol loved and inspired, along with archive footage of his creations and legacy mixed in. You'll learn a lot about the pop art legend, his explorations of gender and sexuality in his art and his personal life, and the journey he took to becoming the icon we know today. The series flits from story to art to diary entry like a moving collage of history that makes up Warhol's life—and you'll be absorbed the entire way through.
The Andy Warhol Diaries Comes to Netflix on Wednesday.
From Netflix:
From executive producer Ryan Murphy and director Andrew Rossi, this breathtakingly expansive, six-part portrait of a legend chronicles the remarkable life of Andy Warhol from the intimate vantage point offered by the artist's own posthumously published diaries. Beginning with his childhood in Pittsburgh, the series traces Warhol's almost unbelievably diverse journey fluidly moving between mediums and through eras as an artist — both revered and reviled — director, publisher, TV producer, scene maker, celebrity and much more.
–
grown-ish
"Live Your Life" – Season 4, Episode 16
Thurs Mar 10 – 10PM
On Freeform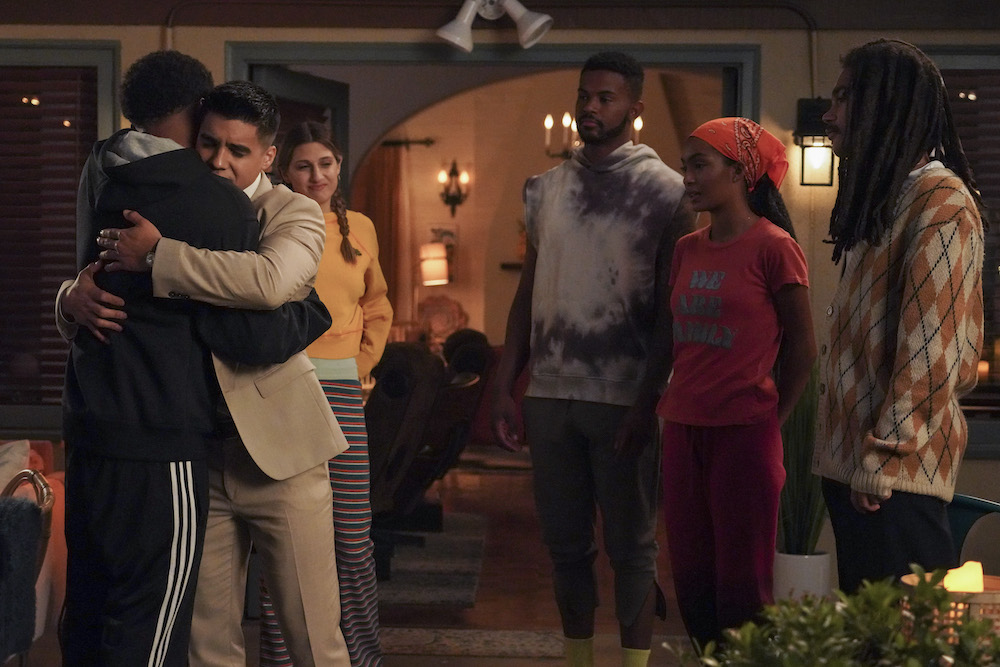 When Vivek's (Jordan Buhat) father falls ill, the grown-ish crew rallies to support him. It also makes them take a look at their lives and what comes next. As new opportunities arise, a new chapter is looming and they try to make the most of senior year. Aaron (Trevor Jackson) is offered a great opportunity but he hasn't factored in his feelings about Zoey (Yara Shahidi)—ooh, y'all ready for this? Nomi (Emily Arlook) gets some huge news but doesn't know what that means for her co-parenting relationship with Phil (and Luca…yeah, he's a co-co-parent). Meanwhile, Vivek turns to Ana (Francia Raisa) for some spiritual guidance, which is a quiet but strong moment of friendship in hard times. "Live Your Life" forces our crew to get in touch with their emotions when faced with some tough decisions, making you root for them to make the best choices. This is growing up (ish).
grown-ish airs on Thursday on Freeform.
From Freeform:
The crew rallies around Vivek when tragedy hits close to home. Old flames get closer when surrounding events make them take a hard look at their own lives.
—
The Last Days of Ptolemy Grey
Season 1
Fri Mar 11
On Apple TV+
Stay tuned for our review!
Watch The Last Days of Ptolemy Grey on Apple TV+ on Friday.
From Apple:
"The Last Days of Ptolemy Grey" stars Samuel L. Jackson as Ptolemy Grey, an ailing man forgotten by his family, by his friends, and by even himself. Suddenly left without his trusted caretaker and on the brink of sinking even deeper into a lonely dementia, Ptolemy is assigned to the care of orphaned teenager Robyn, played by Dominique Fishback. When they learn about a treatment that can restore Ptolemy's dementia-addled memories, it begins a journey toward shocking truths about the past, present and future.
–
Turning Red
Fri Mar 11
On Disney+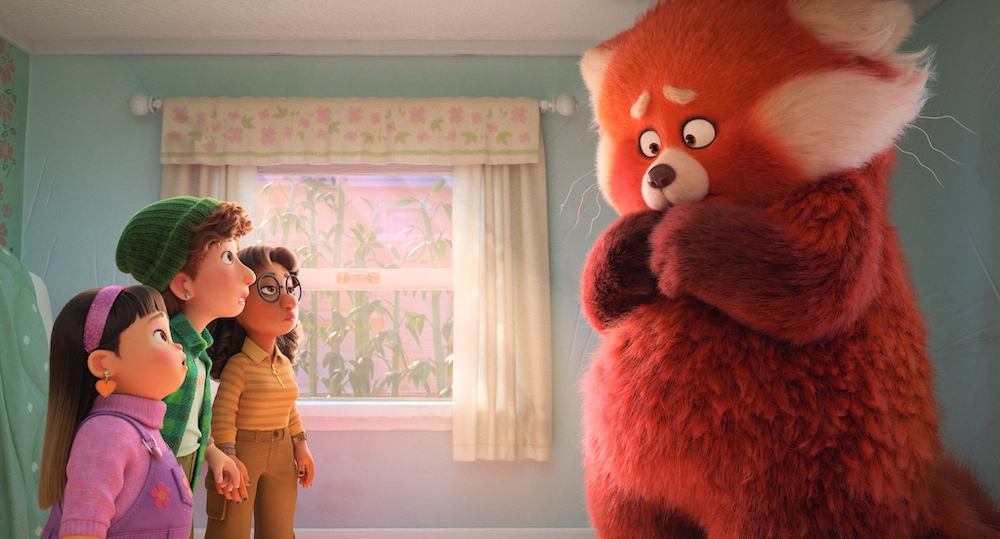 Domee Shi, the writer and director of the unforgettable Pixar short Bao, is back again and it's on. Shi has a way of imbuing metaphor and allusion into explorations of family dynamics, that are especially relatable for people of Chinese descent but also for the children of immigrants of every culture. She absolutely excels at bridging the need to connect to your heritage while still fitting into the place you live, and she achieves this without judgment or forcing her characters to choose. (read Sherin Nicole's review)
Stream Turning Red on Disney+ on Friday.
From Disney:
Disney and Pixar's "Turning Red" introduces Mei Lee (voice of Rosalie Chiang), a confident, dorky 13-year-old torn between staying her mother's dutiful daughter and the chaos of adolescence. Her protective, if not slightly overbearing mother, Ming (voice of Sandra Oh), is never far from her daughter—an unfortunate reality for the teenager. And as if changes to her interests, relationships and body weren't enough, whenever she gets too excited (which is practically ALWAYS), she "poofs" into a giant red panda! Directed by Academy Award® winner Domee Shi (Pixar short "Bao") and produced by Lindsey Collins "Turning Red launches exclusively on Disney+ on March 11, 2022.
–
Upload
Season 2
Fri Mar 11
On Amazon Prime Video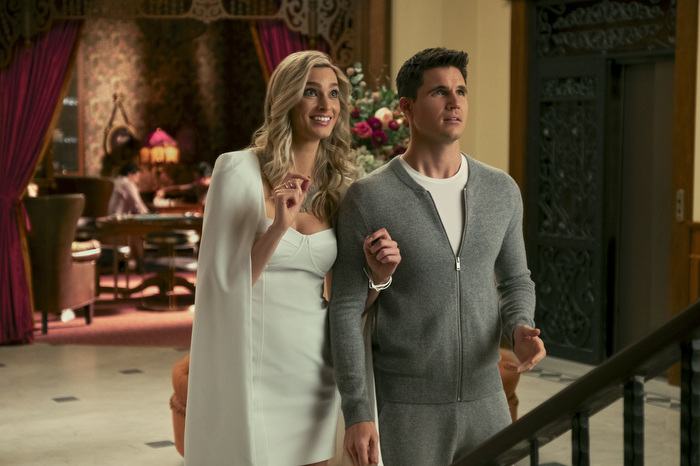 Nathan (Robbie Amell) is feeling trapped and unsure of what to do next. After Ingrid (Allegra Edwards) joins him in the afterlife, he doesn't know if he wants to be with her but he feels like her appearance is karma for everything he's done. Or maybe he's just hurting after the way things ended with Nora (Andy Allo). She's definitely hurting, heading off the grid to a definitely-not-a-cult rebel group who hate all things technology…but they sure do know how to grow some giant potatoes.
As things get more complicated, Upload adds more depth to the flaws on both sides: technology vs. reality. When "prototykes" get introduced, the word "complicated" takes on a whole new meaning and the cracks begin to show no matter how hard Ingrid tries. All the characters are looking for deeper meaning in a place that's supposed to be perfectly designed for them (and that may be the problem). Upload continues its fun and fresh take on what comes after, sprinkled with some dark conspiracies to keep you hooked, topped off with smart and snappy commentary on how tech really has got us dialed in for life.
Upload returns to Amazon on Friday.
From Amazon:
In Upload Season Two, Nathan is at a crossroads in his (after) life… his ex-girlfriend Ingrid has unexpectedly arrived to Lakeview hoping to strengthen their relationship, but his heart still secretly yearns for his customer service angel Nora. Meanwhile Nora is off the grid and involved with the anti-tech rebel group "The Ludds." Season Two is packed with new near-future concepts, including Lakeview's newest in-app digital baby program called, "prototykes," and other satirical glimpses of the technological advances and headaches to come.
–
Life After Death with Tyler Henry
Season 1
Fri Mar 11
On Netflix
Tyler Henry is a highly trusted medium who uses his unique skills to bring people closer to their dearly departed. By talking with his clients, holding an important item, and drawing scratchy doodles that have deeper meaning, Henry reaches out to the beyond and brings home answers and often a sense of closure. It's interesting to watch his approach—how he pulls on threads that his clients can unravel with him. But perhaps what's most fascinating about Henry is the story of his own family and his quest to find the truth. Whether you believe in his powers or not, the peace and clarity he brings to the people he helps is lovely to watch. And when that's layered with his personal search for truth, Life After Death with Tyler Henry brings you a definitely different, definitely out there kind of reality show.
Life After Death with Tyler Henry comes to Netflix on Friday.
From Netflix:
Tyler Henry is a world-renowned medium with more than 300,000 people on his waiting list. After years of being Hollywood's go-to medium, Tyler heads out across the country to offer readings to as many of the people on his waiting list as he can, bringing them the hope, healing and closure they are seeking. This transformational and emotional series will bring answers to the people he reads, providing proof that there is more to this world than what we see and that our loved ones never really leave us. Over the course of the season, we experience the power of Tyler's readings, get insight to what it means to live with such a gift, and follow along on Tyler's personal journey unraveling a family mystery to discover where he really comes from.
–
The Adam Project
Fri Mar 11
On Netflix
Our review is coming soon…
The Adam Project hits Netflix on Friday.
From Netflix:
A time-traveling pilot teams up with his younger self and his late father to come to terms with his past while saving the future.
–
Killing Eve
"A Rainbow in Beige Boots" – Season 4, Episode 3
Sun Mar 13 – 8PM
On BBC America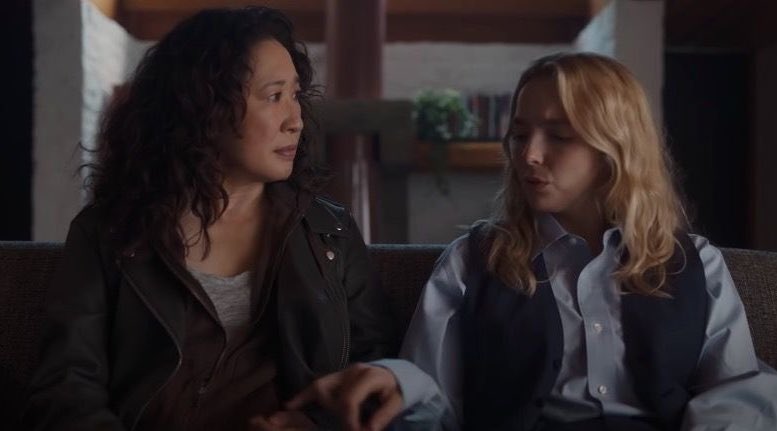 My, my, my, how the tables have turned. Villanelle (Jodie Comer) goes to visit Eve (Sandra Oh) but doesn't get the welcome she's expecting. So she turns to an unexpected source for validation and things take a weirdly nihilistic turn. Eve gets herself a date—just for informational purposes, of course—which gives her more ammunition on her quest for revenge. And then she does something that shatters everything Killing Eve has told us about her up until now. Isn't that the beauty of this show? S4 is hellbent on breaking down its characters and rebuilding them in new and exciting ways. "A Rainbow in Beige Boots" also brings in more players to the cat-and-mouse game to show just how deeply intertwined The Twelve's hold has on the world. This episode lulls you into a false sense of security through its meandering conversations about love and change, before grabbing you and snatching your breath away. And you'll be loving every second of it.
Killing Eve airs on BBC America on Sunday.
From BBC America:
Having stalked Helene (Camille Cottin), a new lead allows Eve (Sandra Oh) to uncover a name in The Twelve's top tier. Villanelle (Jodie Comer) is rejected by Eve when she seeks help, so she attempts to enact change another way. Operating abroad, Carolyn (Fiona Shaw) discovers more promising intel on a spate of torturous murders linked to The Twelve.