This week: Waffles + Mochi, Staged, grown-ish, Zack Snyder's Justice League, Nate Bargatze: The Greatest Average American, The Falcon and The Winter Soldier, Country Comfort, Calls
Waffles + Mochi
Season 1
Wed Mar 17
On Netflix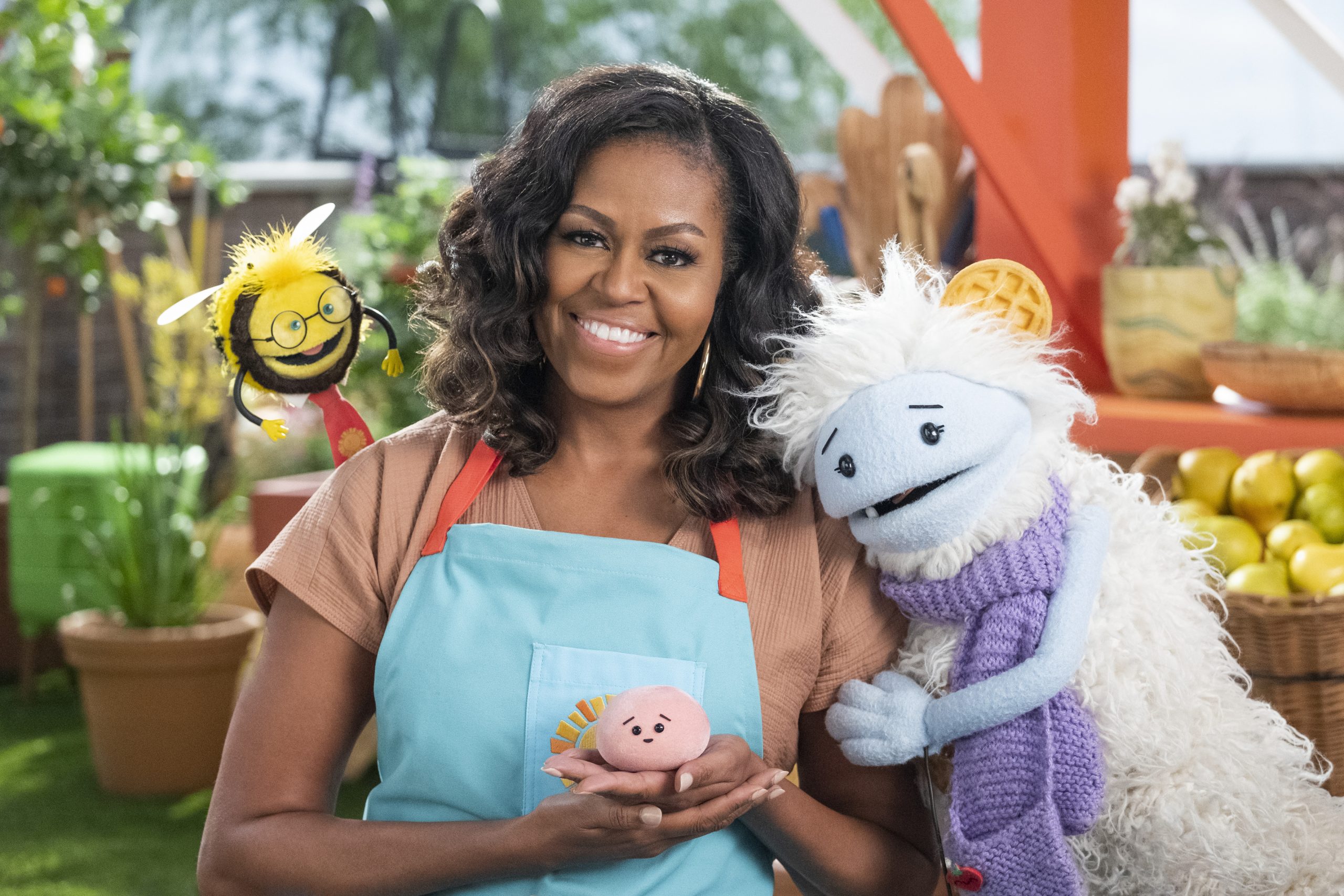 Photo credit: Adam Rose © 2020
Waffles + Mochi is Netflix's new food-focused kids' show, brought to you by the one & only Michelle Obama. It features adorable puppets, yummy recipes, and all your fave celebs, including: Rashida Jones, Tan France, Jack Black, and idobi's very own Katie Leclerc! Foodie puppets Waffles + Mochi travel around learning all about the world's cuisine, using fun and wacky adventures to make the education even sweeter. Each episode has lessons told through animated stories and advice from some top chefs. From eggs to rice to potatoes and beyond, the series gives you a bite-sized history into how different cultures use these foods. It also shows how we shouldn't be afraid to try new things and to experiment, in order to make cooking into an exciting journey. Waffles + Mochi is super charming and you'll learn something new every episode, no matter what your age.
Waffles + Mochi comes to Netflix on Wednesday.
From Netflix:
Once upon a thyme, deep in The Land of Frozen Food, lived two best friends named Waffles and Mochi with one shared dream: to become chefs! The only problem? Everything they cooked was made of ice. When these two taste-buddies are suddenly hired as the freshest employees of a whimsical supermarket, they're ready for the culinary adventure of a lifetime. With the help of friendly new faces like Mrs. Obama, the supermarket owner, and a magical flying shopping cart as their guide, Waffles and Mochi blast off on global ingredient missions, traveling to kitchens, restaurants, farms and homes all over the world, cooking up recipes with everyday ingredients alongside renowned chefs, home cooks, kids and celebrities. Whether they're picking potatoes in the Andes of Peru, sampling spices in Italy, or making Miso in Japan, these curious explorers uncover the wonder of food and discover every meal is a chance to make new friends. Waffles + Mochi is an exciting invitation to get kids and grown-ups cooking together in the kitchen and connecting to cultures around the globe.
—
Staged
Season 2
Wed Mar 17
On Hulu

Photo: BBC
Beloved duo David Tennant and Michael Sheen are back, this time as more "real" versions of themselves. Following the success of the play Staged—which they spent S1 rehearsing—they were riding high…until the pandemic did its thing and acting and traveling and going outside stopped. So when the duo are approached to remake Staged for the American audience, they're both excited and apprehensive…and things just spiral from there. Watching Sheen & Tennant banter like the good friends they are is brilliant; watching them ask themselves if they're funny is even better (why is that even a question?). Staged is a little bit of light in a heavy time and will make you want to set up your own Zoom call with your BFFs just to have a good laugh (and maybe a good yelling session too).
Watch Staged on Hulu on Wednesday.
From Hulu:
David Tennant and Michael Sheen star as themselves – two bickering actors making a drama out of a crisis. Can their fragile egos survive working from home and virtual Hollywood?
—
grown-ish
"Who Do You Love?" Season 3 finale
Thurs Mar 18 – 8PM
On Freeform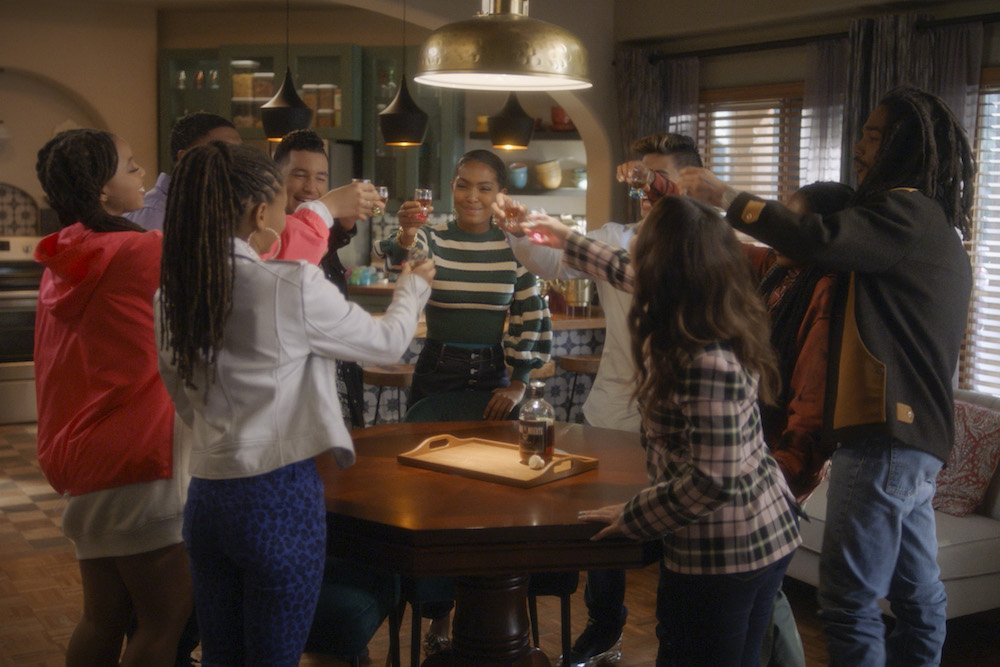 Photo: Freeform
Aaron (Trevor Jackson) takes on Cal U once again just in time for graduation. His act of protest, with some surprising support, is inspiring and will remind you that grown-ish continues to champion social issues. But Aaron's triumph is short-lived when his mind goes back to the mess he made with Zoey (Yara Shahidi). She's having second thoughts too—and decides, for some reason, to discuss it with Luca (Luka Sabbat). Luca being Luca is helpful in the most backwards way possible and after their chat Zoe decides she needs to be a grown woman and handle her life. The will-they-won't-they kicks up a notch. Seriously, WILL they or WON'T they. We've been waiting for three years. We're not even this invested in our own relationships. As some of the crew reaches the end of their Cal U education, they all have decisions to make. Vivek (Jordan Buhat) decides to make a huge life change and start his summer of love with Heidi (Kirrilee Berger). And Jazz (Chloe Bailey) makes a choice about her future with Doug (Diggy Simmons). Just like all crossroads in life, this season's finale is bittersweet—but it'll also make you wish S4 could get here already so you can see where the grown-ish crew go next.
grown-ish airs on Freeform every Thursday.
From Freeform:
With the support of the senior class, Aaron turns his graduation ceremony into a protest against the University's investment in private prisons. Zoey debates backing away from Aaron … but is that what they both want? Meanwhile, Jazz and Doug make a decision about their relationship.
—
Zack Snyder's Justice League
Thurs Mar 18
On HBO Max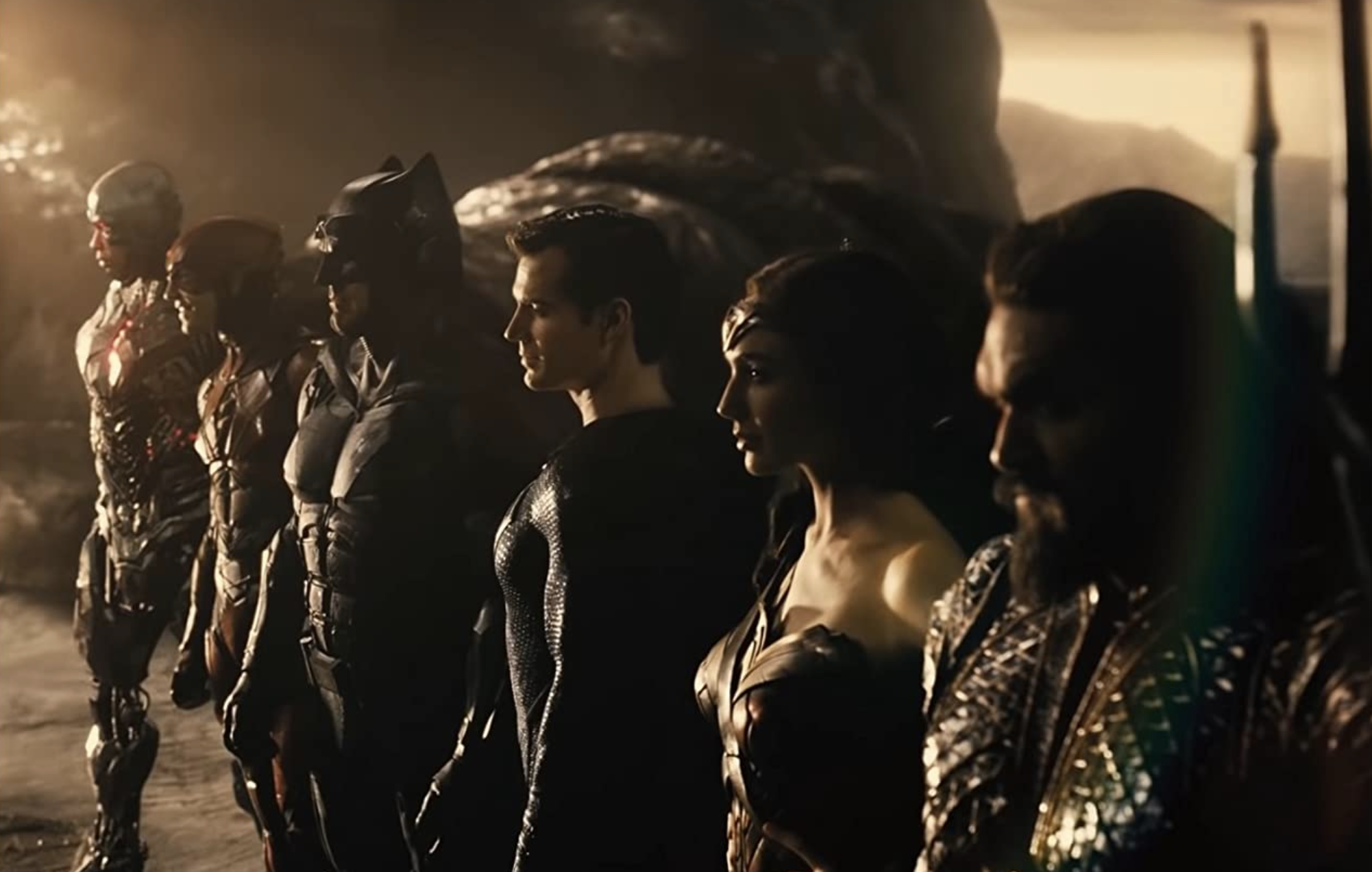 Photo courtesy of HBO Max
I have to admit, Zack Snyder's Justice League is Brainiac smart. In four hours, the DCEU has reworked a failing franchise and set the stage for a revitalized vision of their universe, one that capitalizes on the things we love about DC Comics and gives us a clear path to a multiverse full of the pathos, breakneck action, friendship, laughs, and hard times that ultimately lead to triumph. Cheers to that… (read Sherin Nicole's review… and then read Julian Lytle's review)
Zack Snyder's Justice League hits HBO Max on Thursday.
From HBO Max:
In ZACK SNYDER'S JUSTICE LEAGUE, determined to ensure Superman's (Henry Cavill) ultimate sacrifice was not in vain, Bruce Wayne (Ben Affleck) aligns forces with Diana Prince (Gal Gadot) with plans to recruit a team of metahumans to protect the world from an approaching threat of catastrophic proportions. The task proves more difficult than Bruce imagined, as each of the recruits must face the demons of their own pasts to transcend that which has held them back, allowing them to come together, finally forming an unprecedented league of heroes. Now united, Batman (Affleck), Wonder Woman (Gadot), Aquaman (Jason Momoa), Cyborg (Ray Fisher) and The Flash (Ezra Miller) may be too late to save the planet from Steppenwolf, DeSaad and Darkseid and their dreadful intentions.
—
Nate Bargatze:
The Greatest Average American
Thurs Mar 18
On Netflix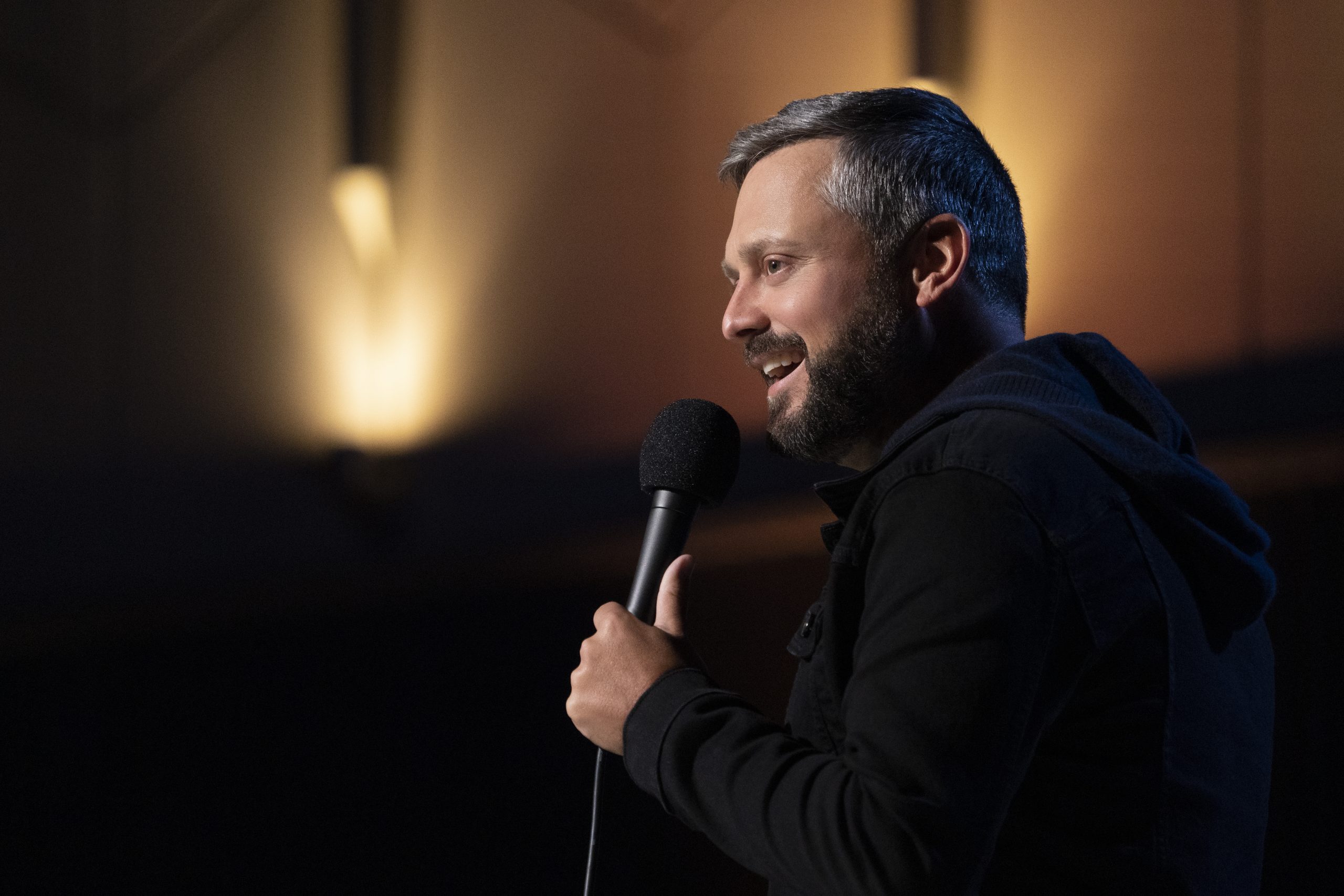 Photo courtesy of Netflix
2020 was the year we all had nothing to do but lots to dissect. Nate Bargatze takes to the (outdoor) stage to talk about adjusting to the pandemic as a standup comedian, as a parent, and as a person with friends who either don't know COVID is real or haven't left their house in a year. He gets real honest about generational differences, family life, and technology (Zoom shows, anyone?) and it's so relatable you can't help but laugh along. We could all use more reminders that life can be funny in all its everyday reality—and Nate Bargatze is here to make it shine.
Stream Nate Bargatze: The Greatest Average American
on Netflix on Thursday.
From Netflix:
Tennessee-born comedian, actor, and podcast host Nate Bargatze is back with his second hour-long Netflix original comedy special, Nate Bargatze: The Greatest Average American. Nate reflects on being part of the Oregon Trail generation, meeting his wife while working at Applebee's and the hilariously relatable moments of being a father and husband.
—
The Falcon and The Winter Soldier
Season 1
Fri Mar 19
On Disney+
Our review is coming soon.
The Falcon and The Winter Soldier debuts on Disney+ on Friday.
From Disney+:
Marvel Studios' "The Falcon and The Winter Soldier" stars Anthony Mackie as Sam Wilson aka The Falcon, and Sebastian Stan as Bucky Barnes aka The Winter Soldier. The pair, who came together in the final moments of "Avengers: Endgame," team up on a global adventure that tests their abilities—and their patience. Directed by Kari Skogland with Malcolm Spellman serving as head writer, the series also stars Daniel Brühl as Zemo, Emily VanCamp as Sharon Carter, and Wyatt Russell as John Walker.
—
Country Comfort
Season 1
Fri Mar 19
On Netflix
Photo: Beth Dubber/Netflix © 2021
Country Comfort is about as cheesy as the title suggests—but that's not a bad thing. When country singer Bailey (Katharine McPhee) gets dumped by her boyfriend and her band, she's left heartbroken and homeless. So she starts driving around aimlessly, ending up lost and broken down in a storm and begging for help at a nearby house. That house happens to be home to the Haywood family, a dad, three sons and two daughters, who are grieving their mama and are in desperate need of a nanny. Sounds like the perfect match, right? Bailey takes on the job and fits right into the family, taking their quirks and worries in stride and trying to balance them with her music career. There's plenty of ups and downs but the family all pull together with lots of heart and country music.
Katherine McPhee plays the wide eyed fast talking damsel pretty well and has good comedic chemistry with Eddie Cibrian as Beau, the dad of the household who's just trying his best to keep his kids in order. The five kids are all gems in their own way, ranging from precocious to bossy to eager to please. And Beau's girlfriend Summer (Janet Varney) is pretty hilarious as the wannabe-stepmom who's…well, she's trying pretty hard to please too. The southern accents are wonky at times but the jokes are funny and the family dynamics are charming. Settle in with a cuppa and enjoy some comfort wrapped up into a classic country sitcom.
Watch Country Comfort on Friday, only on Netflix.
From Netflix:
When her career and personal life get derailed, an aspiring young country singer named Bailey (Katharine McPhee) takes a job as a nanny for a rugged cowboy named Beau (Eddie Cibrian) and his five children. With a never-give up attitude and loads of Southern charm, this newbie-nanny is able to navigate the family dynamics and be the mother figure they've been missing. To her surprise, Bailey also gets the band she's been missing in this musically talented family who help get her back on the road to stardom.
—
Calls
Season 1
Fri Mar 19
On Apple TV+
Calls comes to Apple TV+ on Friday.
From Apple TV+:
"Calls" is a groundbreaking, immersive television experience based on the buzzy French series of the same name, masterfully using audio and minimal abstract visuals to tell nine bone-chilling, short-form stories. Directed by Fede Álvarez ("Don't Breathe"), each episode follows a darkly dramatic mystery that unfolds through a series of seemingly average, unconnected phone conversations that quickly become surreal as the characters' lives are thrown into growing disarray. Featuring Lily Collins, Rosario Dawson, Pedro Pascal, Aubrey Plaza and more, "Calls" proves that the real terror lies in one's interpretation of what they cannot see on the screen and the unsettling places one's imagination can take them.