This week: A Little Late with Lilly Singh, Zoey's Extraordinary Playlist, Chicago Med, Call Your Mother, Everyone is Doing Great, Endlings, WandaVision, One Night in Miami, Disenchantment, Outside the Wire, The Ultimate Playlist of Noise, Bling Empire
A Little Late with Lilly Singh
Season 2
Mon Jan 11
On NBC
A Little Late with Lilly Singh returns to NBC tonight.
From NBC:
"A Little Late with Lilly Singh" sees comedian, actress, social media sensation, producer and author Lilly Singh bring her unique perspective to late night. Singh hosts celebrity interviews, talks current events, performs musical and sketch comedy, plays games and more.
—
Zoey's Extraordinary Playlist
"Zoey's Extraordinary Distraction" – Season 2, Episode 2
Tues Jan 12 – 8PM
On NBC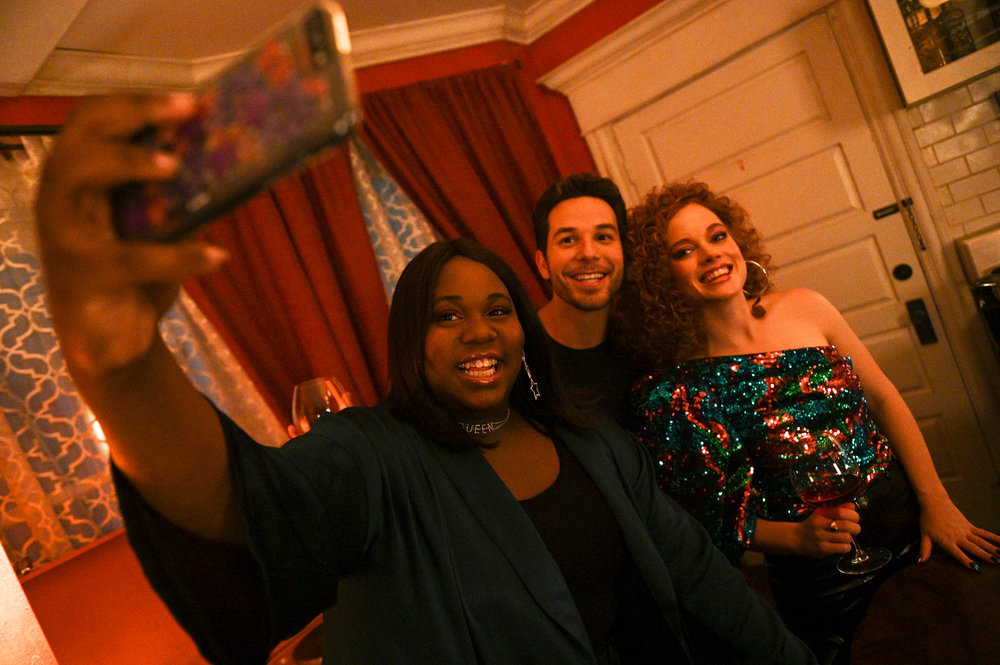 Photo by: Sergei Bachlakov/NBC/Lionsgate
Zoey (Jane Levy) is all about finding comfort in the arms of Max (Skylar Astin)…but we're not really sure using him as a "distraction" is the best idea for either of them. It takes some time for them to adjust to being in a relationship while knowing that Zoey hears Max's every emotion in the form of a song. But when issues come up at work and at home, will Zoey and Max ever have time for romance? Meanwhile Emily's (Alice Lee) sister Jenna (Jee Young Han) comes to visit which upsets the precarious household balance. And Mo (Alex Newell) freaks out over entering a business partnership with Max. It takes a lot of work for everyone to admit how they're really feeling—but with Zoey's insider info (in the form of a few big pop tunes), things are looking up. Once again Zoey's Extraordinary Playlist sings its way to your heart, mixing deep-rooted emotional issues with fun dance numbers to keep S2 going just as strong as S1.
Zoey's Extraordinary Playlist returns to NBC tomorrow.
From NBC:
Zoey's attempts to spend private time with Max are continually thwarted by both Mo and work problems. The Clarke family gets a new guest when Emily's sister, Jenna (guest star Jee Young Han), comes to "help" with the baby.
—
Chicago Med
"Do You Know the Way Home?" – Season 6, Episode 3
Wed Jan 13 – 8PM
On NBC
Chicago Med airs on NBC every Wednesday.
From NBC:
Dr. Charles and April team up to take on a mysterious patient in the ED. Dr. Halstead is forced to make a life-or-death decision for one of his trial patients. Dr. Marcel is confronted by his past when a former acquaintance is brought into the ED.
—
Call Your Mother
Series premiere
Wed Jan 13 – 9:30PM
On ABC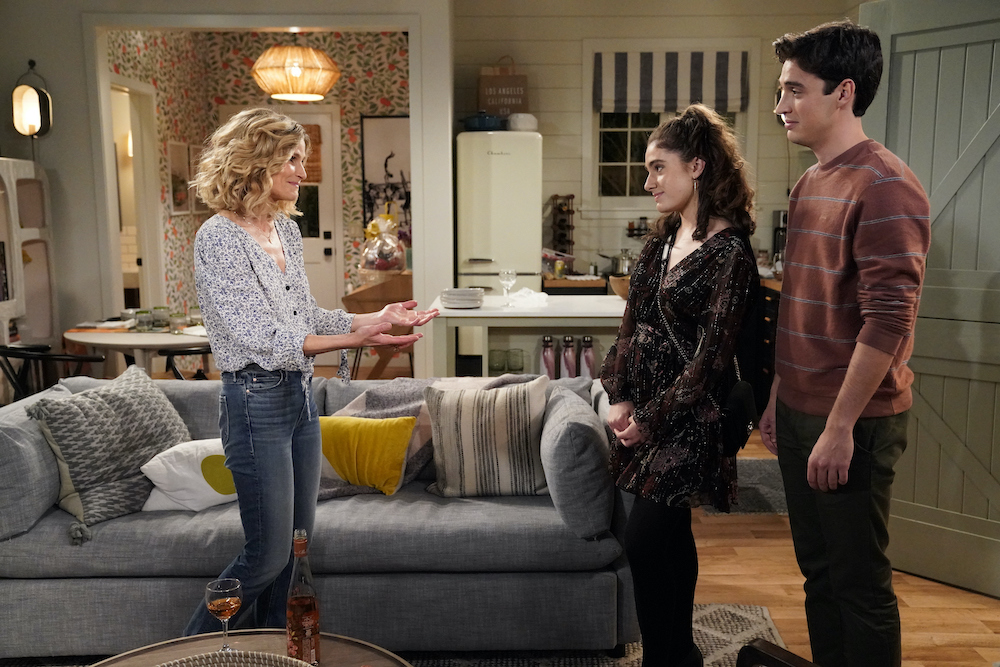 Photo: ABC/Lara Solanki
Hey parents: If your kids move across the country and stop answering your calls, you probably messed up. ABC's new sitcom Call Your Mother explains why. When Jean (Kyra Sedgwick) can't get in touch with her son for a few days, she flies all the way to California to surprise him and his sister. Uhh, yeah, in case you need it spelled out: That is not okay. Her children are living separate independent lives…they're only brought back together to complain about how overbearing their mom is. But the kids soon realize they do still need her in some capacity. Will they come to regret it? Probably—but this show tries to make that kind of relationship into something sweet. For some, it might make you want to call your parents…for others, it might further reassure you that setting some boundaries was the right decision. Still, Call Your Mother is pretty funny at times and is a lighthearted Wednesday night addition to the ABC sitcom roster.
Watch Call Your Mother on Wednesday on ABC.
From ABC:
Jean, an empty-nester mom, wonders how she ended up alone while her children live their best lives thousands of miles away. She decides her place is with her family, and as she reinserts herself into their lives, her kids realize they might actually need her more than they thought.
—
Everyone is Doing Great
Season 1
Wed Jan 13
On Hulu
Stream Everyone is Doing Great on Hulu on Wednesday.
From Hulu:
The boys are back and…better than ever? Watch James Lafferty and Stephen Colletti in Everyone Is Doing Great on January 13, only on Hulu.
—
Endlings
Season 2
Fri Jan 13
On Hulu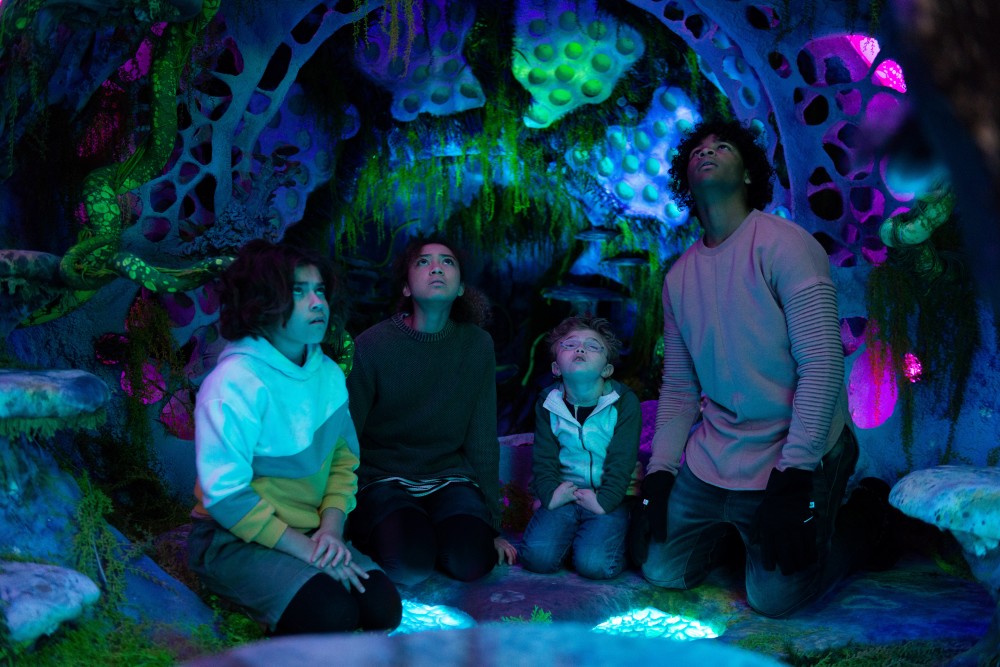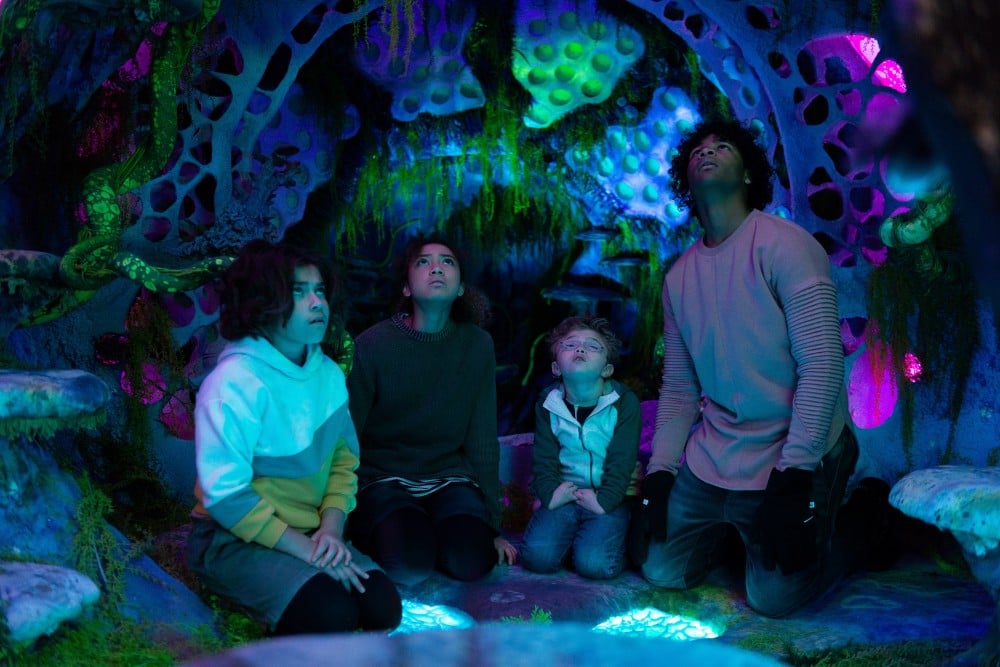 Photo: Hulu
Endlings is back for more alien hijinks in this ET-style adventure series with a found-family twist. In S2 it gets even harder to hide Ling—especially when child services visit to inspect the house and give Tabby (Michela Luci) some news about her birth mom. The kids do their best to protect Ling, although a vision of his future is something they don't know how to deal with. Meanwhile, a sinister corporation starts investigating nearby, bringing them very close to finding the truth. Dangerous outer-worldly secrets threaten to break this foster family apart—can Ling unite them all? Endlings returns on a strong note, mixing a fun dose of sci-fi with plenty of adventure and a whole lotta heart.
Endlings is back on Hulu on Friday.
From Hulu:
Set 20 years in the future, Endlings is the empowering story of four teenagers in foster care who discover they're not alone in the universe, even though sometimes it can feel like they are. Halfway across the world, Tuko is alone. After the death of her mate, Tuko becomes the last elephant in existence–what biologists call an endling. Her endling status summons to Earth a mysterious Alien who is on an intergalactic quest to save the last member of near-extinct species. After Tuko is collected, the Alien's ship malfunctions and sends it on a crash course with the farm where Julia (Kamaia Fairburn), Johnny (Edison Grant), Tabby (Michela Luci) and Finn (Cale Thomas Ferrin) live with their foster dad, Mr. Leopold (Neil Crone). Before crashing, the Alien releases all of its cosmic collection into the fields and wilderness surrounding the property. This kicks off a high-action life-altering mission to retrieve these fantastical creatures before the local police, Tuko's caretaker (Oyin Oladejo), or a secretive industrialist (Lisa Ryder) can. Along the way, four discarded teens discover that "endling" doesn't have to mean the end; it can also mean a new beginning.
—
WandaVision
Season 1
Fri Jan 13
On Disney+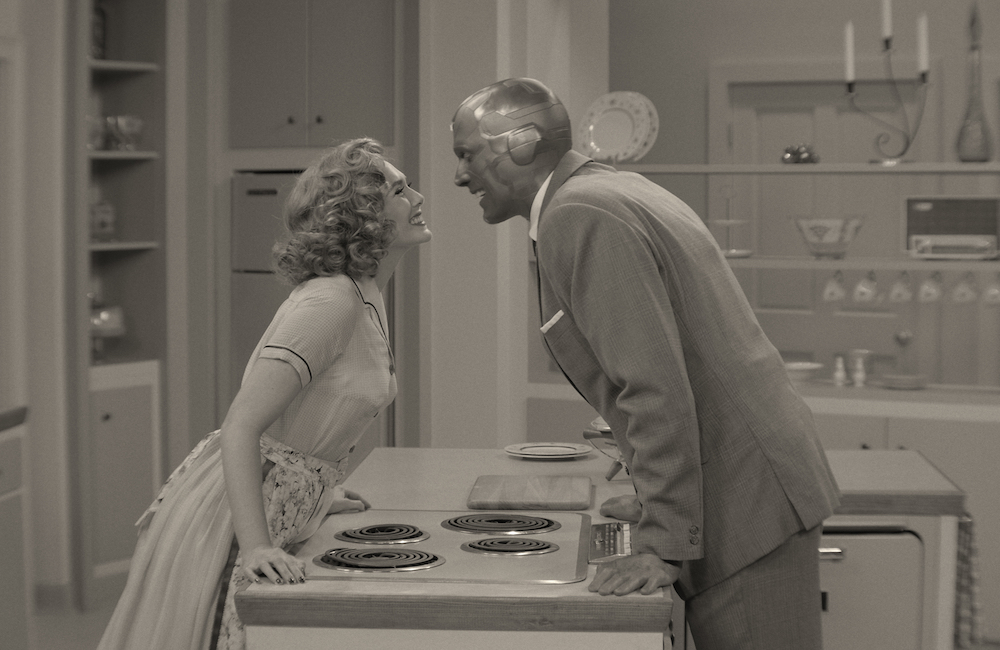 Photo courtesy of Marvel Studios © Marvel Studios 2020
A lot of what is most intriguing about the first three episodes of the new Disney+ series WandaVision, from Marvel Studios, is indicative of a lot of what's wrong in America. WandaVision carries the veneer of classic TV, when everything was perfect and perfectly funny and yet we know those times weren't great for everybody. There was something sinister beneath the surface. In that way, we suspect things aren't so great for Wanda (Elizabeth Olsen) and Vision (Paul Bettany) either.
Something is very wrong in the idyllic new town they've moved to—we can tell because the series starts off in a The Dick Van Dyke Show (1961) world and it's funny and it's cute and it's also a little bit creepy. Moments hitch, things go strangely askew, and red is the only spot of color (like a warning light or a bloody cut). The show purposefully uses one of the brightest TV shows ever made to contrast the suppurating ideology that gives "make America great again" power. And that's what begins to make you uncomfortable—laugh track and all.
In episode two, we move on to a show very much like Bewitched (1964), with Wanda as our magical Samantha and Vision as our goofy Darren, but here again we're shown hits of something sinister, a Stepford Wives (1975) vibe, and possibly the foreshadowing of erased memories. There's even a constant chant of "for the children" that brings to mind the chilling conspiracy theories of QAnon and how they hid their true purpose. Finally, in episode three, we move into a cross between The Brady Bunch (1969) and The Partridge Family (1970) and this is where things really go off the rails. Here, the distrust of the Black friend becomes both commentary and a major clue. Meanwhile the entire series winks at the idiocy of misogyny.
It's brilliant once you've thought it over. These allusions to classic comfort food TV make us believe someone's mind might be breaking… But who? Where exactly are they? And why does all this quirky perfection make us so uncomfortable? That is the hook that the creators yank us into this beautiful yet disturbing landscape with, and the actors play their roles perfectly, Olsen and Bettany are adorable yet riveting, Teyonah Parris intrigues in her introduction as Monica Rambeau, and Kathryn Hahn nails the nosy neighbor you're not sure you can trust but you love to watch.
In many ways WandaVision's style (but not the storytelling itself) reminds you very much of what was done on Legion (2017), another Marvel Comics show where your perception is warped by whomever's POV you're trapped in. There are even embedded nods to Hydra, Stark Industries and more. In this way, the first three episodes become a three-part pilot. Since there are nine episodes it plays like the first of three acts, in which we don't really get started until the very end of episode three. And that is well done too because without a doubt you're left wanting more.
Read our reviews – #1 by Julian Lytle | #2 by Drew & Kat Bittner
WandaVision hits Disney+ on Friday.
From Disney+:
Marvel Studios presents "WandaVision," a blend of classic television and the Marvel Cinematic Universe in which Wanda Maximoff (Elizabeth Olsen) and Vision (Paul Bettany)—two super-powered beings living idealized suburban lives—begin to suspect that everything is not as it seems.
—
One Night in Miami
Fri Jan 13
On Amazon Prime Video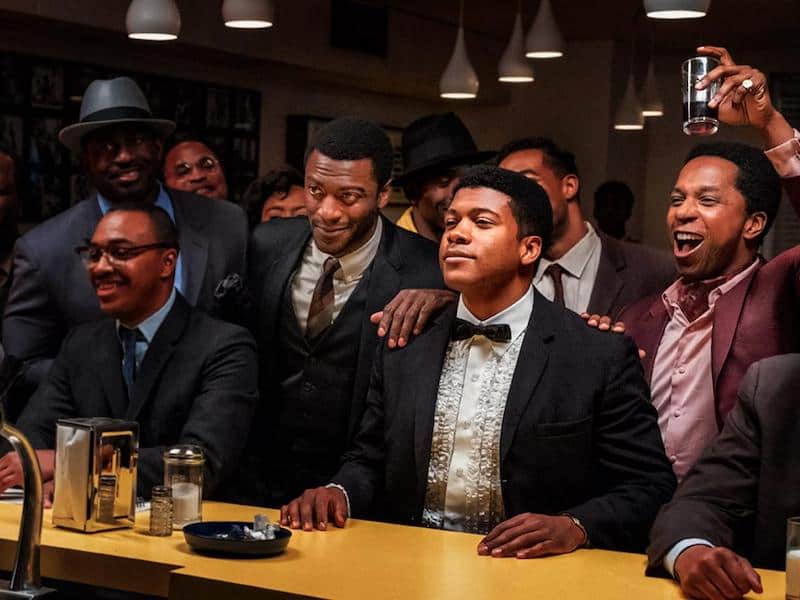 Photo: Amazon
February 25, 1964 – Cassius Clay (Eli Goree) beats Sonny Liston to become the heavyweight champion of the world. Afterward he celebrates in a Miami motel with three of his closest friends—X (Kingsley Ben-Adir), Cooke (Leslie Odom Jr.), and Brown (Aldis Hodge). All true. The history books tell us it happened. What we don't know is what was said or how it all went down. Directed by Regina King and written by Kemp Powers, based on his original stage play, One Night In Miami is a juicy slice of four extraordinary lives; not because of anything gossip worthy but because it hones in on who they were then to inform who we are now. (read our review)
One Night in Miami comes to Amazon Prime Video on Friday.
From Amazon:
One Night in Miami is a fictional account of one incredible night where icons Muhammad Ali, Malcolm X, Sam Cooke, and Jim Brown gathered discussing their roles in the civil rights movement and cultural upheaval of the 60s.
—
Disenchantment
Part 3
Fri Jan 13
On Netflix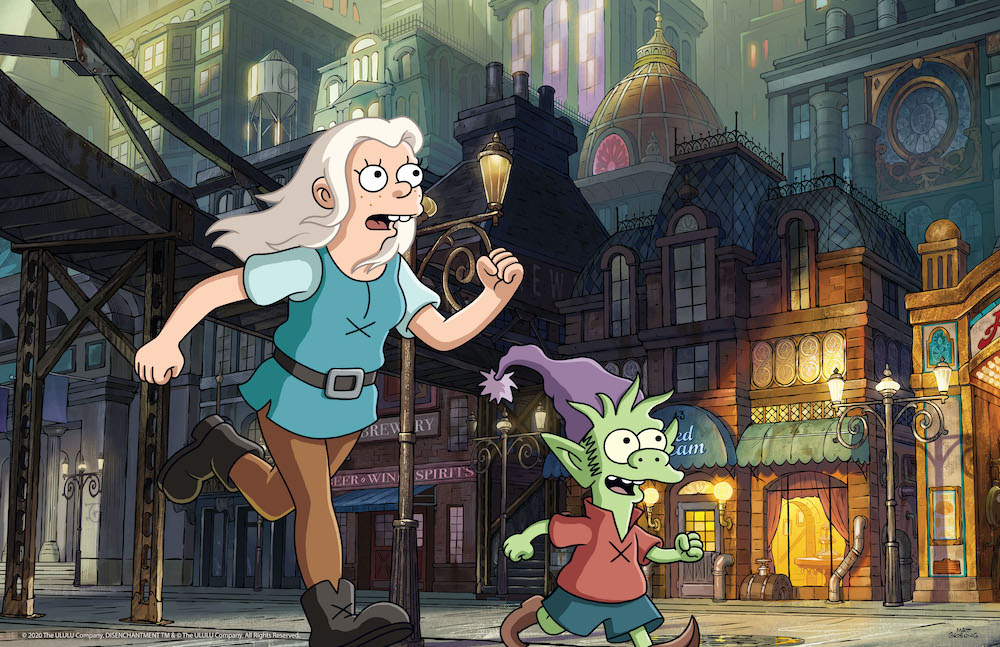 Photo © 2020
Disenchantment part 3 focuses on Bean's (Abbi Jacobson) burgeoning power as she figures out where her skills fit into the world (and how they can shape it). When part 3 begins, she's miles beneath the surface of Dreamland in the catacombs which are…well, they're creepy but they're also pretty informative. Seriously, they really help Bean in her journey of self-discovery. Up on the surface, things don't look good for King Zøg (John DiMaggio). Some new rules shake up the kingdom as nefarious plans start to take shape (and take over). Disenchantment brings more wacky and wild weirdness, continuing to expand the world inch by inch, while adding new depths to the characters, cementing this show as a true slow-burn medieval saga that takes its sweet, crazy time.
Disenchantment returns to Netflix on Friday.
From Netflix:
The excitement builds in Disenchantment Part 3 as Bean continues to grow into her power and own her destiny. As the fearless friends venture out to discover new worlds, they might just find there really is no place like home.
—
Outside the Wire
Fri Jan 13
On Netflix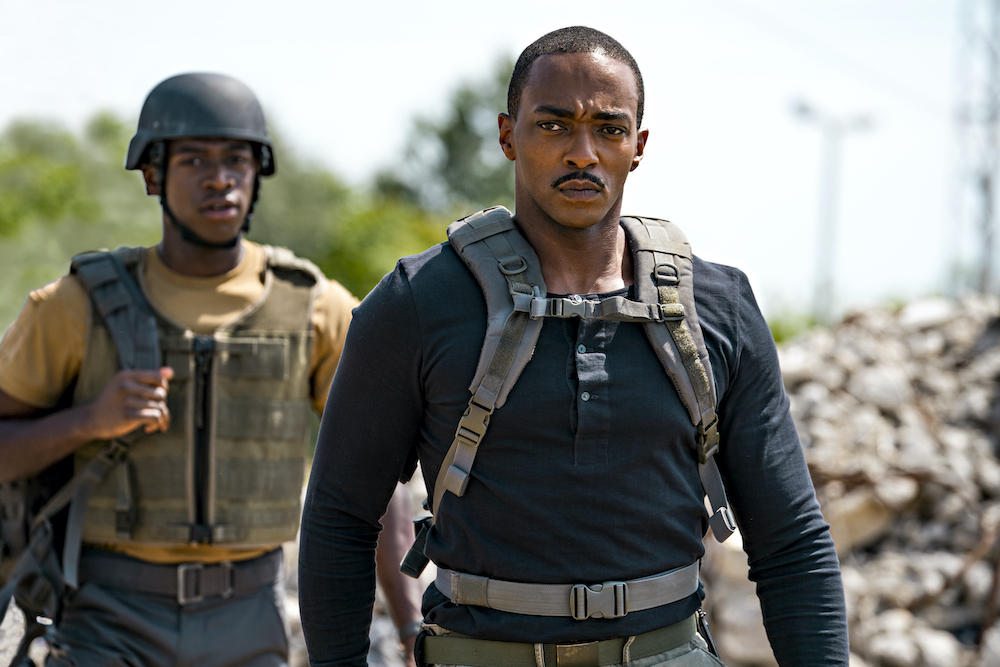 Photo: Jonathan Prime​/Netflix © 2020
Set in the near future of 2036, US drone pilot Lieutenant Harp (Damson Idris) is sent to a high-conflict military outpost as punishment for disobeying a direct order. He's upset and has a lot of questions but his new commanding officer Captain Leo (Anthony Mackie) is having none of it. Leo has big plans to infiltrate the demilitarized zone in order to prevent a nuclear-fueled apocalypse. He also happens to be an AI super-soldier who is willing to go further and harder than his comrades (get used to it). But Leo needs someone else to think outside the box with him—that's where Harp comes in. The world of Outside the Wire is bleak but its characters draw you in, making you ask all the right questions about warfare and what's "right" in the eyes of the law vs. in the middle of a warzone. The action scenes are brutal and feel like a first person shooter video game, while robotic sci-fi elements are mixed in seamlessly enough to keep it almost real, which makes for a fast-paced & wild ride.
Watch Outside the Wire on Friday, only on Netflix.
From Netflix:
Set in the future, Harp (Damson Idris), a drone pilot, is sent into a deadly militarized zone where he finds himself working for Leo (Anthony Mackie), an android officer, tasked to locate a doomsday device before the insurgents do.
—
The Ultimate Playlist of Noise
Fri Jan 13
On Hulu
Check back for our review.
The Ultimate Playlist of Noise comes to Hulu on Friday.
From Hulu:
Written by Mitchell Winkie, the film follows Marcus (Keean Johnson), an audio obsessed high school senior who learns he must undergo brain surgery that will render him deaf. He decides to seize control of his fate by recording the Ultimate Playlist of Noise – a bucket list of all his favorite sounds. Once he sets out, he meets Wendy (Madeline Brewer), a wildly charming, struggling musician who is trying to escape to New York for her chance at a life-changing opportunity. Together they check off his list as they make their way across the country, until painful revelations force Marcus to face reality and his future without sound.
—
Bling Empire
Fri Jan 13
On Netflix
Stream Bling Empire on Friday on Netflix.
From Netflix:
Bling Empire follows a wildly wealthy group of Asian and Asian American friends (and frenemies) in Los Angeles. While their days and nights are filled with fabulous parties and expensive shopping sprees, don't let the glitz and glamour fool you. Between running multi-billion dollar businesses and traveling the world, these friends are as good at keeping secrets as they are at spilling them. And there is certainly no shortage of secrets.