It's hard enough to make it in a competitive industry when you're young. But if you're also a person of color and/or part of the 2SLGBTQIA+ community, it can feel next to impossible. For Meet Me @ The Altar—a trio of young women of color, two of whom are queer—the only way around those industry hurdles is through them. 
"We're the perfect mesh of like almost every single type of person in the world," says vocalist Edith Victoria. I'm catching up with the band over Zoom, the day before their debut full-length, Past // Present // Future, is set to come out. The trio—Victoria, along with guitarist/bassist Téa Campbell and drummer Ada Juarez—were in back-to-back interviews, something that's exhausting on a normal day but, I'm sure, is extra tiring when you're a week into your first North American headlining tour. That doesn't stop the three of them, crowded around a phone propped up on a table, from being pleasant company, offering thoughtful responses and sharp observations.
"Most people think we're not genuine, but women get that all the time," Campbell continues. "I remember reading about Paramore [getting it] because they have a 'girl singer' and I think it's just heightened for us because we're a lot of different groups."
Though Meet Me @ The Altar's origin story started in 2015, it was their signing to Fueled by Ramen in October 2020 that put them in front of a whole new audience. Over the last few years, they've opened for a number of bands. I saw them on the Knuckle Puck tour last spring, while a friend became a fan after they supported Muna. And at the beginning of March 2023, they headed out on their first headliner along with Daisy Grenade and Young Culture, both of whom Meet Me @ The Altar picked from a list their management provided because they're such fans of the others' music.
"It's been so fun!" says Campbell, enthusiastically. "This is such a new experience for us because it's our first headliner, but the energy that everyone's been bringing in has been great. We just played the sweatiest show ever last night in Ohio." They're a small enough band that they have to do all the set up themselves before starting a show—the dream is to one day have a touring crew—but they're still having a good time in between all the work. All three of their faces light up after I tell them I saw them in Toronto a few days before our interview and they thank me for showing up, exclaiming happily when I show off the pre-signed copy of their album I picked up from the merch table.
"When you're opening you have to put the effort in to win the crowd over, but when you're headlining, you've already won them over," says Victoria. "You can be less formal because they already know you and it's just a little bit more comfortable than opening."
The last time I saw them, the three of them were joined by two touring members, but this tour they've been flying solo. "It was very logistical," explains Victoria, "but also it's a nice nod to how we first started […] it's way more personal and very much 'us' and who we are, and it was nice to come back to it for our first headliner."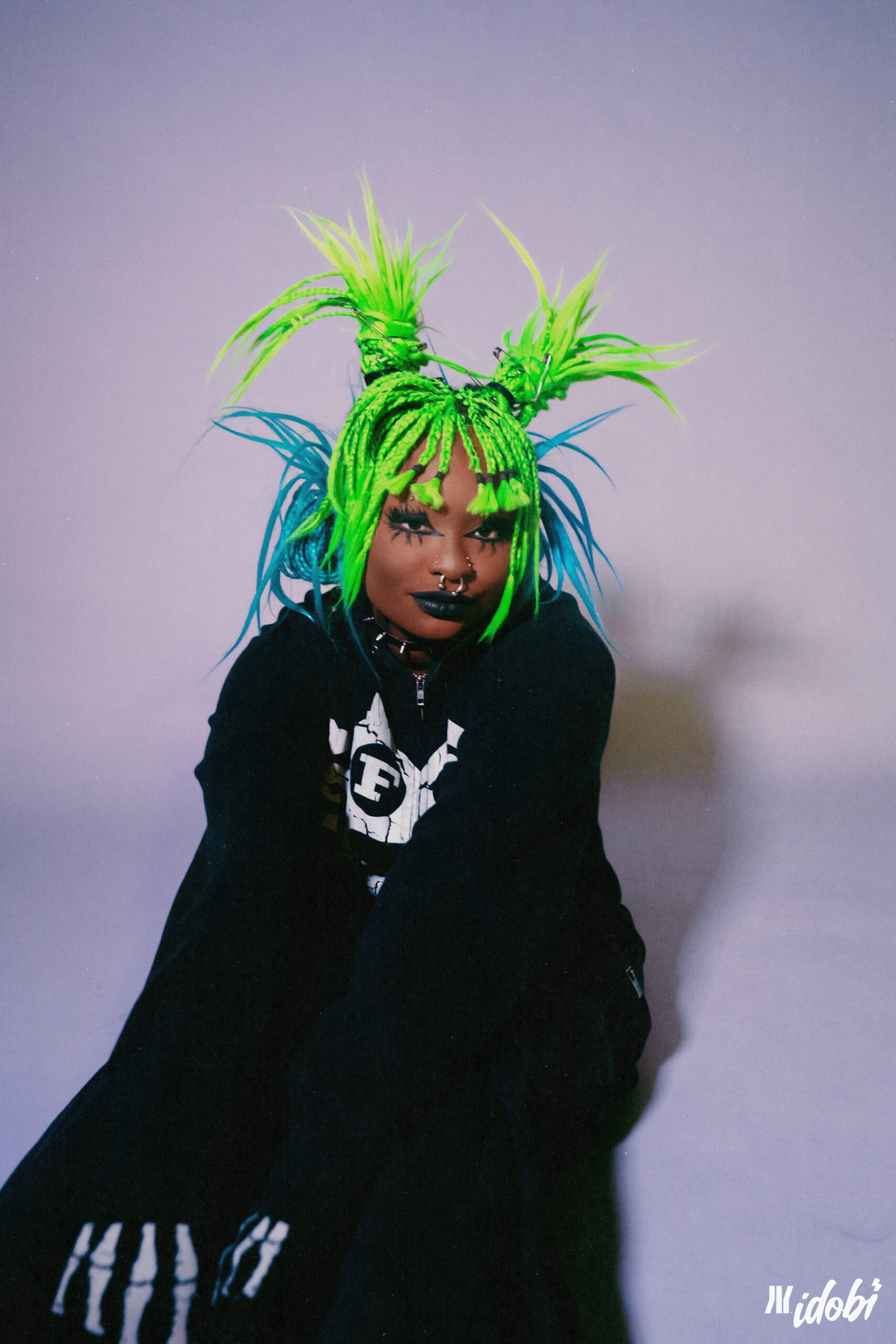 Having only three of them onstage also makes their performance feel a little more intimate, especially since it gives them time to indulge in some affectionate banter. Whether onstage or in a Zoom call, there's no doubt that they're good friends—best friends, even—in addition to bandmates. Juarez is the quietest of the three though no less engaged and she occasionally makes an insightful comment or cracks up the other two: When Campbell is looking for an adjective to describe their personalities, Juarez suggests "stupid" and they all burst into laughter. (Campbell was actually aiming for the word "eclectic.")
During their show at Toronto's Velvet Underground, I found myself smiling often as I watched them interact—whether it was checking in on Juarez after she hurt her hand and needed a bandage or talking about how cold Canada is compared to their homes south of the border—and I'm not the only one who loves to see bandmates riffing off of each other. "Our sound engineer was talking about how, a few days in a row, the lighting guys at the venues were just cracking up at our jokes," says Campbell. 
This onstage show of camaraderie serves a second purpose: letting the audience get to know the band on a more personal level. "A lot of people start to really know who we are and it creates a connection," says Juarez. "A big part of it is the music, of course, but we are also people and [fans] pay attention to what we're like."
"We're just ourselves," says Campbell, "and I feel like people can really feel that and they then feel more comfortable talking to us."
Like most bands these days, Meet Me @ The Altar spends a lot of time building those connections with their fans online as well as in person. All three of them are active on social media but admit they aren't always on top of TikTok. Instead, they choose which parts of themselves to share online though the lines of what they should or should not say are sometimes blurred.
"We do share aspects of ourselves online, but we're also very private people," says Campbell. "The Internet ruins a lot of things. So it's important to keep some things close to your chest, but also be open about the things that matter, especially when it comes to mental health, or our struggles with navigating being a young artist in this industry and working our way up. It's important for people to hear that, because we experience something that not a lot of people get to experience. We're super open about things that we feel like other people would benefit from if they knew about it."
Victoria chimes in with her own philosophy. "I have so many drafts on my Twitter, if anyone saw those, it would be so bad. If I think that something's out of pocket, I just draft it."
We joke about how sometimes it can be cathartic to just write something in a Tweet even if you don't intend on anyone else seeing it and Victoria adds, "If you're thinking about it twice, you probably shouldn't send it."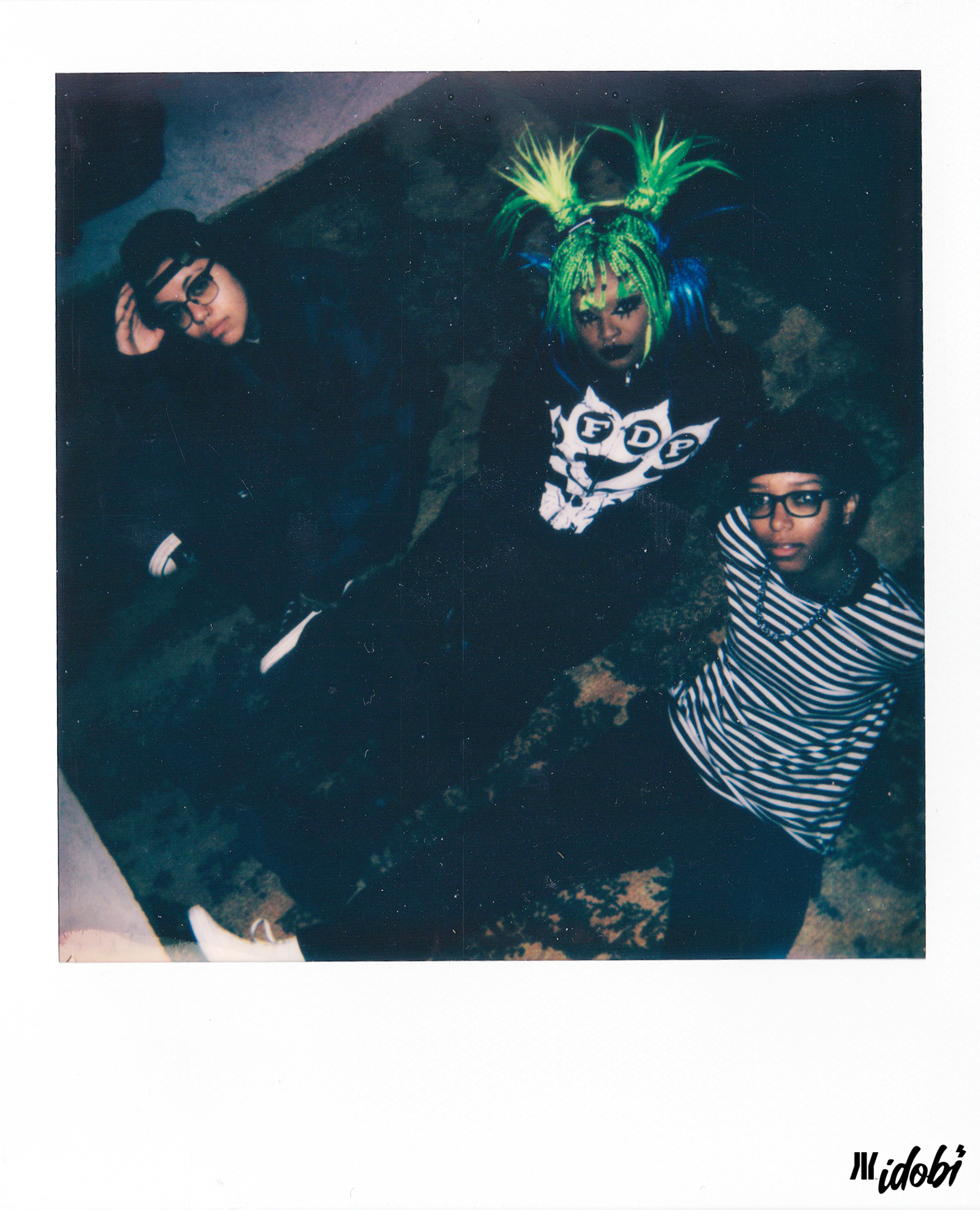 While social media is definitely a bonus and a nice way for fans to get a glimpse into the band members' lives, it can also be pretty bleak: over the last few years, the trio has put up with a lot of online trolls who deem them an industry plant or react, as Campbell puts it, "viciously" to music they don't like or agree with. So, knowing that they already have to work hard to be taken seriously and with a debut album on the horizon, how are they feeling?
"I'm trying not to think about it, to be honest," says Victoria with a laugh.
"I'm kind of at the point where I don't think I'm going to look," says Campbell, and the other two agree. "I know that there are people out there that will like it and there are people that won't like it and at this point it would be better for me to not know at all and just do our thing [rather] than have to filter through the negative stuff to see the positive."
So far, they seem to be getting a good reaction from their existing fans. During their live sets, they play a handful of songs from the record as a little teaser of what's to come. Personally, I loved "Rocket Science", an energetic number that feels like the soundtrack to a Disney original movie (trust me, the band will enjoy this comparison). They also included a ballad, "A Few Tomorrows", about grief and loss, which has elicited a few emotional responses.
Victoria admits that she's usually too focused on singing to notice how the crowd is reacting, but she shares a story of how their photographer captured someone in the audience crying to "A Few Tomorrows" at an earlier show. "They had to have just lost someone or something because you could tell the song hit them." She thinks it's a song people will really come to appreciate once the album is out—that and "It's Over For Me". "It's so angsty and angry…people love being angry."
Angry is also how the band would describe some of their friends' reactions to early album reviews. "My friends sent [a review] in the group chat and they were so upset about it because it wasn't a good one and they sent it to me and I was like, 'dang, I just woke up, I don't want to see this'," Victoria says, acknowledging that she's now putting up boundaries to make sure she keeps a healthy distance away from the negatives.
"I wish there was a way to just turn everything off," she adds. "But you can't because we're on our phones. It's such a weird relationship between existing and somehow figuring out how to not see anything, I feel like you're always going to see something. Sometimes you're not even trying to but it pops up […] we should just focus on us and be in our own little world in the best possible way."
"After this, people in interviews are going to be like 'so how are you feeling about the reaction to your album', I wanna be like 'what reaction?'," laughs Campbell.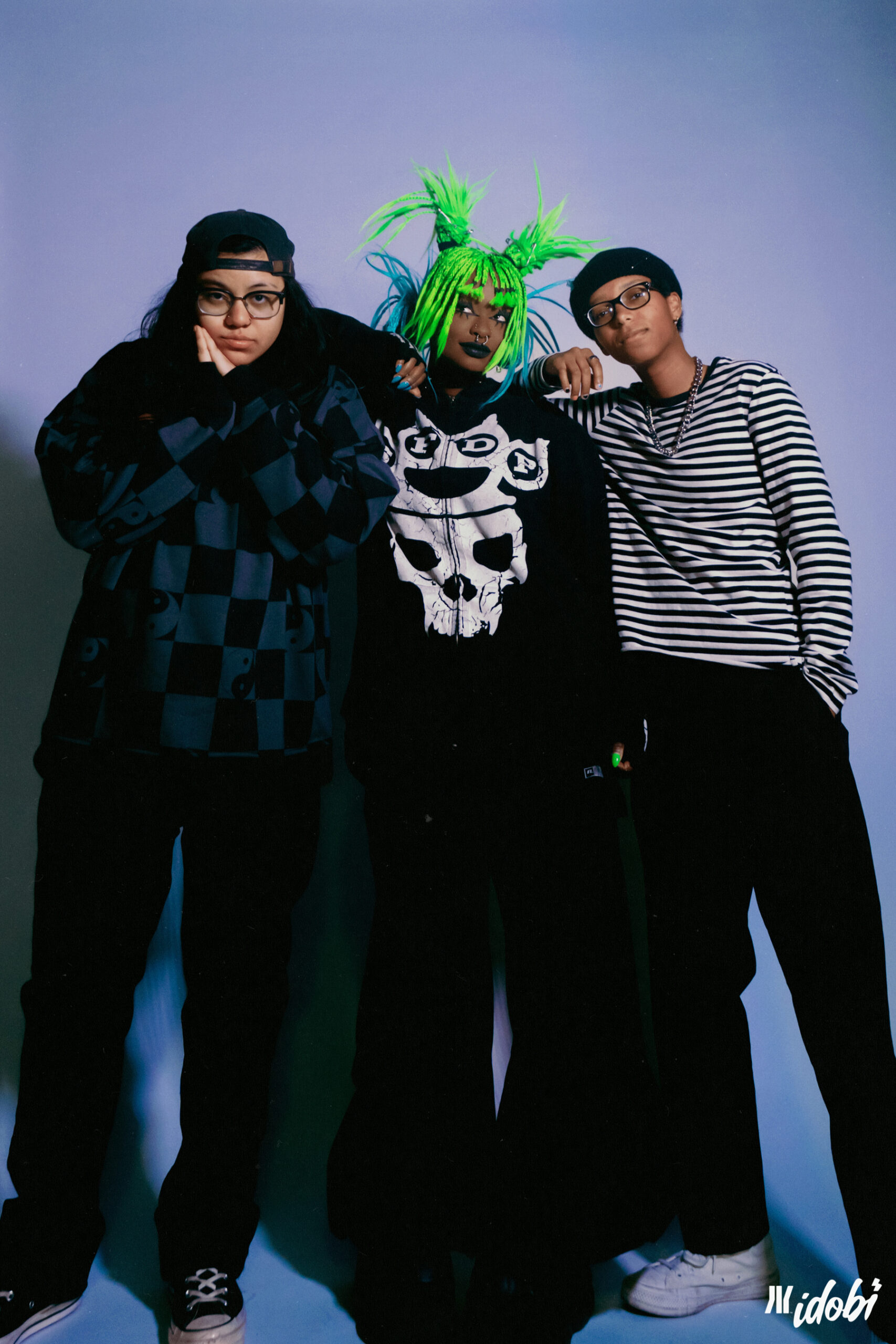 If I wasn't already convinced that Meet Me @ The Altar has the power to change the face of music, relatable moments like this are further proof that they're going to go very far in life. The idea of not looking at reviews or responding to haters feels groundbreaking in an industry that relies on the public's approval (do you know how many times I have to say "don't read the reviews" in my day job?) but it really should be the norm.
"One of the hardest parts of our early careers is to explain that we're more than just breakdowns or what we were before," says Victoria. "I think the initial shock of people expecting one thing and getting a mix of different things…"
"That's a you problem," interrupts Campbell. "We're not making music for you, we're making music for us. If you like it, that's so cool, thanks for being here. But if you don't…okay, no one's forcing you to listen to our music?"
"What I am very excited about, though," says Victoria, "is getting rid of those pop-punk dudes who only love pop-punk. I can't wait to weed them out."
"We're fans of music, we're always going to be making whatever we're into at the time, we aren't just set in one place. People, specifically in pop-punk hate change, I hate to break it to you," Campbell jokes.
"I want the girlies, the girlies get it," Victoria pipes up and Campbell nods, adding "The girls, the gays, and the theys" (sidenote: they have a t-shirt with that saying on it and I kinda wish I had bought it).
"We don't want people who are so gatekeepy to be a part of us," Victoria continues. "Who fucking knows, we could make a nu metal record next. This album's gonna help us create a personal, respectable fanbase who love us for us and weed out the people who are too narrow-minded when it comes to music."
"This album is going to help us get over that hump […] really find the people who are going to stay with us throughout this whole career," says Campbell.
It helps that they know they're not the only ones to go over this hump—that, despite the many factors that make them so unique in the pop-punk industry, their path is not totally dissimilar to some of the big names like Green Day or Paramore. Remembering that many of the scene's biggest names had to go through the same type of scrutiny gives the band "so much peace".
At the same time, Meet Me @ The Altar has started to shy away from the pop-punk label that was bestowed on them while signing to FBR. "We just want to go under the general rock umbrella," says Campbell. "Because we really focus on finding our sound and creating what Meet Me @ The Altar is. We're not like 'okay, we need to make a pop-punk record. Let's stay in this box and follow these rules.' We are making music that just feels like us and we don't want to put labels on it."
"People love to label stuff," she continues. "But if you make anything outside of that label, they'll attack you for it. So we're like, no labels. If you want to make a label for us, whatever, but it's Meet Me @ The Altar."
An average Meet Me @ The Altar set includes covers of songs by Avril Lavigne, Alanis Morrisette, and Pink Slip—yes, the band from Lindsay Lohan's 2003 classic, Freaky Friday. Talking about their own sound, the band cites a number of influences from Kelly Clarkson to Demi Lovato to Katy Perry ("she played Warped!"), explaining that for the most part, they're inspired by songs they heard on the radio at least a decade ago. "Those songs were so well-written and had emotion," says Campbell. "[Most] music today just doesn't make us feel anything and we didn't want to contribute to that because that's not who we are." All those influences appear on their pre-show playlist and they definitely help get the crowd pumped while waiting for the band.
"I just want to reach the people who inspired us," says Victoria, when I ask what's on their bucket list. All three of them are putting out the vibes for a slot on a Jonas Brothers tour (JoBros, if you're reading this, please reach out to them!) and generally looking for ways to get out there, play music, and meet fans.
The other thing they want is to be recognized not just as a band of women of color, but as a band who is making a name for themselves. "It's important to talk about it so we can stop talking about it," says Campbell when I ask if they're tired of being held up as an example of non-white success in the scene. "We know what we represent and it's so important, but at the same time, we just want to take up space and exist, and let the music speak for itself and like that be that. And I think there's something really special about us existing unapologetically, and just being in a room."
Their hope for the band is to be an inspiration—not just to people of color or women or queer people, but to "anyone who sees themselves in us," Campbell expands. "What I want is to inspire people to chase after their dreams. In this world you're literally born into a system that tells you not to. Like, you gotta go to college, you gotta get a job, you gotta pay off your student debt for fifteen years…that's not a life I would want to live," she laughs. "But not a lot of people have the courage to break that boundary or go outside of that. We're just proof that if you follow your intuition and do what you want to do, you can be successful. And it took us eight years to get to this point—but it can happen."
If Meet Me @ The Altar and bands with their same philosophies are the future of the pop-punk / alternative / rock / whatever-you-want-to-label-it scene, then I can't wait to see where they take us.