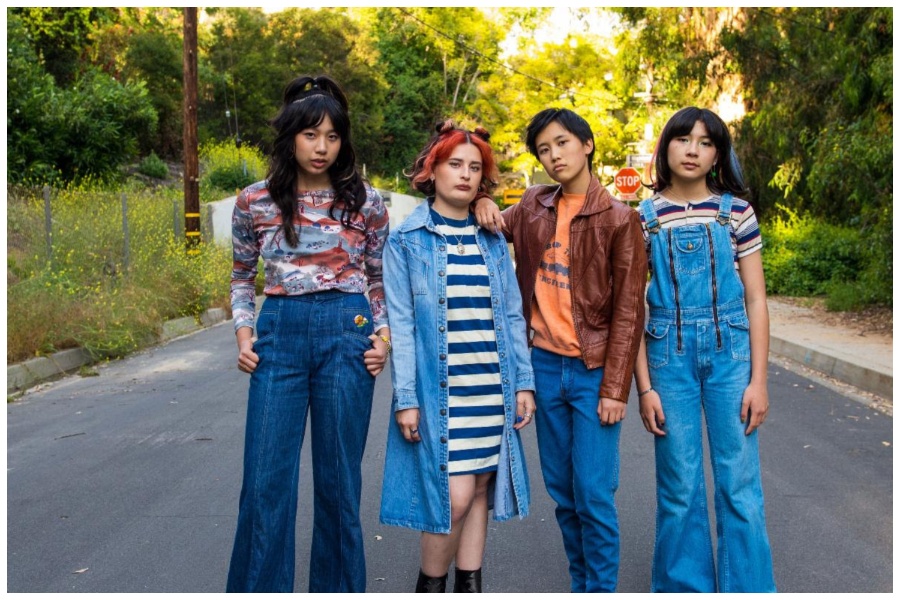 The formidable all-female punk rock force, The Linda Lindas, follows up their summer hit "Too Many Things" with an empowering anthem, "Resolution/Revolution." Inspired by the group's vocalist Bela Salazar's influences from Pantera and Judas Priest, the song emerged as a rallying cry for self-discovery and embracing individuality. The lyrics exude defiance, urging listeners to break free from societal norms and be true to themselves. With fiery determination, The Linda Lindas encourage a resolution to stay authentic while sparking a revolution against conformity.
Of "Resolution/Revolution" the band shares, "Bela had been rocking out to a lot of Pantera and Judas Priest when we started writing 'Resolution/Revolution.' She came in with a riff and as we worked together, it morphed into [a] composition about making small dents in big problems to make a difference in the long run. We've been playing the song live for a few weeks now, are excited to release it as a single, and hope it gives you a boost!"
With their high-energy and spirited approach to music-making, The Linda Lindas continue to blaze a trail of empowerment and authenticity. As listeners embrace the call for self-discovery and defying societal expectations, The Linda Lindas' message of resilience and individuality is on full display in their new release.
Following the release of "Resolution/Revolution," The Linda Lindas will hit the stage with Paramore this week on the This Is Why Tour as well as perform at Lollapalooza this weekend. The group will also support the Yeah Yeah Yeahs this October for back-to-back shows in Mexico City. You can get tickets to see The Linda Lindas perform live here. 
Tour Dates:
8/1 – Milwaukee, WI @ Fiserv Forum*
8/2 – St. Paul, MN @ Xcel Energy Center*
8/5 – Chicago, IL @ Lollapalooza
8/7 – Chase Center, San Francisco, CA*
8/9 – Climate Pledge Arena Seattle, WA*
8/10 – Veterans Memorial Coliseum Portland, OR*
8/13 – Delta Center Salt Lake City, UT* 
10/3 – Pepsi Center WTC @ Mexico City, MX^
10/4 – Pepsi Center WTC @ Mexico City, MX^
*Supporting Paramore
^Supporting The Yeah Yeah Yeahs