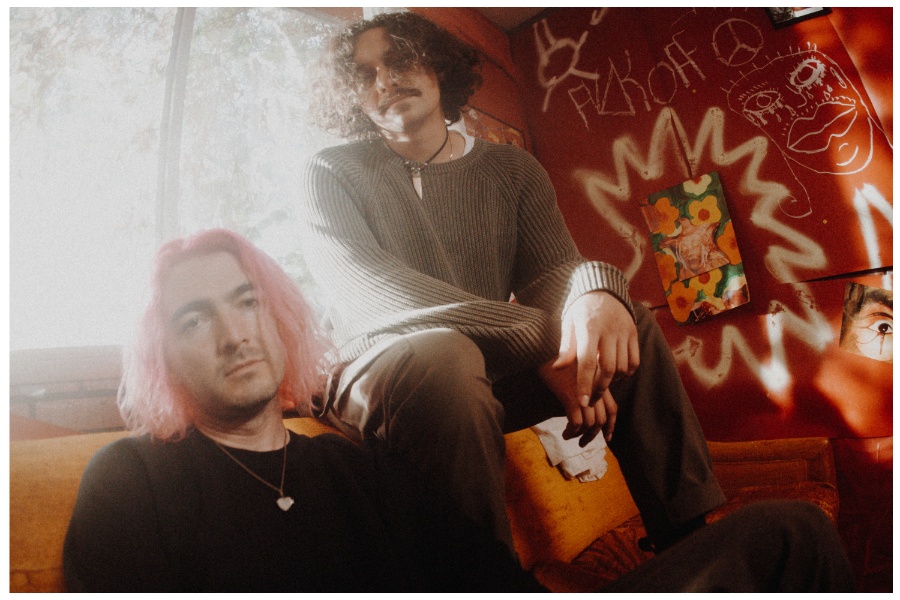 Grunge-rock duos Teenage Wrist and Softcult have joined forces for a captivating collaboration on the all-new track, "Still Love." This powerful song is pulled from Teenage Wrist's highly anticipated third album, also titled Still Love, set to release on August 8 via Epitaph Records. The upcoming 12-track collection showcases the band's evolution and features a range of other exciting collaborations, including SA Martinez, Sister Void, David Marion, and Heavenward. With Still Love, vocalist/guitarist Marshall Gallagher and drummer Anthony Salazar have taken on the role of producers, crafting their most expansive and intricate collection of songs to date.
​​From the jump, "Still Love" envelops you with its shimmering and melancholic guitar riffs, creating an ethereal ambiance that is characteristic of both Teenage Wrist and Softcult's signature alternative-meets-grunge sound. The song dives into the themes of toxic masculinity and self-loathing, addressing them with raw intensity. It establishes an immediate contemplative and nostalgic mood, setting the stage for the heartfelt lyrics that follow. As Gallagher sings, his voice exudes a captivating mix of vulnerability and resilience.
"Still Love" showcases the collaborative brilliance of Teenage Wrist and Softcult, as they seamlessly blend their unique styles and musical sensibilities. The result is a track that not only engages the listener with its captivating melodies and introspective lyrics, but also invites introspection and empathy. With this collaboration, both bands continue to push the boundaries of their respective genres, creating a sonic experience that resonates deeply with their audience.
"I was in a pretty dark spot after Covid (as most people were)," Gallagher shares. "I was starting to piece together things about myself that were difficult to face; like why I carry so much shame and guilt, and how the manifestation of those things were quite literally hurting me, as well as others. It's pretty wild how putting thoughts down on paper can help you make sense of your emotions. Writing these lyrics was sort of a gateway to forgiving myself – for big mistakes, for not living up to expectations, for being a shit tornado of a person in the process of learning how to live. Also, I was listening to way too much Sunny Day Real Estate and I'm sure it seeped through."
Fall head over heels for Teenage Wrist and Softcult's new release, "Still Love," below.
Just ahead of the Still Love album release, Teenage Wrist will kick off their North American fall tour alongside Spiritual Cramp, Initiate, Trauma Ray, and Slow Joy on Sept. 5. Tickets for the tour will go on sale Thursday, June 8, at 10 AM local time here. Check out the duo's full touring schedule below.
Tour Dates:
Sept. 5—Santa Ana, CA @ Constellation Room
Sept. 6—San Francisco, CA @ Thee Parkside
Sept. 8—Portland, OR @ Hawthorne Theater
Sept. 9—Seattle, WA @ Madame Lou's
Sept. 11—Salt Lake City, UT @ Urban Lounge
Sept. 12—Denver, CO @ Larimer Lounge
Sept. 14—Milwaukee, WI @ X-Ray Arcade
Sept. 15—Indianapolis, IN @ Hoosier Dome
Sept. 16—Grand Rapids, MI @ Pyramid Scheme 
Sept. 17—Toronto, ON @ Hard Luck
Sept. 19—Boston, MA @ Sonia
Sept. 20—Philadelphia, PA @ Johnny Brenda's
Sept. 21—Brooklyn, NY @ Brooklyn Made
Sept. 23—Birmingham, AL—Furnace Fest
Sept. 24—Columbia, SC @ New Brookland Tavern
Sept. 26—Orlando, FL @ Will's Pub
Sept. 27—Tampa, FL @ New World Brewery
Sept. 29—Atlanta, GA @ The Earl
Sept. 30—Nashville, TN @ The End
Oct. 2—Dallas, TX @ Sons Of Hermann Hall
Oct. 3—Austin, TX @ The Parish
Oct. 5—Phoenix, AZ @ Rebel Lounge
Oct. 7—San Diego, CA @ Soda Bar
Oct. 8—Los Angeles, CA @ Lodge Room