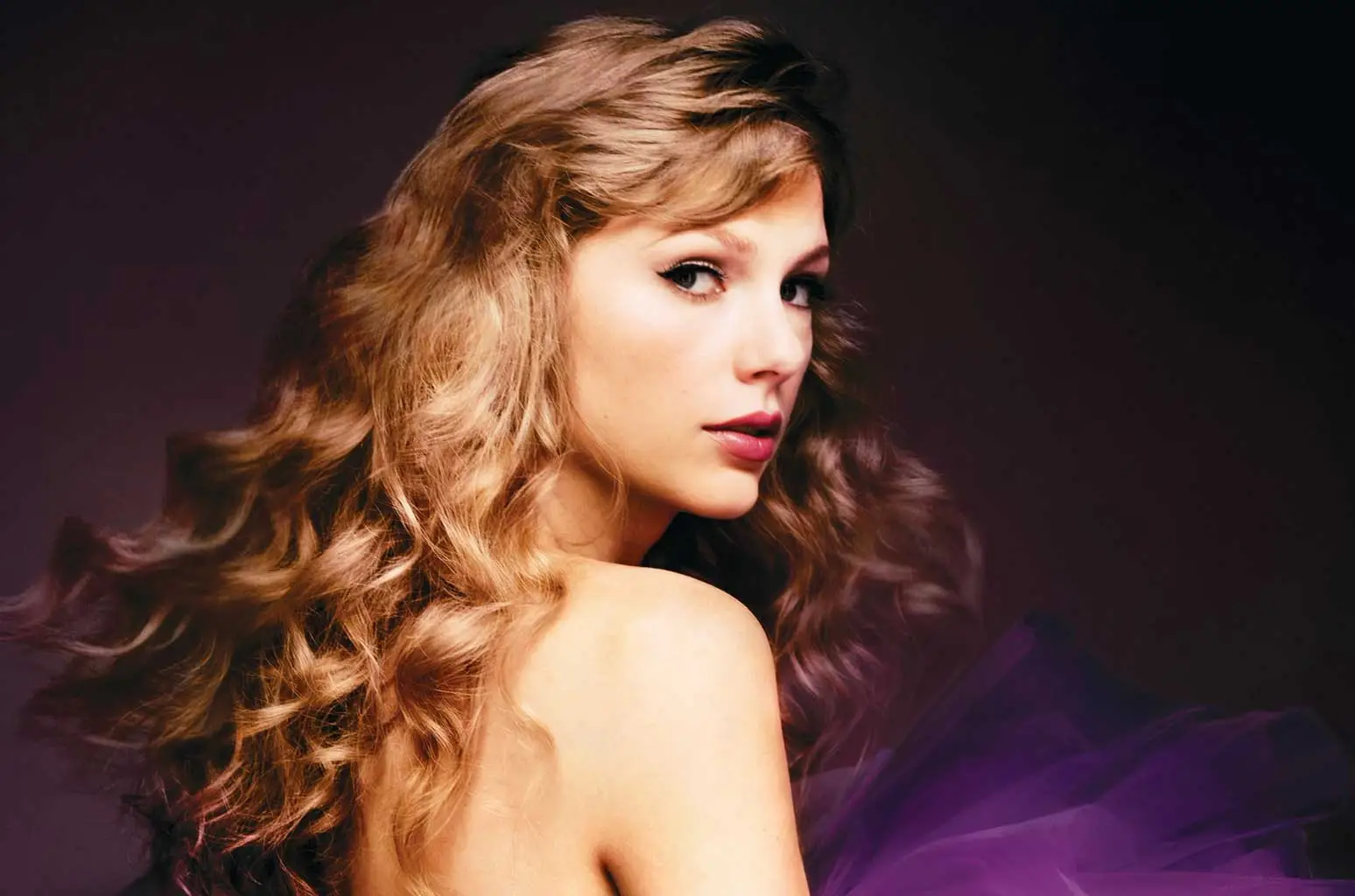 It is the best day of the year for swifties. Taylor Swift finally released Speak Now (Taylor's Version) today. Originally released in 2010 when Swift was 18 years old, she has now revisited the songs thirteen years later at 32. Perhaps her most personal album, Swift is the sole songwriter credited on the entire album. The first time around, she wrote the full record by herself over the course of two years while touring to promote her 2008 album, Fearless.
The album was inspired by Taylor Swift's transition from adolescence to adulthood. Consisting of songs mostly written about her confrontation with critics as she rose to fame and confessional narratives of love and heartbreak, it was her most personal album to date and documents a pivotal period of her life. Swift delivered a personal note regarding the re-release in an Instagram post.
"It's here. It's yours, it's mine, it's ours. It's an album I wrote alone about the whims, fantasies, heartaches, dramas and tragedies I lived out as a young woman between 18 and 20. I remember making tracklist after tracklist, obsessing over the right way to tell the story. I had to be ruthless with my choices, and I left behind some songs I am still unfailingly proud of now. Therefore, you have 6 From The Vault tracks! I recorded this album when I was 32 (and still growing up, now) and the memories it brought back filled me with nostalgia and appreciation. For life, for you, for the fact that I get to reclaim my work. Thank you a million times, for the memories that break our fall."
Along with the sixteen songs included on the original and deluxe version of Speak Now, Swift has also issued six unreleased tracks, "From The Vault". Two of them are particularly special for the alternative scene. "Electric Touch" features Fall Out Boy, and "Castles Crumbling" features Hayley Williams of Paramore.
Something to be noted, Swift decided to change the lyrics in "Better Than Revenge (Taylor's Version)" from "She's better known for the things that she does on the mattress" to "He was a moth to the flame, she was holding the matches". A deep cut on the album that has gained a cult-like obsession from fans, it is interesting to see her swap out the lyrics now as a 32 year-old woman. It only shows how Swift has grown over the last decade. Not only is she arguably the biggest superstar in the world, she has changed in many ways both personally and artistically. From her perception of the world to her songwriting abilities, it is fascinating to see her new approach to these tracks. A few of our stand-out picks from the new version are "Sparks Fly (Taylor's Version)", "Haunted (Taylor's Version)", and "The Story Of Us (Taylor's Version)".
We can say with our full chest that Taylor Swift is one of the most prolific songwriters of our generation. Do yourself a favor and revisit Speak Now (Taylor's Version) today. Check out the full tracklist below, along with the brand-new lyric video for "Long Live".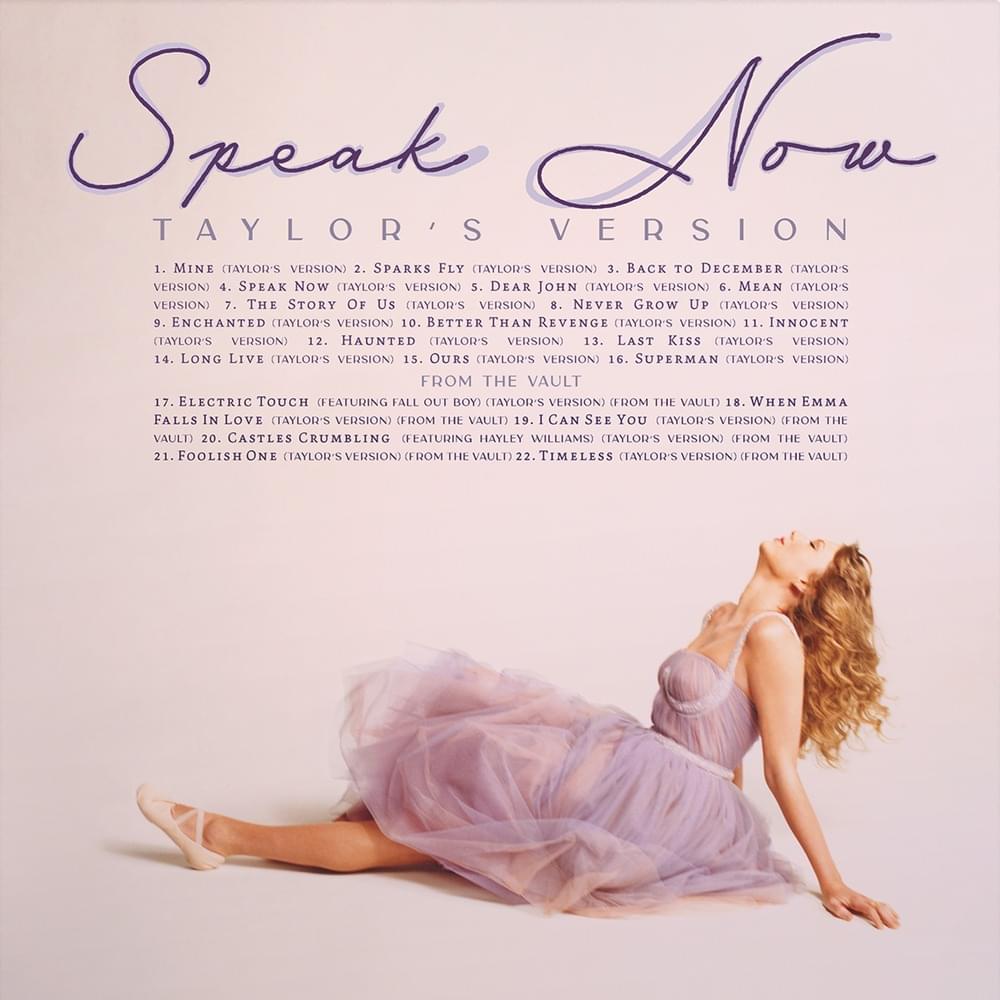 Speak Now (Taylor's Version) tracklist:
Mine (Taylor's Version)
Sparks Fly (Taylor's Version)
Back to December (Taylor's Version)
Speak Now (Taylor's Version)
Dear John (Taylor's Version)
Mean (Taylor's Version)
The Story of Us (Taylor's Version)
Never Grow Up (Taylor's Version)
Enchanted (Taylor's Version)
Better Than Revenge (Taylor's Version)
Innocent (Taylor's Version)
Haunted (Taylor's Version)
Last Kiss (Taylor's Version)
Long Live (Taylor's Version)
Ours (Taylor's Version)
Superman (Taylor's Version)
Electric Touch (Taylor's Version) (From the Vault) [ft. Fall Out Boy]
When Emma Falls in Love (Taylor's Version) (From the Vault)
I Can See You (Taylor's Version) (From the Vault)
Castles Crumbling (Taylor's Version) (From the Vault) [ft. Hayley Williams]
Foolish One (Taylor's Version) (From the Vault)
Timeless (Taylor's Version) (From the Vault)