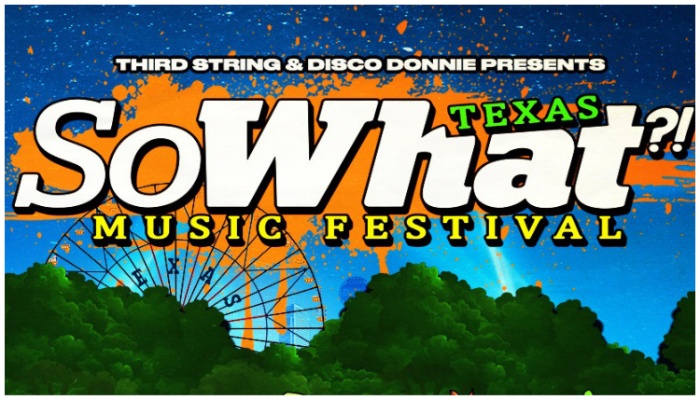 Last month, So What?! Music Festival announced its explosive two-day lineup, including Pierce The Veil and The Used headlining on Saturday, June 24, and Sleeping With Sirens, Neck Deep, and Thursday headlining on Sunday, June 25.
Now the festival has announced a few new additions to the scheduled performances across the two-day event. What was already promised to be an exciting lineup, So What?! will now include sets from Slaughter To Prevail, The Starting Line, Fit For An Autopsy, Invent Animate, Varials, Through The Eyes Of The Dead, clip, guardin, poptropicaslutz!, Prentiss, Enterprise Earth, NO ZODIAC, Bodybox, 408, greyhaven, and BALLISTA.
At the time of the festival lineup announcement last month, So What?! co-founder Mike Ziemer shared, "I think the overall experience for both artists and fans will be the best it's ever been this year. Just like us, [Disco] Donnie takes pride in making sure no corners are cut with both, and seeing the way he has brought so many great festivals to life is inspiring. His festivals always incorporate well-thought-out activations and interactive art and other things that we would love to begin including in ours."
So What?! will be held at Fair Park in Dallas, TX with single-day tickets starting at $99.95. You can purchase tickets here. Check out the updated So What?! Music Festival lineup below.
Saturday, June 24:
Pierce The Veil, The Used, Slaughter To Prevail, Forever The Sickest Kids, Breathe Carolina (Live Set), Don Bronco, Freddie Dredd, Bilmuri, Bodysnatcher, Destroy Rebuild Until Gods Shows, Escape The Fate, Scary Kids Scaring Kids, clip, Enterprise Earth, girlfriends, guardin, Haarper, Lil Bubblegum, LØLØ, Millionaire$, poptropicaslutz!, Red Jumpsuit Apparatus, Scene Queen, Sxmpra, The Browning, Upon A Burning Body, Who Killed XIX, 408, 8 Percent, Alpha Virus, Astrus, Bodybox, Chancla Fight Club, Ciscaux, Garzi, Holy Wars, I Am Destruction, King Cold, Lil Maru, NO ZODIAC, Notions, Prentiss, Section H8, The World, Until I Wake
Sunday, June 25:
Sleeping With Sirens, Neck Deep, Thursday (War All The Time live), Head Automatica, The Starting Line, Saosin, Lil Darkie, GBC, Maylene And The Sons Of Disaster, Real Friends, We The Kings, '68, Alesana, Bad Neighbors, Blessed By A Broken Heart, He Is Legend, Hellogoodbye, Invent Animate, Jake Hill, Jasiah, Jeleel!, Kxllswxith, Nascar Aloe + Deathproof, Oceano, Oliver Francis, Omerta, POORSTACY, Taylor Acorn, The Color Morale, Through The Eyes Of The Dead, Varials; Woe, Is Me; BALLISTA, DeepIncision, Her Name Is Karma, Last Night Of Solace, Limbs, Mass Appeal, NYGMA, Slow Pulse, St!nk, Trachetomy, VCTMS