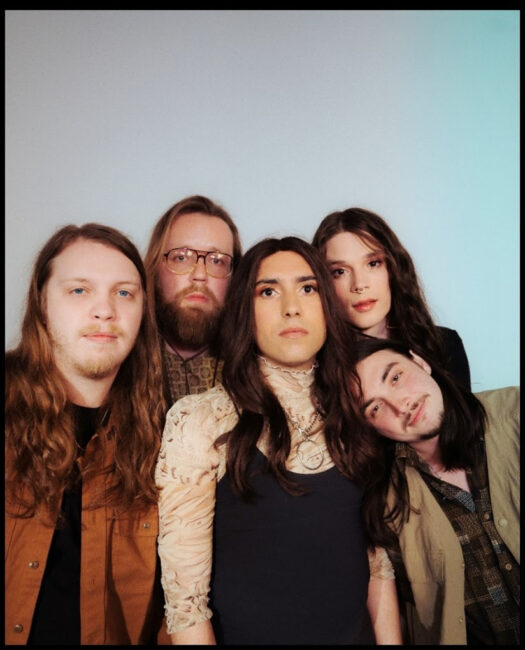 Rainbow Kitten Surprise have released their first new track in over a year courtesy of Elektra Entertainment. The new song "Drop Stop Roll" is a fan favorite that the band have been playing live over the course of the last year, and now fans can enjoy it from the comfort of their home. The tune glides along on a glassy clean guitar melody and steady beat on the way towards an instantly memorable chorus. It unfurls with a hypnotic harmony uplifted by psychedelic flourishes, creating a mesmerizing sonic experience.
Rainbow Kitten Surprise have expanded their already extensive 2023 touring plans. With support from Flipturn and Indigo De Souza, the group will embark on a seven-week long jaunt across North America this fall. The band is known for their unforgettable and highly-energetic live performances. The band is offering VIP packages including premium seating, early entry into the venue, and limited-edition band merchandise. A special fan club presale launches tomorrow, April 11, at 10am local time followed by a Spotify presale April 12 at 10am local time and local presales on April 13 at 10am local time. General on-sale commences Friday April 14 at 10am local time.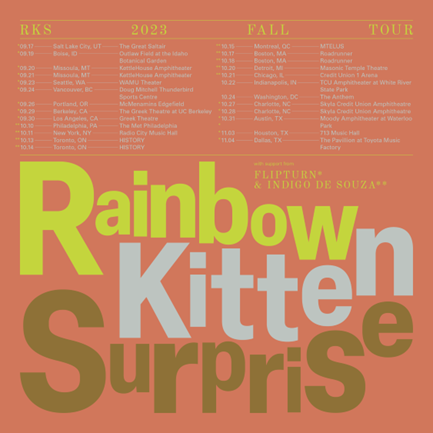 Sept. 17 – Salt Lake City, UT*      
Sept. 19 – Boise, ID*
Sept. 20 – Missoula, MT*           
Sept. 21 – Missoula, MT*
Sept. 23 – Seattle, WA*
Sept. 24 – Vancouver, BC*           
Sept. 26 – Portland, OR*            
Sept. 29 – Berkeley, CA* 
Sept. 30 – Los Angeles, CA*
Oct. 10 – Philadelphia, PA**         
Oct. 11 – New York, NY**
Oct. 13 – Toronto, ON**
Oct. 14 – Toronto, ON**
Oct. 15 – Montreal, QC**
Oct. 17 – Boston, MA**
Oct. 18 – Boston, MA**
Oct. 20 – Detroit, MI**
Oct. 21 – Chicago, IL**
Oct. 22 – Indianapolis, IN
Oct. 24 – Washington, DC                                          
Oct. 27 – Charlotte, NC*
Oct. 28 – Charlotte, NC*
Oct. 31 – Austin, TX*
Nov. 3 – Houston, TX*
Nov. 4 – Dallas, TX*
With Support from Flipturn* & Indigo De Souza**
Rainbow Kitten Surprise has once more partnered with PLUS1 so that $1 from every ticket sold will go to local food banks working to fight hunger and food insecurity. The band has already raised over $170k for food banks in local tour markets, LGBTQ+ causes, and mental health initiatives. Grab a ticket here to see the group live and support a great cause.