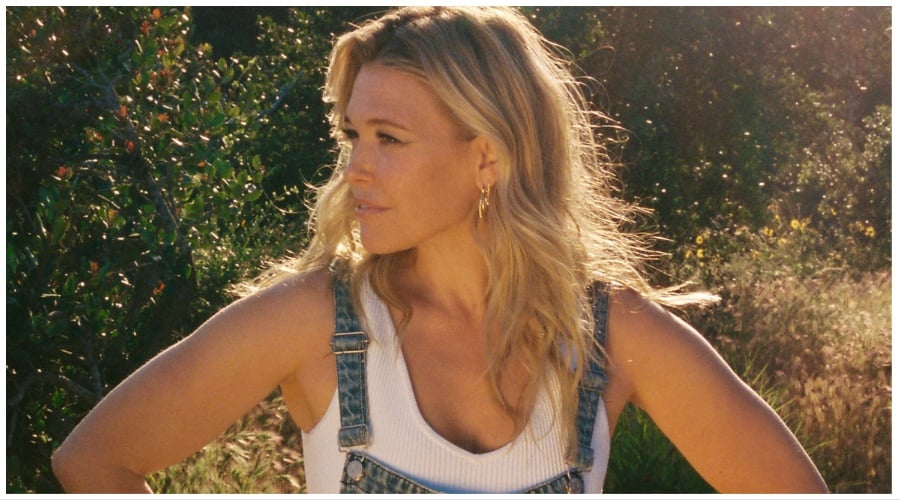 A lot has changed in Rachel Platten's life since her last release in 2020. Over the last three years, the "Fight Song" singer has gone from a mother of one to a mother of two. She welcomed her first daughter Violet into the world in 2019 and her second daughter Sophie in 2021.
While her life has gone up and down through happiness and struggles, Platten's first single in three years, "Girls," pulled from an upcoming larger collection of new music, is a reflection on female strength. "Girls" follows the same vein of empowerment that Platten has always injected into her music, allowing her to share her continuously developing journey. 
In a new interview with idobi for Mother's Day, Platten breaks down how becoming a mother has changed her perspective on music and impacted the way she writes and approaches her career. She also delves into the themes of her new single and how the track relates to women and girls everywhere, as well as the personal lessons she hopes her daughters will take away from the song. Listen to "Girls" and read our full interview with Platten below.
"Girls" is releasing today! This is actually the first single that you've released in over three years. But also your first single since giving birth to your two daughters, Violet and Sophie. Tell us how your inspiration process changed while you were writing this track and how becoming a mother has changed your perspective on music.
Yes, it's very exciting! This entire chapter has been a "scene change" in a lot of ways. I've been creating what feels like the best, truest, and most inspired music of my entire life over the past five years.
My new era of music incorporates the same empowering, vulnerable, emotional threads that my fans have grown to know and love, but encompasses me in all of my strength and all of my chaos, in all of my beauty and all of my pain. As both a songwriter and as a musician, as a daughter and as a mother. It's important for me to be transparent with my fan base also, in letting them know that this album won't be released in a vacuum. My heart and soul are being poured into this album, I'm taking my time and can't wait to share the new body of work with everyone soon.
"Girls" is the start of a whole new chapter for me. One about motherhood. About me and my piano, my voice and my lyrics, my girls and my heart. It's a chapter that represents where I am now, my hero's journey from dark to light, and how I've leaned into creating and producing music as medicine. My daughters are my everything. I'm forever changed and forever different. Motherhood changes us—sculpts us, colors us, rocks us. I've become a mother, that hasn't completely colored the way I speak to the world, and that in itself has influenced my art a lot, made it more raw, and more real.
I'm excited for the world to hear this song because it's a big part of my story that I haven't really told yet. I've written about facing demons, knowing when to fight and when to surrender, about empowerment and reconnecting to the inner light within. I've talked about mental health struggles and personal hero's journeys, but as I was creating this body of work, I realized I haven't shared the most important journey of all, the one of becoming a mother.
This is the missing piece of my story, and the most important to me. I'm excited to release it just before Mother's Day this weekend! I'm so proud of it and love it so much.
You've mentioned that "Girls" is just a part of a new collection of songs that will follow the same vein of empowerment and tell your story and your journey. How has becoming a mother changed that journey for you? How has it impacted the way that you write and the way that you approach your career?
Motherhood fundamentally changes you. Whether it's discernible differences or not, you are different. You've created life! I've now created life two times, and am now opened up to an entirely new depth of emotions and feelings I never knew existed before.
If the range of my emotion before being a mom, say—was on a one to 10 scale, I thought I was a 10. Looking back now, I realize that my "pre-mother" self was more like a three-to-seven! I feel so much deeper now, motherhood expands everything. The lows are lower, and the highs are higher. Almost like I'd been watching black and white movies, and all at once, everything became color! It just makes you think, "Oh my goodness, there's a whole world of pain and joy and depth I didn't know before."
So as a songwriter, having new access to tap into this whole big new world provides incredible depth to what I'm able to tap into and channel. For me specifically, songwriting is an intuitive process that feels like my way of processing the world. When I feel big powerful emotions, and then I am able to process, distill and translate them into three and a half minutes that the whole world can then also feel and hear and experience, it's everything to me. It's healing, it's art, it's my passion.
I think also, that motherhood expanded my capacity for compassion and empathy, like suddenly I can feel what the rest of humanity feels, everything from suffering to elation. The feeling you could really lose something. The opportunities are at your door. It's not about me anymore.
Most of my motivation now is from a place of, "What example do I want to show my girls? What do I want them to know about facing their fears? How do I act as a shining example and show my girls it's possible to get back out there, that nothing is impossible?" I want to lead by example and one day hear them say, "God, can you believe your mother did that?!" And I want them (and girls everywhere) to be inspired knowing that as women and girls, we're going to experience an enormous range of feelings in this world. That our hearts will break and there will be pain, over and over again, but that we will also feel light and love and ease, joy as high as the sky, and that it's all part of the process, it's all beautiful, and it's all okay. I want to teach them that as long as we stay connected to our inner compass, to our source, and to each other, we're all going to ride the waves and eventually understand through it all—that we are the OCEAN, baby. Not the waves.
So that's what my process is now about, helping my girls the only way I could, through songwriting, in a lasting way.
Is there anything beyond the lessons in life that you're teaching them and the guidance you're giving them that you hope they can take from the track?
When I was writing "Girls", it was an anthem to them and for them, but I quickly realized that I am singing this message to all women and all girls, everywhere. I am speaking to all of us, saying, "I hope we know that we can turn to each other. We don't have to buy into this bullshit that we have to compete for a limited amount of space at the top!"
We can be ourselves, we are enough as we are.
I want to speak to this younger generation and to my own generation. So the song is a call to action, too, for all of us. That we have to do that thing we're afraid to do. Go to that conference. Take that chance, follow that dream, ignite that passion, and change the world! It's now or never. We have to show up for ourselves and be brave and courageous. That is something I hope my girls take away most. That they can be anything, really, and that the world is at their feet. At all of our feet.
Let's discuss the moments, the months, and the years that come after giving birth. One topic that is very seldom discussed is the struggles of postpartum depression, which is something that you struggled with. How was it that you coped with those emotions?
My music was a lifeline for me, and I think it saved my life in a lot of ways. Also, the love of my daughters really always brought me back to a remembering, a knowing that I have a bigger purpose, that I can do it, that I can get through.
My music, this album, these songs, this collection of work—it came from a new place. Rather than writing what the world needed from me, this was a new page of creating what I needed from my music. My process, my healing, my lessons, my family. And I think this is why I was able to write the most powerful music of my life! Because I wasn't downloading what I needed next, I was making my own medicine. Day by day. Intuitively.
It's a beautiful synergy that music can do that and be that for me. Because when you take off suddenly as a young musician, and everything gets really popular, the process can rapidly turn outward and feel like, "Oh crap, now there are millions of people listening, what do they want next?!" When I surfaced the inspiration for my new process, I was so deep in my pain and suffering that I finally all at once realized, "Forget about that Rach! What do I need??" And I'm so unbelievably proud and grateful, for my music and my songwriting because of that.
I'm better than ever now. I understand myself on a deeper level. I have a new depth of compassion for the world and all those suffering. For mothers, for people going through mental health journeys – I just see it, get it, feel it, and understand now. And hope they know that they're not alone. And that there's light at the end of the tunnel.
The song became a family affair after you played it for your sister and your parents. What does it mean to have this track dedicated to your girls and from so many people that love them?
My sister Melanie is my best friend, my first believer (along with my mom), and the person I'd often sit around a piano and play new songs with. Since I was a little girl! It's a really special memory, remembering the way the three of us would sit together, sing, harmonize, and play. So sharing this with them for the first time was a homecoming in a big way, it felt really special.
When I first played it, it was unfinished. I was just playing with an idea for the chorus, and within seconds my sister said, "Rachel, that one, that one. Finish that one. Let's finish it tonight." And so I went back home, she came with me, and we just played on my piano like old times. She sat on the floor next to me, my mom and dad were there, and we explored, wrote, and brainstormed. It was so special and so fun, and even more so because it was to and for my girls.
I remember specifically that Melanie and I were singing it to all women that night as it came to life. We were very aware that this was going to be for women everywhere, singing an anthem like, "Hey, it is gonna hurt, and you are gonna cry, and that is gonna make you stronger." A reminder that every single painful thing we go through in life only brings us closer to our own truth. So we might as well be freaking brave, go into the wilderness, and take the bold moves! Don't be afraid to go and grow, break and fail, it's ok to get your heart broken. Be special. That's the message of this song.