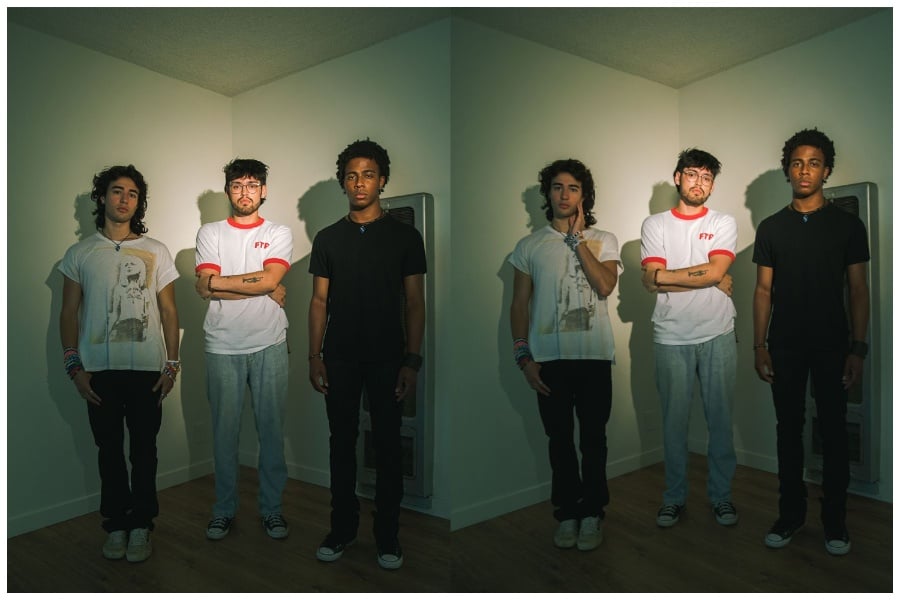 If you want to relive your MySpace era, poptropicaslutz! is the duo for you. Blending their passion for early 2000s emo, SoundCloud rap, and the stylistic autotune of Hellogoodbye, Christian Cicilia and Nick Crawford are back at it again with their new single, "True Colors." Marking the third single off of their upcoming debut album Face For The Radio, poptropicaslutz! highlights their sonic maturity through textured production and suave lyrics. Possessing the charm and sexiness of 2010s bands like The Cab, "True Colors" shows off what the duo does best: writing complex and dynamic pop songs best visualized as colorful mosaic paintings of sound.
Produced by sonic maximalist kodeblooded (Connor Kaufman, Sueco), the song delves into the highs and lows of a relationship that has taken a turn for the worst. A sense of denial comes with saying goodbye to someone you've been so close to, and the steps you take to make the change can feel daunting. poptropicaslutz! discusses the meaning behind the track in a statement.
"True Colors is a song about the hope for greener pastures with the one you 'love,' or coming to terms with the truth—you're beating a dead horse," the band explains. "You know deep down you're a desirable suitor, and 'replacing' them would be fairly easy, but letting go of someone you've grown so attached to is easier said than done. Old habits die hard."
In addition to their upcoming record, poptropicaslutz! is hitting the road for a 17-date run supporting Magnolia Park. Beginning on October 5 in Houston, TX, and ending on October 29 in Cincinnati, OH, West Coast and Midwest fans can grab their favorite face glitters and sing along to the hyper-pop duo's latest material. Listeners attending the San Diego show on October 13 will also hear select tracks from Face For The Radio on the night of its release.
Check out their upcoming tour dates with Magnolia Park and purchase tickets here.
Tour Dates:
Oct. 5—Houston, TX @ White Oak Music Hall
Oct. 6—San Antonio, TX @ The Rock Box
Oct. 7—Oklahoma City, OK @ Beer City Music Hall
Oct. 9—Albuquerque, NM @ Launchpad
Oct. 10—Phoenix, AZ @ The Rebel Lounge
Oct. 12—Los Angeles, CA @ Teragram Ballroom
Oct. 13—San Diego, CA @ SOMA
Oct. 14—Berkeley, CA @ Cornerstone
Oct. 16—Seattle, WA @ El Corazon
Oct. 17—Portland, OR @ Hawthorne Theater
Oct. 19—Roseville, CA @ Goldfields Trading Post
Oct. 20—Anaheim, CA @ Chain Reaction
Oct. 23—Salt Lake City, UT @ The Complex
Oct. 25—Denver, CO @ Marquis Theater
Oct. 27—Des Moines, IA @ Woolys
Oct. 28—Sauget, IL @ Pops
Oct. 29—Cincinnati, OH @ Bogarts