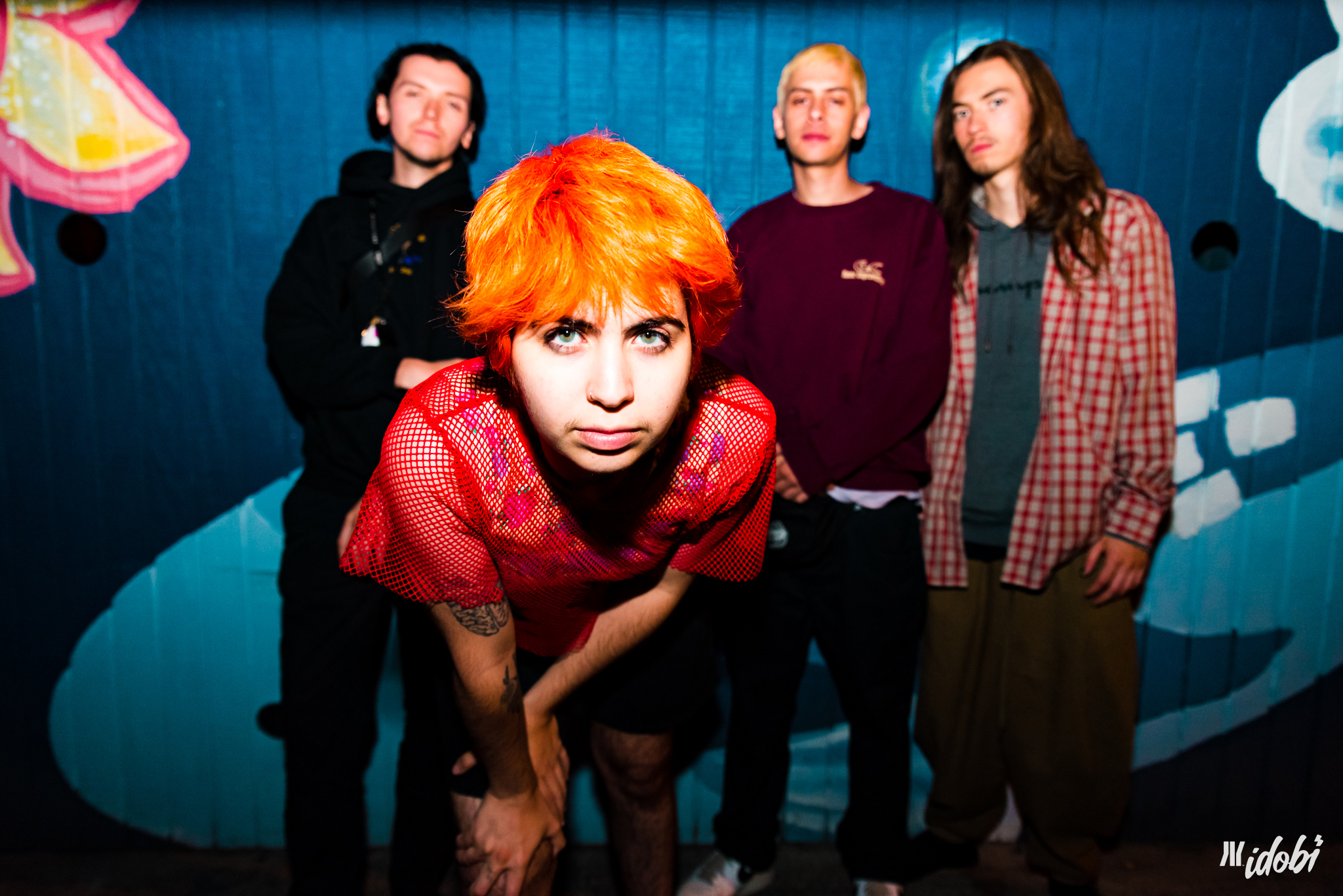 This New Jersey punk band is here to show that Slime—the brash, the bold, and the neon green—is cool.
But what is "cool" anyway?
Pollyanna vocalist and guitarist Jill Beckett (she/they) and drummer Dan McCool (he/him) are quick to agree that honesty and authenticity are it. Beckett says, "We always wanna remain authentic with our music, what we write, everything… Even though we're obviously trying to make other people happy too—that's the whole point of putting it out into the world—we have to be happy and proud of what we're doing, all of us. That's what's cool to me." 
Before bassist Brandon Bolton (he/him) and guitarist Jack Rose (he/him) joined the band, the childhood friends Beckett and McCool had reconnected in middle school. The summer before high school, they were jamming together more regularly. McCool recounts, "That's when we established like, okay, we got some form of good musical chemistry. Let's start making music. Let's start a band." For Beckett, it was full-throttle from the get-go; after the two "basically begged to play" at their eighth-grade school lock-in, "It was literally like a limb grew and it just kept working." The two jammed with "so many different people" in the first few years of high school, going through name changes and different vocalists—"I wrote all the songs but I didn't consider myself a vocalist," Beckett admits, "It took me a long time to consider myself a vocalist"—but Beckett and McCool's loyal friendship and deep creative connection were there to stay. By the summer of 2017, a year before graduating from high school, they played their first show under the name Pollyanna.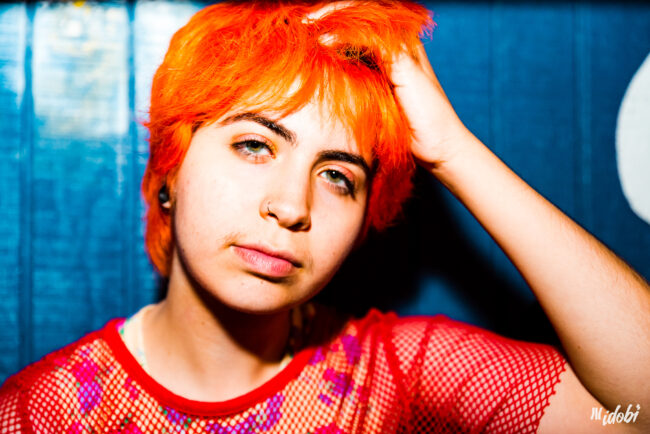 As Pollyanna found their footing, that musical chemistry mattered more than any type of business connection and is what made the music so special. The band's new full-length album, Slime was released in June on I Surrender Records as their first full release featuring the Beckett, McCool, Bolton, and Rose lineup. While there's some crossover in terms of taste—Rose mentions Deftones as a band they can all agree on, and Beckett adds that they all saw Turnstile live—for the most part the members of Pollyanna have separate influences. When driving the van on tour, Bolton might listen to System Of a Down, and his bandmates will play everything from Fleetwood Mac (Beckett) to The Cure (Rose) to Nelly (McCool), each sharing something new with the others and inspiring each other as the songs are formed.
Recorded at Barber Shop Studios in Lake Hopatcong, NJ with Brett "The Rat" Romnes and Rob Chiarappa (assistant engineer and longtime friend of the band), Slime follows two EPs: 2019's tender The World Is… and 2021's dreamy Sugar Coat. After demoing the first batch of songs, it was clear this album was going to be heavy. Once recording began, it only got heavier. The album title came to Beckett when Slime was, "like five percent written," allowing the album to form into a collective whole as the songs were completed. Beckett describes, "Brandon wrote 'Pixie' and I love this line, 'turn the smile right into slime' and when you think of slime, you think of abrasive, gross, in your face, nasty. It's not meant to be pretty." Slime then became an adjective the band used to describe the album and songs themselves, "We would write a song, we'd be like, 'that's slime,'" McCool explains.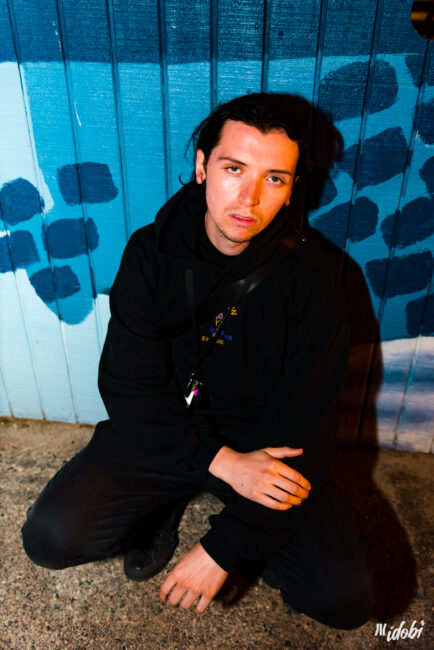 The album is a journey of healing from painful experiences, as Beckett opens up about pain, trauma, sexuality, self-worth, and mental health and how those all relate to each other. For Beckett, knowing she could, "turn something really tragic and terrible and all these different pains and emotions and feelings and confusion into art," along with getting to perform those songs live at their album release show in July in Asbury Park and on their fall cross-country tour with Forever Came Calling is the reward for the growing pains she endured while recording.
"You just keep having to figure out ways to cope and know that a lot of the pain that we feel is temporary."
But healing—like slime itself—is messy. The concept of "slime" finds Beckett in the aftermath of trauma, where they were, "basically doing everything that I could to recover," during 10 hours a week of intensive therapy, working two jobs, spending time with friends, and doing yoga. Yet their brain, "still feels the same." Despite how hard she was trying she realized that, in the end, time was what was needed to, "make things easier to handle… You just keep having to figure out ways to cope and know that a lot of the pain that we feel is temporary."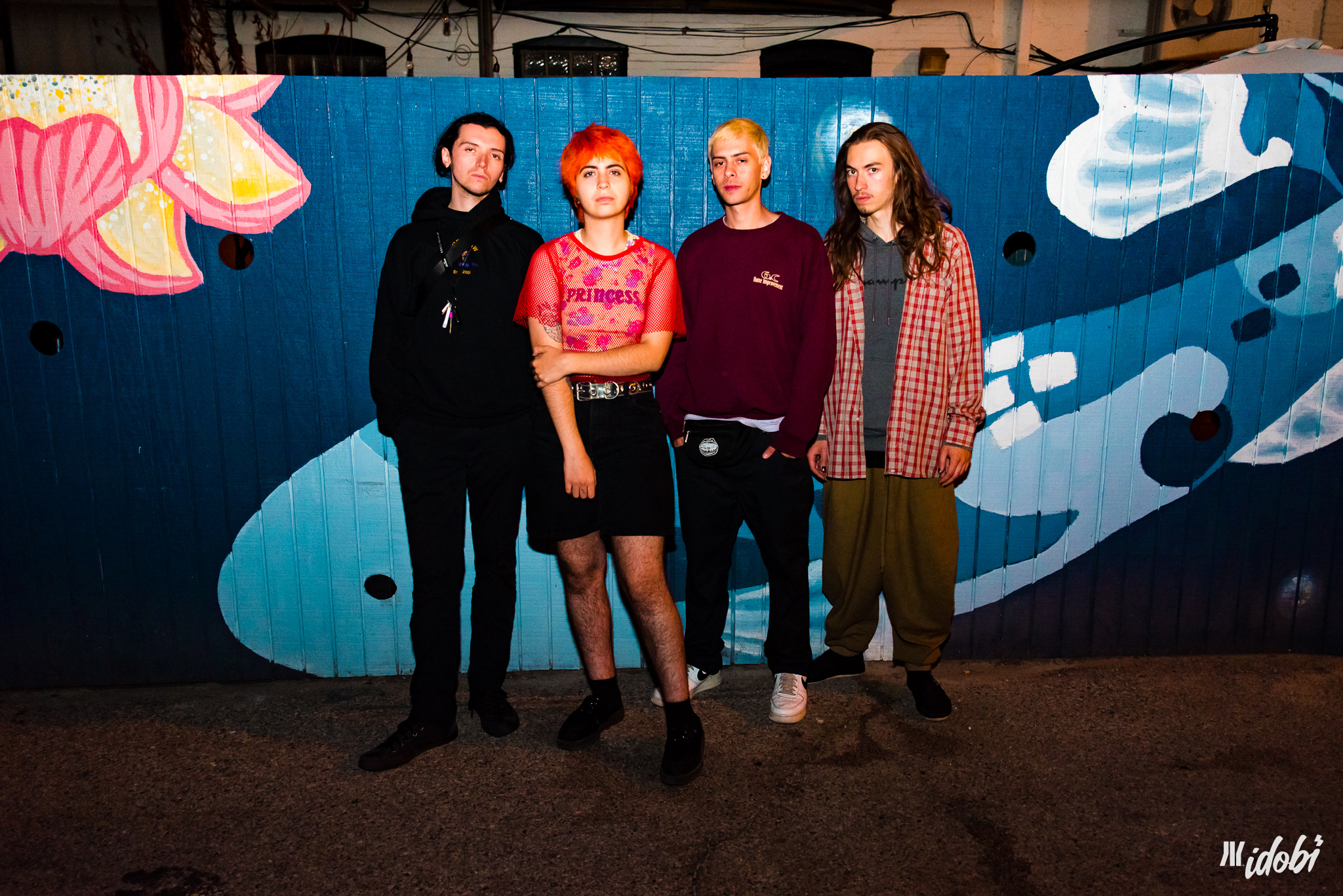 Internal conflict shows up throughout Slime, such as on the standout track "Slut" in its proclaiming the want to embrace sexuality and desires while simultaneously realizing where your own boundaries lie. While album closer "who do you want me to be?" is a confession that while it's impossible to please someone who doesn't know what they want, it's hard to stop trying to do so. That very state of in-between is itself abrasive and in-your-face—uncomfortable in just how authentic it is.
And that authenticity? Yeah, that's Slime.
—
Pollyanna will be releasing "Christmas Garbage" as part of the I Surrender Christmas Compilation on December 2. They are also playing a run of shows in the Northeast with Family Dinner starting in December.
—
Keep up with Pollyana: