Oh June, the best month of the year if you're a queer person. Whether you are gay, lesbian, bisexual, pansexual, transgender, non-binary, intersex or anywhere in-between on the wide spectrum of the queer community, it is YOUR month. If you are new here, my name is Tate Logan and I am a transman that has been involved in the alternative music space since I was a kid. I've played in bands, toured the country, released albums and obsessed over all things music for basically my entire life. I host a show right here on idobi radio called Punk Goes Pride. I started this show about a year ago because I felt like the scene was flooded with queer artists, but not all of them were getting the attention and platform that they earned and deserve.
Punk Goes Pride is an exciting platform for artists both in the LGBTQIA+ community and our allies. The conversations are fun, silly, light-hearted and honest to highlight the experience of queer artists as natural and normal. It's cool to be queer! The show focuses on the part "after it gets better" so listeners struggling with their sexuality and gender identity know they have incredible experiences to look forward to as the result of being brave and strong. The show aims to build a bridge between communities by providing a fresh outlook on queerness in music. Punk Goes Pride is working to make the punk and alternative scene a more inclusive space.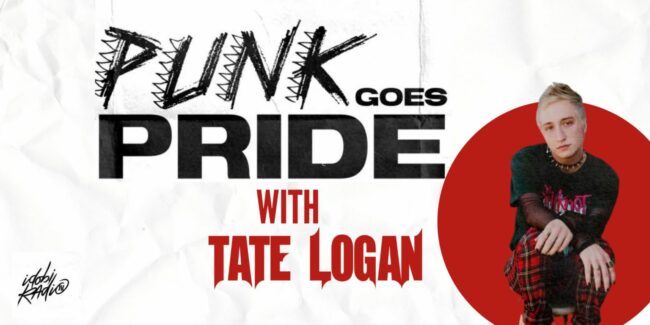 This month idobi will be highlighting many of the artists I have had the pleasure of talking to on my show, along with several others that are making wonderful strides for our community. Today we are highlighting three incredible artists. Welcome to idobi celebrating pride with Punk Goes Pride Vol. 1!
NOAHFINNCE
NOAHFINNCE wins over his fanbase with his sarcastic wit, energetic stage presence and punchy anthems. The pop-punk star hailing from England channels the chaos of modern life into his catchy tunes. He rose to the spotlight early in life with his charismatic YouTube videos, drawing in supporters from all over the world. Noah is currently signed to Hopeless Records and has released two EPs, STUFF FROM MY BRAIN and MY BRAIN AFTER THERAPY. He is a fellow transman, and we truly had a blast chatting about our collective journeys through transitioning. Get ready to listen to us laugh for at least a third of this interview. Check out his brand new single and music video for "I KNOW BETTER" below!
Softcult
Twins, Mercedes(she/her) and Phoenix Arn-Horn(they/them) are the multi-faceted and resourceful minds behind the social commentary project that is Softcult. The duo impressively create nearly all of the content surrounding the band themselves. From songwriting, production and engineering, to visuals and music videos…the two of them together are manufacturing it all. This allows them complete control of their vision and execution. They released a brand new Ep earlier this year, See You In The Dark. In this episode we talk about the importance of consent, women in the scene, 4th wave feminism and chat briefly about our mutual love for horror movies and Canadian food. Check out their most recent visual for "Spoiled"!
Pollyanna
Pollyanna hails from New Jersey as an unstoppable force creating power-pop-infused loud rock with a hint of bubblegum grunge. They are unapologetic in their lyricism and instrumentation, boldly carving out a space for misfits and outcasts, showing them weird is cool. In this episode I am joined by Jill (She/They) , Dan (He/Him) and Brandon (He/Him) of Pollyanna to discuss their new album Slime and viral TikTok cover of "Judas" by Lady Gaga. The band chats about their formation, decade long friendship, favorite songs to play live and their biggest influences. They have multiple tours happening in 2023 so make sure to go see their awesome live set. Below is their absolutely ICONIC song "SLUT", that also happens to be my all-time favorite track by them. Check it out!
Thanks for reading idobi Celebrates Pride: Punk Goes Pride Vol.1! Stay here and stay queer!