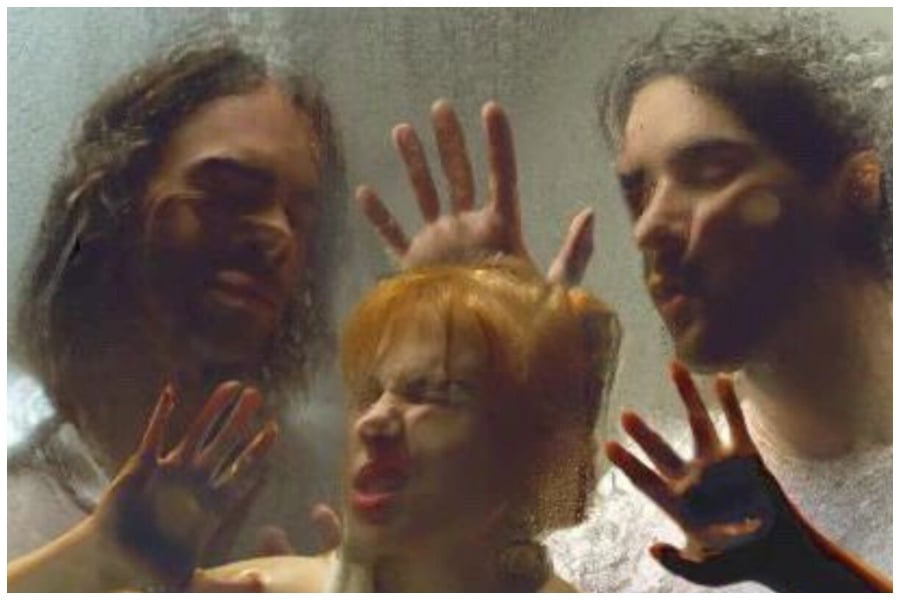 With just days left on the This Is Why Tour, Paramore has unfortunately been forced to cancel the last two remaining shows in Portland and Salt Lake City. The reason behind this decision stems from vocalist Hayley Williams battling a lung infection, which has severely impacted her well-being.
Back on July 23, the band first shared the postponement of a few shows due to health concerns within their camp. Their initial statement conveyed, "After much deliberation, in the interest of our health and the ability to put on a show you all deserve, we have decided to reschedule our shows this week in Seattle, Portland, and Salt Lake City."
Taking to Instagram Stories last night following the trio's performance in Seattle, Williams herself addressed the situation, saying, "Hey everybody, we just got off stage in Seattle. After speaking with our team and my doc, I know that trying to finish this tour is now going to come at a detriment to my health. My lungs are just not healing quickly enough to keep up. It got a little scary tonight."
She continues, "We will have the team post an official statement ASAP, but we are going to have to cancel the last 2 shows of the tour so I can get better, finally. I know some of you are camping in Portland already so I just wanted to get this out there. I'm so sorry for all the chaos this has caused some of you. I really tried to kick this shit. Love you all."
In an official statement released on August 10 across the band's social platforms, Paramore provided further insight into their reasoning behind canceling the eagerly anticipated Portland and Salt Lake City shows. The statement reads, "After my lung infection forced us to postpone 4 shows, I was hoping a week off of performing and a strict medicine routine would allow my body to heal enough to finish off this tour strong."
Continuing, the statement notes, "I have been doing everything I can to fight this infection so we wouldn't have to disappoint anyone with more news of postponements and cancellations. After struggling through the last few shows and consulting with my doctor, we're unfortunately realizing that it's past the point of wanting to push through to put on a good show for all of you. I'm now risking long-term damage, and I need to pay attention to my body. With that in mind and with a heavy heart, we have to cancel our remaining shows in Portland and Salt Lake City."
With a sense of deep apology, the band adds, "We are so sorry to all of you who were so patient with us as we rescheduled these and likely rearranged travel plans to still come out. I physically cannot go on. I know this isn't great news for anyone. Thank you so much for your continued support."
Paramore is scheduled to travel to Australia later this year to continue the This Is Why Tour before joining Taylor Swift on her overseas leg of The Eras Tour next spring and summer. You can check out the trio's upcoming tour schedule below and get tickets to see them here.
2023 Tour Dates:
Nov. 18—Auckland, NZ @ Spark Arena*
Nov. 22—Brisbane, AUS @ Entertainment Centre*
Nov. 23—Brisbane, AUS @ Entertainment Centre*
Nov. 25—Sydney, AUS @ The Domain*
Nov. 27—Melbourne, AUS @ Rod Laver Arena*
Nov. 28—Melbourne, AUS @ Rod Laver Arena*
2024 Tour Dates:
May 9—Nanterre, France @ Paris La Défense Arena#
May 10— Nanterre, France @ Paris La Défense Arena#
May 11— Nanterre, France @ Paris La Défense Arena#
May 12— Nanterre, France @ Paris La Défense Arena#
May 17— Stockholm, Sweden @ Friends Arena#
May 18— Stockholm, Sweden @ Friends Arena#
May 19— Stockholm, Sweden @ Friends Arena#
May 24— Lisbon, Portugal @ Estádio do Sport Lisboa e Benfica#
May 25— Lisbon, Portugal @ Estádio do Sport Lisboa e Benfica#
May 30— Madrid, Spain @ Estadio Santiago Bernabéu#
June 2— Lyon, France @ Groupama Stadium#
June 3—Lyon, France @ Groupama Stadium#
June 7— Edinburgh, Scotland @ BT Murrayfield Stadium#
June 8— Edinburgh, Scotland @ BT Murrayfield Stadium#
June 9— Edinburgh, Scotland @ BT Murrayfield Stadium#
June 13—Liverpool, England @ Anfield#
June 14—Liverpool, England @ Anfield#
June 15 Liverpool, England @ Anfield#
June 18— Cardiff, Wales @ Principality Stadium#
June 21— London, England @ Wembley Stadium#
June 22— London, England @ Wembley Stadium#
June 23— London, England @ Wembley Stadium#
June 28—Dublin, Ireland @ Aviva Stadium#
June 29— Dublin, Ireland @ Aviva Stadium#
June 30—Dublin, Ireland @ Aviva Stadium#
July 4— Amsterdam, Netherlands @ Johan Cruijff Arena#
July 5— Amsterdam, Netherlands @ Johan Cruijff Arena#
July 6— Amsterdam, Netherlands @ Johan Cruijff Arena#
July 9— Zurich, Switzerland @ Letzigrund#
July 10— Zurich, Switzerland @ Letzigrund#
July 13— Milan, Italy @ Stadio Giuseppe Meazza#
July 14— Milan, Italy @ Stadio Giuseppe Meazza#
July 17—Gelsenkirchen, Germany @ Veltins-Arena#
July 18—Gelsenkirchen, Germany @ Veltins-Arena#
July 19—Gelsenkirchen, Germany @ Veltins-Arena#
July 23—Hamburg, Germany @ Volksparkstadion#
July 24—Hamburg, Germany @ Volksparkstadion#
July 27— Munich, Germany @ Olympiastadion#
July 28—Munich, Germany @ Olympiastadion#
Aug. 1—Warsaw, Poland @ PGE Narodowy#
Aug. 2—Warsaw, Poland @ PGE Narodowy#
Aug. 3—Warsaw, Poland @ PGE Narodowy#
Aug. 8—Vienna, Austria @ Ernst-Happel-Stadion#
Aug. 9—Vienna, Austria @ Ernst-Happel-Stadion#
Aug. 10—Vienna, Austria @ Ernst-Happel-Stadion#
Aug. 15—London, England @ Wembley Stadium#
Aug. 16—London, England @ Wembley Stadium#
Aug. 17—London, England @ Wembley Stadium#
*With Support from Remi Wolf
#Opening for Taylor Swift