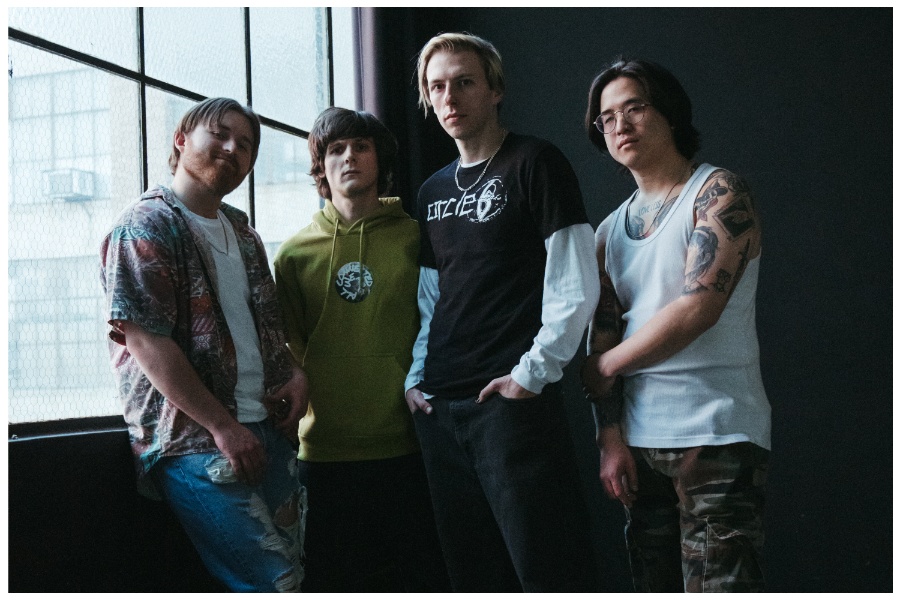 Intertwining elements of pop-punk and rock with a touch of lo-fi, NOT.MY.WEEKEND's latest single "KNOCK.ME.OUT" featuring Sleeping With Sirens' Kellin Quinn is a powerful and captivating collaboration.
"KNOCK.ME.OUT" explores the themes of finding someone who can instantly uplift you while grappling with an internal identity crisis and the quest for self-discovery. Quinn's distinctive vocals blend seamlessly with NOT.MY.WEEKEND's energetic sound, striking a perfect balance between vulnerability and intensity.
The song's rich and layered production enhances its musicality. The combination of powerful guitar riffs, pulsating beats, and atmospheric synths creates a dynamic and immersive sound. The intense build-up and explosive chorus, accompanied by Quinn's soaring vocals, give the song an anthemic quality that lingers with the listener.
In an exclusive premiere and interview with idobi, vocalist Patrick Gilchrist shares insights on collaborating with Quinn for "KNOCK.ME.OUT," the inspiration behind the track, and what fans can expect from NOT.MY.WEEKEND in the future. Additionally, the band will join Fish tonight at 9 PM ET for a more in-depth discussion about the song which you can tune into here. Listen to "KNOCK.ME.OUT" featuring Kellin Quinn below and discover more about the release from Gilchrist himself.
To kick things off, you've just released your latest single "KNOCK.ME.OUT" featuring Kellin Quinn of Sleeping With Sirens. Is the track a standalone single or will it be connected to a larger project?
It will be connected to a larger project eventually! I'm very excited about the new songs we've completed! I can say there are going to be a couple more singles soon for sure.
What was the inspiration behind "KNOCK.ME.OUT" when you first started working on the track?
We started working on the song almost 3 years ago now, before I moved to Los Angeles, and at the height of COVID. It was the third song I wrote with my now best friend and collaborator Jared Gaines (Rat Park/Vaines). I was going through a small identity crisis at the time, but I suppose the whole world was. [Laughs.] So much happened between then and now, including our previous release "Honeymoon," but come November of 2022 in the middle of me having a separate identity crisis and depression; me, Jared, and the boys actually finished up the project and "KNOCK.ME.OUT" made the cut! It's one of my favorites for sure.
As I mentioned before, Kellin Quinn is featured on the track. How did this collaboration come to fruition?
Yes, I'm so happy he's on the song! His bridge is so great that I don't even remember the bridge we had written for it previously. [Laughs.] He had tweeted about our song "Crawl" in 2019 after our old label showed it to him and we've been in contact off and on since. He had mentioned he'd like to be on one of our songs, which we were all excited about! I originally sent him our song "El Camino" and he respectfully declined. [Laughs.] It so happened that Kellin and I were writing a couple of songs together around the time we wrote "KNOCK.ME.OUT." I sent it to him to get his opinion and he said he wanted to hop on the bridge.
While Kellin has been featured on several influential pop-punk collabs throughout the years, you made sure that he was included in the video by cutting clips of him together with clips of the band. It was a really unique way to drive his involvement in the release. What inspired this idea for you?
We wanted to do a music video for this song to present ourselves to new listeners visually but really didn't want to do it without him. He agreed to send us footage (thank goodness) and since his camera looked so much different than the one we shot on I took a lot of time changing the original edit to try and make them blend and match. I worked really hard and I'm really excited with how it turned out!
You seamlessly blend together a plethora of genres into the new release. Do you personally classify yourselves as pop-punk or do you think what you're creating transcends beyond one singular genre?
Thank you so much I appreciate you saying that! I feel like all of my dumb friends and everyone I've ever known has been arguing about this exact question since I was 13. I think every band transcends beyond something or other…? Have you ever tried to say words to people? It's a nightmare and somehow I also never shut up. I like telling people we're pop-punk, I like pop-punk. Whatever you're feeling. I mostly just tell people we're a good band, please listen to it.
What's next for NOT.MY.WEEKEND?
New singles, a couple more music videos, and hopefully a bunch of live shows. We're posting short-form content on all of our platforms every day no matter what and it's not always music related so follow us for funny bits as well as good tunes! I'd also like to make some longer form stuff this year! Thank you so much for having us and premiering our music video! I love everyone at idobi.