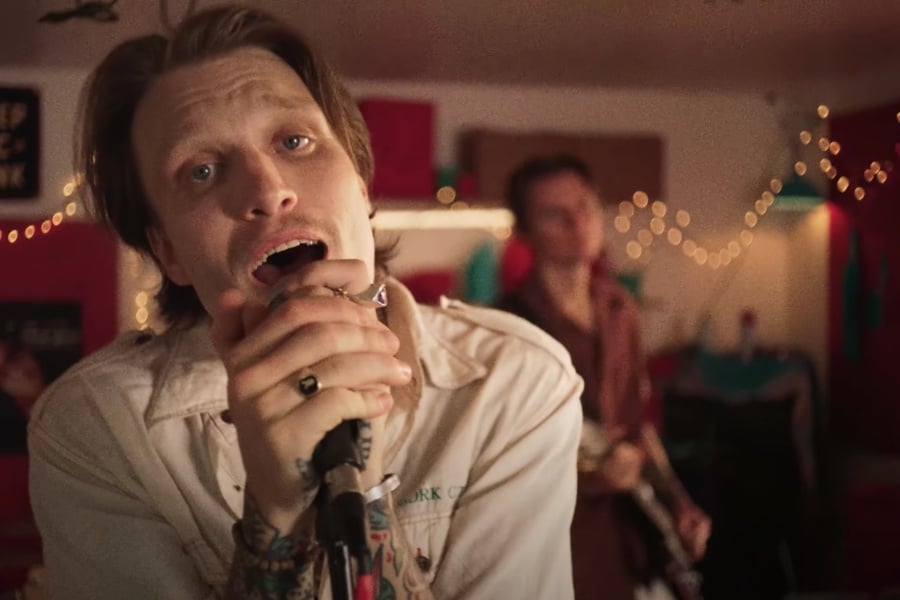 Neck Deep is brightening up your Wednesday with a brand-new music video accompanied by some wise words in "It Won't Be Like This Forever." The band has been busy at work, having recently released singles "Take Me With You" and "Heartbreak Of The Century" as well.
Directed and edited by Max Moore, whose previous clients include Knocked Loose, Spiritbox, and Code Orange, the music video opens with vocalist Ben Barlow trying to make paper airplanes on a roof. The camera perspective then follows Barlow's paper planes through various scenes. Cranberry red and teal cover the backgrounds of many music video moments. (Perhaps the colors of a new Neck Deep era?) Check out the full, vibrant music video below.
The pop-punk song offers a sense of hope in their lyrics along with the story of a relationship. Barlow sings, "You know it won't be like this/It won't be like this forever/Only your kiss could stop the loneliness from sinking in."
Ahead of the music video and song release, Neck Deep seems to have sent out cryptic paper airplanes to lucky fans featuring the song title.
According to Reddit, the track has already become a fan favorite in mere hours. Reddit user ImDoinItAnyway said, "This is already one of my favorite songs from them in several years for sure. It's really cool to hear them fall back to a more conventional pop-punk sound."
Additionally, Reddit user Chad2Badd noted, "I've fallen back in love with this band again. I've really enjoyed all 4 of their recent releases. Excited for the album."
Many fans were hoping for an album announcement in tandem with the "It Won't Be Like This Forever" release. Unfortunately, the pop-punk band has not shared an official date. Though, we await the possible news with bated breath. It better not be like this forever, because frankly, we are stressed!