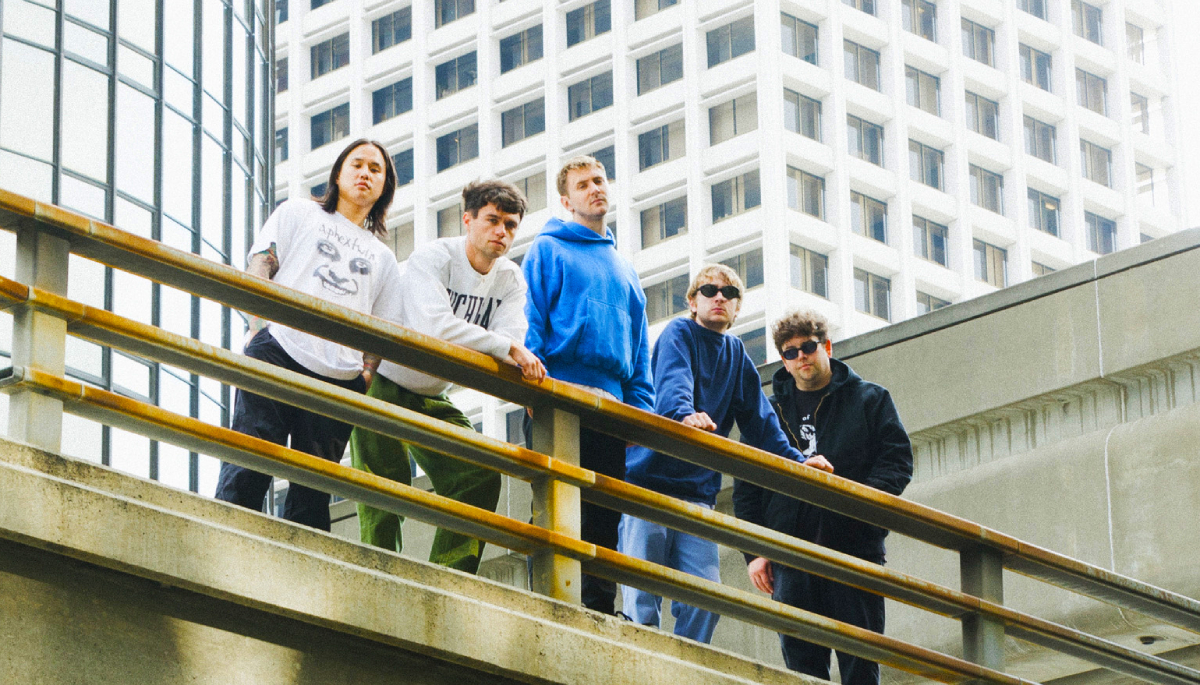 Militarie Gun is building anticipation for their debut album with the release of their latest single, "Will Logic." The band has offered fans a glimpse into their musical prowess and what can be expected from their forthcoming album, Life Under The Gun, set to be released on June 23 through Loma Vista Recordings.
"Will Logic" builds upon the raw intensity and infectious hooks of Militarie Gun's previous two singles, "Do It Faster" and "Very High." From the moment "Will Logic" kicks in, it immediately engulfs you in a whirlwind of energy and passion that the group has made a signature of their discography. The band's ability to seamlessly blend their unapologetic intensity with unforgettable melodies is on full display across the track. The song's hooks sink deep into your consciousness, leaving a lasting impression that demands repeated listens.
"It's the moment of realization that someone is trying to take advantage of you and deciding you won't allow it to happen," vocalist Ian Shelton shares. "There's some melancholy and fatigue in there, though ultimately it's a desire for the world to be trustworthy."
Militarie Gun is gearing up for a series of live performances and festival appearances, including a notable slot at Outbreak Fest in the UK, coinciding with the release of their album. The LA unit will also embark on a highly anticipated fall tour across North America alongside Scowl which kicks off on Sept. 8. Check out their full touring schedule below and get tickets to experience their live performances here.
Tour Dates:
May 26—Las Vegas, NV @ Punk Rock Bowling
May 27—Landers, CA @ Giant Rock
June 22—Nottingham, UK @ Rough Trade Nottingham
June 23—Manchester, UK @ Outbreak Fest
June 24—Haarlem, Netherlands @ Kilko Fest 2023
June 25—Manchester, UK @ Outbreak Fest 2023
June 29—Hamburg, Germany @ Logo Musik & Bier GmbH Veranstaltungsservice
July 1—Roskilde, Denmark @ Roskilde Festival 2023
July 3—Berlin, Germany @ Hole44
July 4—Cologne, Germany @ Gebäude 9
July 5—Haarlem, Netherlands @ Patronaat
July 7—Cheltenham, UK @ 2000 Trees 2023
July 8—Camden, UK @ Electric Ballroom
July 9—Ieper, Belgium @ Ieper Hardcore Fest 2023
July 21—Chicago, IL @ The Rumble Chicago
Sept. 8—Los Angeles, CA @ 1720*
Sept. 9—Anaheim, CA @ Chain Reaction*
Sept. 10—Phoenix, AZ @ Rebel Lounge*
Sept. 12—Albuquerque, NM @ The Launchpad*
Sept. 14—Dallas, TX @ Cheap Steaks*
Sept. 15—Austin, TX @ The Ballroom*
Sept. 16—San Antonio, TX @ Paper Tiger*
Sept. 17—Houston, TX @ The Compound*
Sept. 19—Orlando, FL @ Conduit*
Sept. 20—Miami, FL @ Gramps*
Sept. 21—Jacksonville, FL @ 1904 Music Hall*
Sept. 22—Atlanta, GA @ Aisle 5*
Sept. 25—Durham, NC @ The Pinhook*
Sept. 26—Richmond, VA @ Richmond Music Hall*
Sept. 27—Baltimore, MD @ Ottobar*
Sept. 28—Philadelphia, PA @ Underground Arts*
Sept. 29—New York, NY @ The Meadows*
Oct. 1—Boston, MA @ Brighton Music Hall*
Oct. 3—Montreal, QC @ La Sala Rossa*
Oct. 4—Toronto, ON @ Velvet Underground*
Oct. 6—Columbus, OH @ Ace of Cups*
Oct. 7—Detroit, MI @ The Sanctuary*
Oct. 8—Chicago, IL @ Subterranean*
Oct. 9—Minneapolis, MN @ 7th St Entry*
Oct. 10—Omaha, NE @ Reverb*
Oct. 11—Denver, CO @ Marquis Theater*
Oct. 13—Salt Lake City, UT @ The Beehive*
Oct. 14—Boise, ID @ The Shredder*
Oct. 16—Vancouver, BC @ Russian Hall*
Oct. 17—Seattle, WA @ Vera Project*
Oct. 18—Portland, OR @ Mission Theater*
Oct. 20—Reno, NV @ Holland Project*
Oct. 21—Berkeley, CA @ 924 Gilman*
*With Scowl.