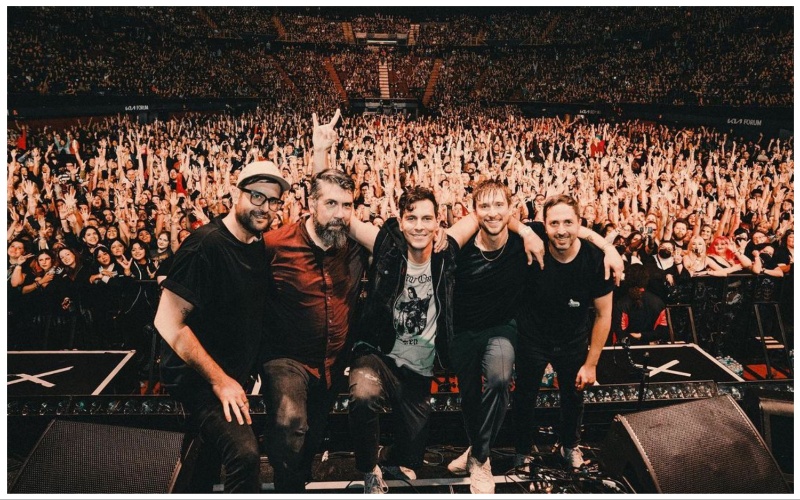 Paying homage to one of the greatest singer-songwriters in history, Midtown has offered a striking rendition of Elvis Costello's "Pump It Up." Their latest release is the third single pulled from the group's forthcoming EP, We're Too Old To Write New Songs, So Here's Some Old Songs We Didn't Write, and follows covers of Pavement's "Cut Your Hair" and Lagwagon's "Know It All."
While Midtown's cover of "Pump It Up" still maintains the essence and attitude of Costello's high-energy, punk-rock classic, the group has amplified the single with fresh instrumentation for a more modernized sound. Midtown takes a heavier, more aggressive approach to the song, with driving drums and distorted guitars. Lead singer Gabe Saporta's delivery is raw, energetic, and passionate, adding fire and intensity to the performance. Take a listen to Midtown's cover of "Pump It Up" below.
And take a listen to Elvis Costello's original release, as well.
"To this day I can still quote 'PCU,' the underrated Jeremy Piven movie that first introduced me to 'Pump It Up,'" guitarist Tyler Rann shares. "But my intro to Elvis Costello is from a far more impactful movie—'Fast Times At Ridgemont High.' I remember seeing an image of this bizarre-looking person on the wall of Damone's room—so strange and uncool (even next to Devo!) that I actually found it appealing."
"Shortly after, I picked up This Year's Model at my local CD store and found that nerdy guys named Elvis could rock out and play fast and angsty enough to appeal to young teenage punk rockers living in suburban New Jersey," Rann continues. "The crossover between pop, new wave, and punk completely broadened my horizons. Elvis Costello broke down so many of my misconceptions about what music should sound (and look) like."
Midtown's "Pump It Up" cover is a prime example of how a band can take a classic song and make it their own. They bring their own style and energy to the track, while still staying true to the original spirit of the song.
While the group still has one release to unveil that will be featured on their forthcoming EP, fans will have to patiently wait to find out what that will be. We're Too Old To Write New Songs, So Here's Some Old Songs We Didn't Write will arrive on May 26 and you can pre-save it here.
We're Too Old To Write New Songs, So Here's Some Old Songs We Didn't Write Tracklist:
1. Know It All
2. Cut Your Hair
3. Pump It Up
4. To Be Announced
Performance Dates:
May 28—Atlantic City, NJ @ Adjacent Festival